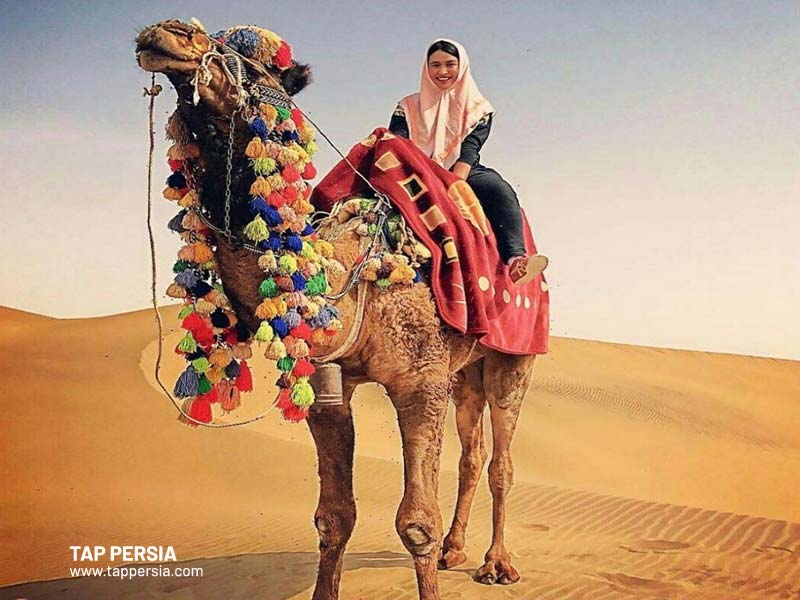 Yazd is a city full of wonders. A desert city with traditional mud houses, eye-catching windcatchers, and rooftop cafes and restaurants. Aside from the city itself, the nature around it is magical. The stary nights of the deserts, the sand dunes, and the sunset are mother nature's magnificent art. They are not something you want to miss. That's why today we are going on a trip to learn about one of the outstanding deserts around Yazd, the Caracal Desert. Caracal desert or Bafgh desert (Bafq desert) is close to Bafgh city in Yazd.
But before we start Let's see, Why is it worth seeing the Caracal Desert?  Firstly, it is called the most beautiful desert of Yazd. Secondly, Accommodation facilities are available and you do not have any problems in this regard during the trip. Thirdly, you can enjoy interesting and exciting entertainment such as camel riding, four-wheeled motorcycles, off-road, etc. And finally, it is located near the city and could easily reach this desert by taking an asphalt road.
Let's Get Started
Caracal Desert is a region near Bafgh city and Sadeghabad village. Some consider it the most beautiful desert in Yazd. This desert is one of the most well-known habitats of Caracal. That's why they also call it by the same name. Caracal is one of the cat breeders of Iran that we will learn more about it later.
The proximity of this desert to Sadeghabad village is the reason that people call it the Sadeghabad Desert, as well. Watching the night sky, experiencing activities such as camel riding, off-roading, etc., staying in traditional and beautiful accommodation, and enjoying endless peace, are the experiences that you will get during your trip to Caracal. Shahid Barzegari's recreational camping in Sadeghabad village has also caused tourists to have no problem in terms of access to facilities and entertainment. The same reasons encourage them for this trip.
What Is Caracal Cat?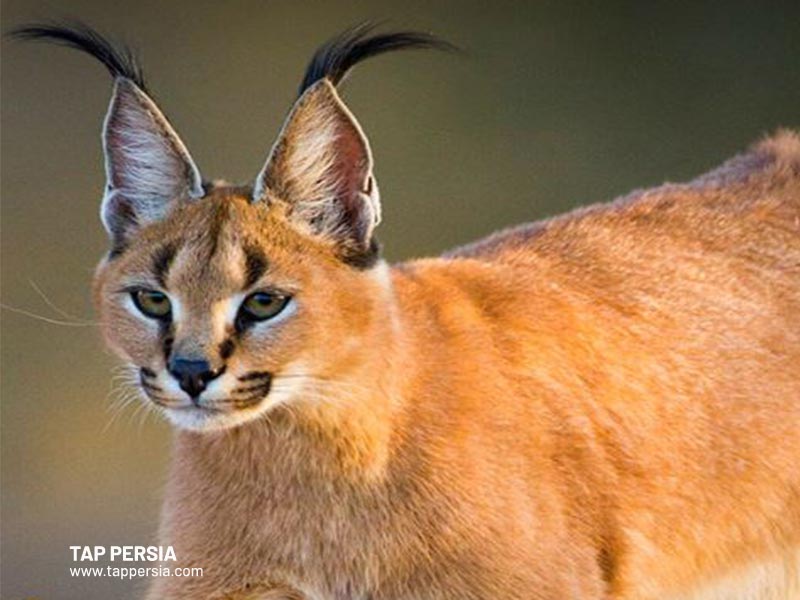 Caracal Desert is the habitat of one of the Iranian cat species called Caracal cat and takes its name from this beautiful animal. Caracal is the ancient Persian name of this cat and today we call it "Black Ear" as "Lynx" in English. This cat is one of the 8 species of cats that live in Iran and Central Asia. We can even find its traces in Africa.
The caracal is also one of the heaviest and fastest small cats. Genetically it is related to the African golden cat and the cheetah. The caracal is a nocturnal and solitary animal. It is extremely sensitive to its territory. If you are lucky, you may be able to see this animal in the Caracal Desert. But be careful not to hurt the animal and just watch it from a distance.
Sights of Caracal Desert
1. Baqarabad Castle, An Attraction Along the Way
To reach the Caracal Desert, you must enter the asphalt road from Bafgh, which leads to the village of Sadeghabad. About 9 km from the Caracal Desert, there is a castle called Bagherabad. It is one of the historical fortresses of Yazd, which is a relic of the Qajar period. Abdul Rahim Khan, son of Mohammad Taqi Khan Bafghi, ordered to build this castle. He wanted to build a place where people could take refuge in it or store grain in it in a time of danger. There are 45 rooms, 2 watchtowers, 3 stone-throwing stations, and 10 shooting sites in different parts of the castle.
2. The Gardens of Pomegranate, Pistachio, and Date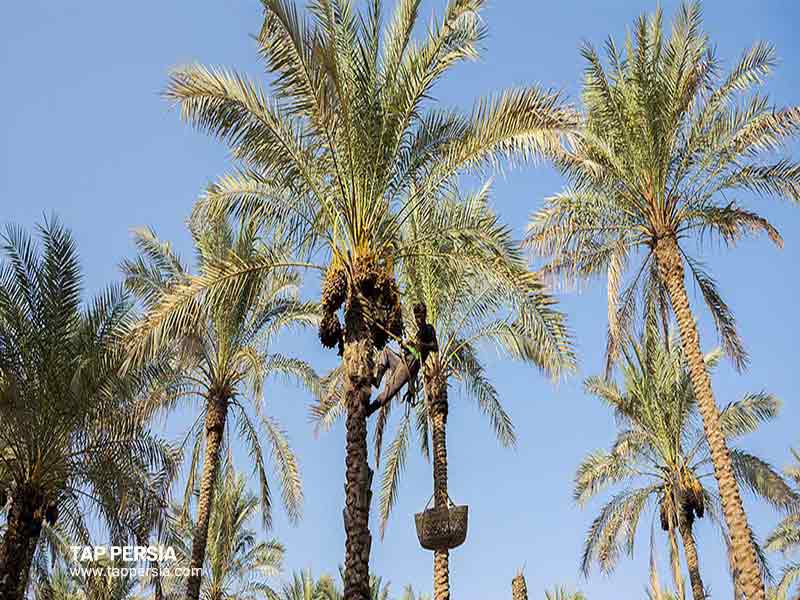 One of the attractions of this desert is the groves that have formed around it. Walking through these groves will be an interesting experience for you. Pomegranate and pistachio trees are also among the beauties of this region.
3. Flowing Sand Dunes in Bafgh Desert
This desert hosts some of the largest sand dunes that reach a height of 50 meters. When you climb up these hills, you will face a stunning view.
4. Vahshi Bafqi's House
One of the attractions of the Caracal desert route is the house of the famous poet and writer, Bafghi Wild. A house with a special and beautiful architecture that is also among the national monuments of Iran and this house dates back to the 16th century.
You can visit this historical attraction on the way to the Caracal Desert.
5. Kakamir Reservoir and Bath
Other attractions of the Karkal Desert are the Anbar Reservoir and the Kakamir Bath. This reservoir is one of the largest reservoirs in Bafgh.
Kakamir Reservoir is built at a depth of 4 meters and is covered by a brick dome. The volume of water that can be stored in this reservoir reaches 2,500 cubic meters.
6. Other Beauties of Bafq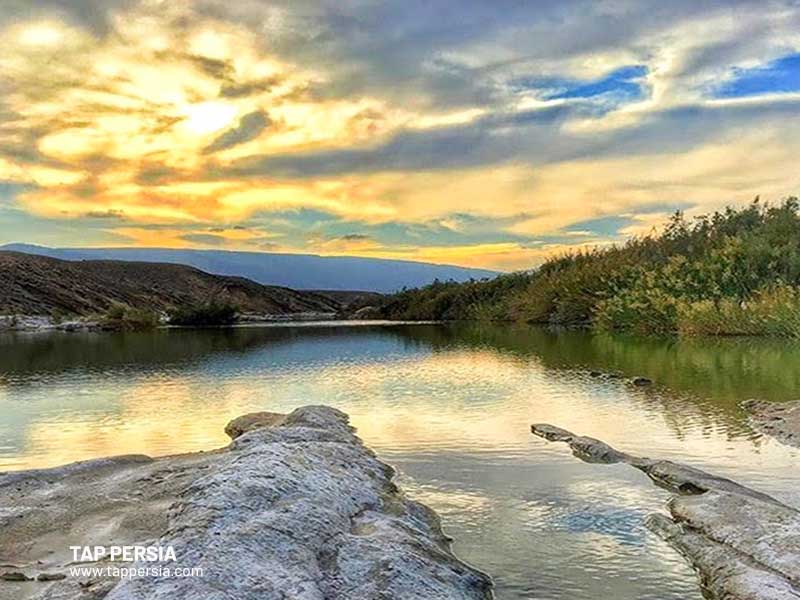 You may be interested to know that Bafgh, along with its vast deserts, also has relatively high mountains that run parallel to the city in a northwest-southeast direction.
The highest peak of this mountain range is "Bin Lakht" which is 3002 meters high and stands out in the east of Bafgh.
This is also the reason for the milder climate in the eastern parts of the city and the desert and hot and dry climate in the western regions. Shur River is the most important river in Bafgh. It originates from Mahan city in Kerman province and reaches its destination in Fig desert.
Enjoy Caracal Desert
There are lots of things to do in this place that will change your mood for the better. Here are some examples:
*Walking in the groves
*Walk in the desert and climb the dunes
*Photography of desert landscapes
*Watching the sunset
Accommodation in Caracal Desert
Local eco-lodges, hotels in Bafgh city, and camping in the desert are the ways you can accommodate while visiting this unique desert.  If you plan to camp and rest in a tent, be sure to bring bed sheets, a blanket, and a sleeping bag. But if you want to stay in an eco-lodge or a hotel, they will give you clean and tidy bedding.
Entertainment of Sadeghabad Hostel and Facilities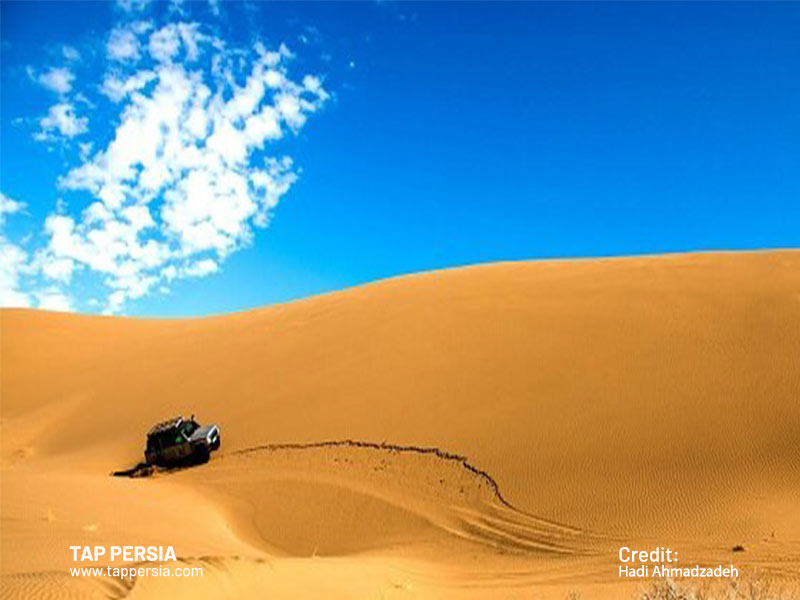 There is a hostel in Sadeghabad village. They refer to it as Shahid Barzegari complex which will provide some entertainments for you such as:
*Off-roading
*Camel riding
*Four-wheel motor riding
*And Stargazing
The facilities in this destination are limited to the Shahid Barzegari complex: which includes; W.C, desert entertainments, restaurant, cafe, tours, and accommodation.
Important Tips for Camping in the Desert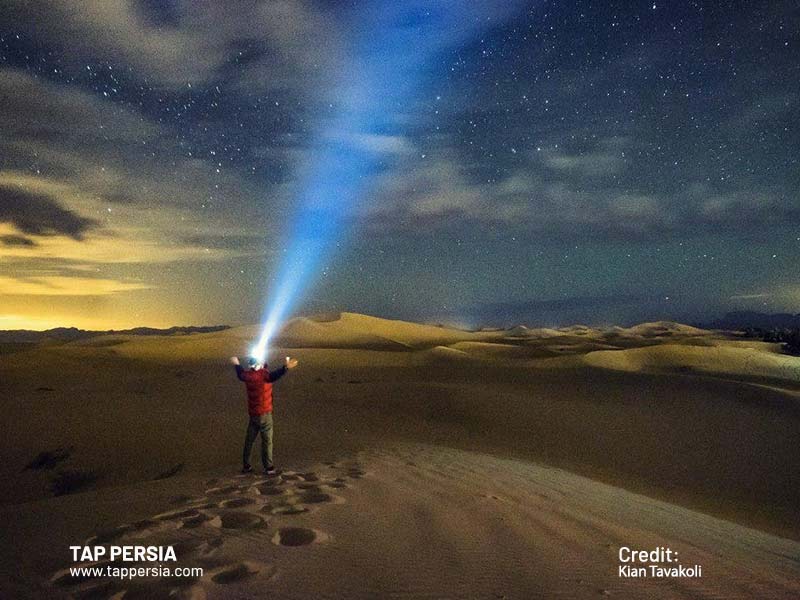 *Prepare yourself for the high temperature of the day and the sharp drop in temperature at night.
*You'd better choose the camping location and settle there, before dark.
*Do not limit yourself to GPS or mobile devices. Many of these devices fail in the desert. Getting up-to-date maps of travel destinations is one of the most essential tasks in this type of travel.
*Water is your most important and valuable necessity in desert camps. Anticipate all your water needs and get more than you need. Carrying a water purifier filter can give you more confidence.
*Make sure fuel sources are full. This fuel can be your travel gas cylinder or the gas tank of your car. In any case, paying attention to this issue is one of the necessities of travel.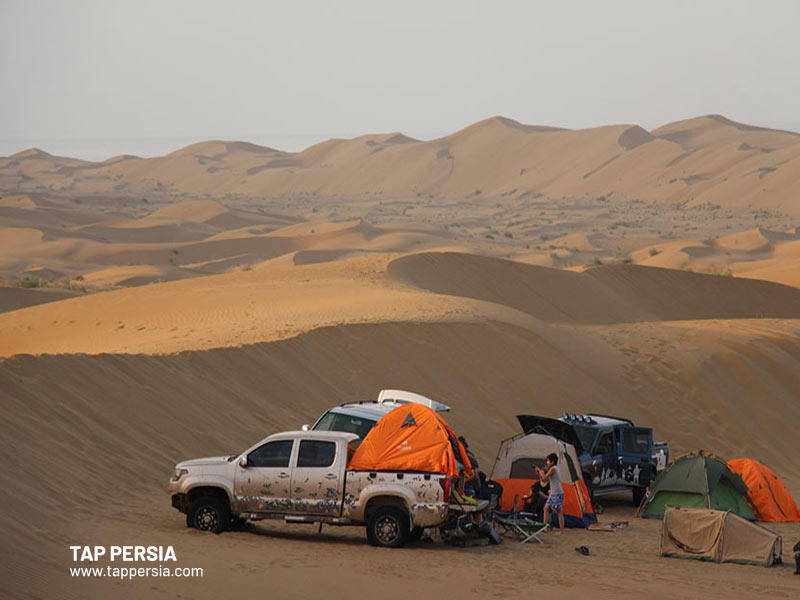 *Be very careful in choosing a tent for your trip. You may think light-colored tents are a good option, but these types of tents make the interior very warm by passing sunlight and heat. Try to choose tents that do not carry much heat during the day.
*Take a scarf with you so that in case of a sandstorm, you can use it to cover your nose and mouth.
*Watch the distances in the desert. Distances in the desert can easily fool you. For example, you may see a point from a distance and think you are 100 meters away from it. But basically, your distance from that point is 1 km.
The Best Season to Travel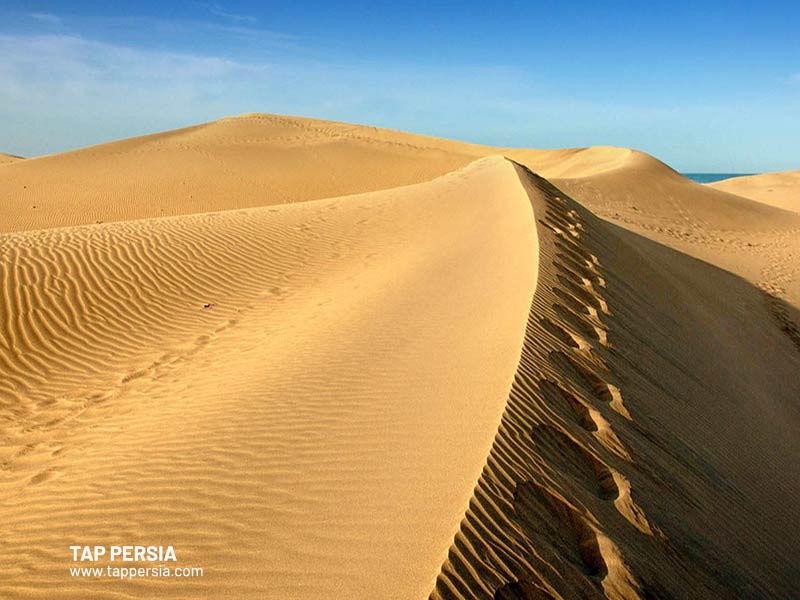 Generally, the trip to the desert takes place from early autumn to mid-spring, and the best time for this trip is autumn and winter when the weather is mild during the day.
Travel Accessories
Mobile, general medicines, health insurance card, extra clothes, sunglasses, mobile charger, slippers, power Bank, meals, snack, warm clothes, cool cotton clothes, extra shoes, sunscreen, identification card, cap, warm hat, backpack, and garbage bag are the things you need to consider before leaving for Caracal Desert.
How to Get to Caracal Desert
The address is Sadeghabad village, Bafgh city, Yazd province.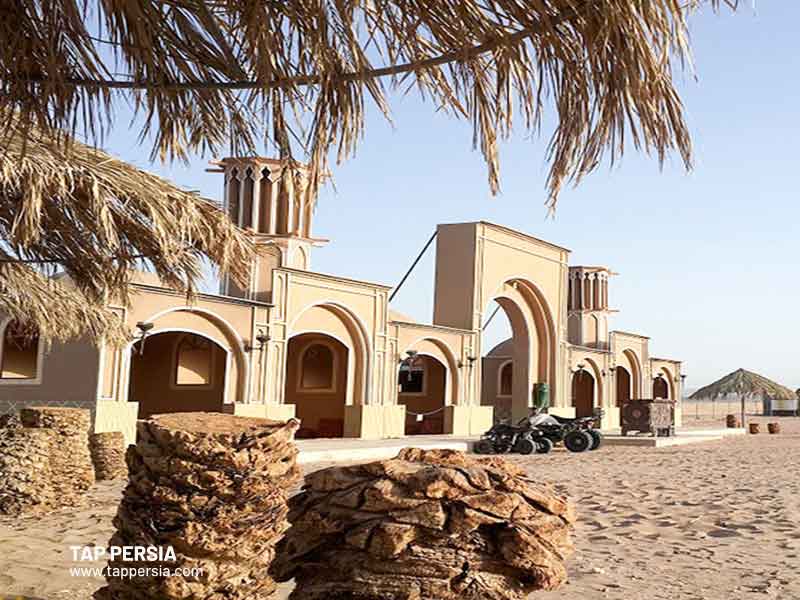 By Personal Car
On the Bafgh-Yazd highway, enter the Central Iron Ore Road (Sang Ahan Markazi). Then you will reach a square, one of the exits of which goes to the village of Bagherabad. Take this route, cross Bagherabad and continue your way to Sadeghabad to reach the Caracal Desert.
In Case You Do Not Have A Personal Car
1- Take the Tehran-Kerman, Tehran-Bandar Abbas, Tehran-Zahedan, or Bafgh-Mashhad train and go to Bafgh station. In this city, you can use the services and tours to Caracal.
2- Take a bus to Yazd. From there you can take a bus to Bafgh. In this city, you can access tourist services and tours.
How to Make the Most of Your Trip to Caracal
*When traveling to Bafgh Desert, plan in such a way that you enjoy both the entertainment and beauty of its day. And its starry sky and indescribable tranquility in the middle of the night. Do not forget to spend the night in the desert around the fire and drink tea that you make on the fire.
*Do not forget to take a tripod to create better photos.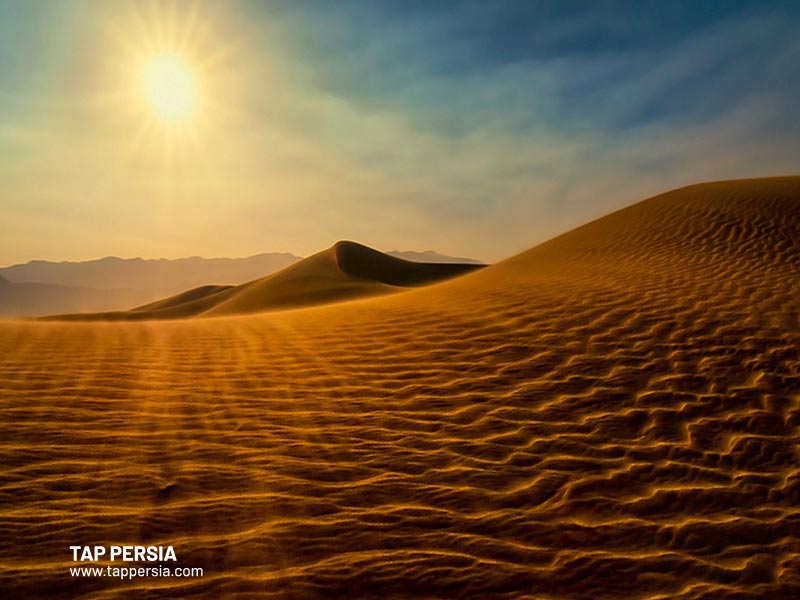 * Beware of desert sands, as these sands can penetrate the camera lens or the seams of your electronics and cause you trouble.
*If you plan to stay out for night photography or stargazing, you need to consider protection. So create 2 to 3 thin borders with the burnt oil-diesel solution around the observation post to minimize the possibility of a scorpion bite.
*If you go somewhere far away from your friends and companions, be sure to let them know. So that in case of any problems, they can think of a solution.
*Desert areas, despite all the enchanting and unique landscapes, also have a harsh and dangerous nature. So never travel to these destinations under any circumstances without complete equipment and a guide who is familiar with the area.
Final Words
We hope you have enjoyed this short trip to the amazing Caracal Desert. If so please let us know in the comments. Or you can write us about your experience in the Caracal desert, in case you have been there before. And have in mind that your words are worth the world to us. You can also find more mesmerizing things about Yazd HERE. If you need any more info or you would like to book a tour with Tap Persia, you can reach us via the contacts below the same page. Our experienced guides will be glad to help you through.
Hope to see you soon in Iran!
Last Edited: May 25, 2021
---
Recommended Tours