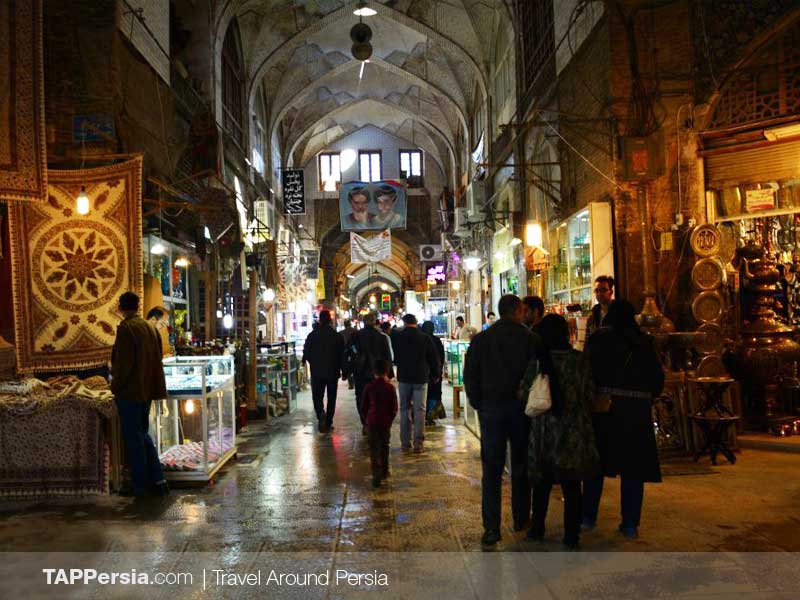 Qeysarie bazaar, also known as Soltani Bazaar and Grand Bazaar, is one of the oldest bazaars in Isfahan which is located in the north side of Naqsh-e Jahan square. This bazaar was built in the 17th century and was one of the greatest trading centers in the Safavid era. Qeysarie includes different parts such as Orian bazaar, Samovar makers, Harunie and Nimavard-e Golshan. Also many historical and religious buildings like Zolfaghar mosque and Sadr school are located in the Qeysarie bazaar. This historical site has different entrance gates but the main entrance is The Qeysarie gate.
Many paintings on the ceiling of the entrance can be seen. A part of these paintings are about the war of Shah Abbas with Uzbeks which shows Shah Abbas on the horse, fighting. Another part is about haunting. All these paintings are the works of a great Iranian artist, Reza Abbasi. Another interesting work of art on the ceilings is the tilings that shows two men, with lion bodies and dragon tales. Unfortunately because of the erosion, pass of time and weather conditions some of these paintings are ruined, but still the fascinating work of art is irresistable.
As you walk in the bazaar, the high ceilings and roof structure catches your eyes. Shops are aligned on each side that shows the artistic handicrafts of Isfahanian artists. Gold, carpets and kilims are the main trades of the bazaar.
Qeysarie bazaar is the best place to buy souvenirs and to walk into the wonders of Safavid architecture work. Small alleys and marvelous places are expecting you besides the shops and crowded places. Every step that you take in the bazaar shows you the intelligence of Iranian architects and unending beauties of a trading-historical market. Another interesting thing about this bazaar is if you go through the right paths, you will reach Atiq square (Imam Ali square) which is another important spot of Isfahan you cannot afford to miss.
---
Recommended Tours