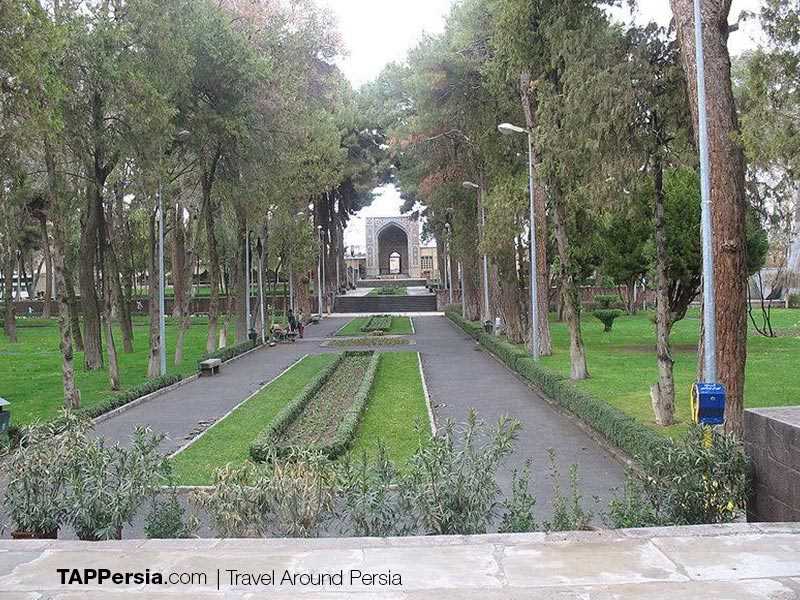 "… and then I sought a green plant or something there to bring home as a souvenir. There were some plants growing among the bricks but they were so poor and inappropriate. So I looked around the tomb surrounding inside the garden; fortunately, I discovered a row of red flowers. There were no flower in the season and the leaves were even brown and withered. However, I finally discovered a few green plants; three complete bushes which I pick some cuttings of them."
He sent them back to Britain where they were planted at Kev Garden and later on the translator of Khayyam's Rubaiyat, Edward FitzGerald's tomb. The plant which was a pink color rose flower with pleasant odor was spread throughout the world. Today, it is known as the "Omar Khayyam's Rose Flower."
It was only the still expressive beauty in Khayyam's poems that motivated William Simpson, a British painter, to come to Neyshabur, a city near Mashhad, to paint a memorial painting of the poet's tomb.
Yes, Loved One, when the Laughing Spring is blowing,
With Thee beside me and the Cup o'erflowing,
I pass the day upon this Waving Meadow,
And dream the while, no thought on Heaven bestowing.
(One of the Khayyam's ear candy Rubaiyat)
Not Just a Poet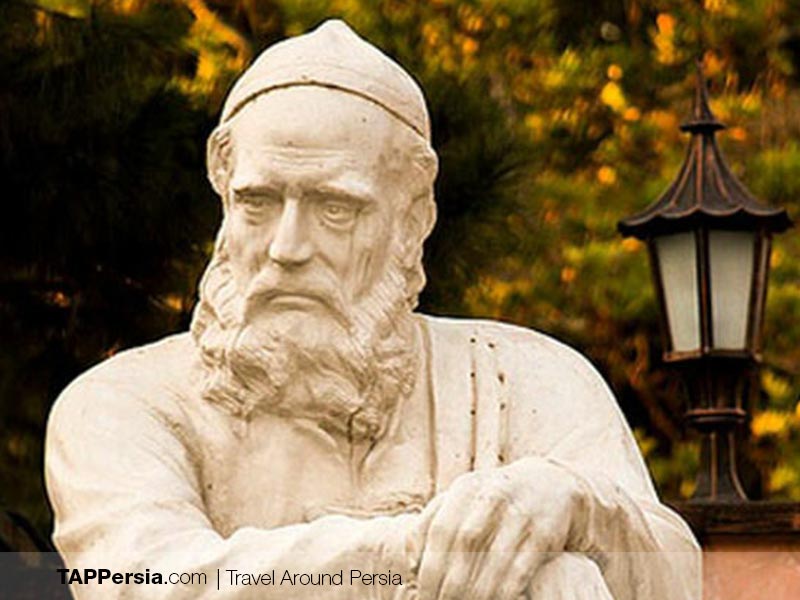 Omar Khayyam is one of the internationally well-known Iranian poets – maybe the most famous one. But it should be indicated that Khayyam was not only a poem, but also a philosopher, mathematician, and astronomer. Here are some interesting points about him:
He was the first person who showed that the cubic equation may have more than one correct answer or no answer at all.

He was the first person who determined the binomial expansion coefficients; later Isaac Newton also obtained the same result through his researches. This is today known as Khayyam and Newton's binomial. It is worth to indicate that writing this coefficients in good order forms Khayyam and Pascal's triangle.

He calculated the Jalali Calendar with exact 33 years of rotation. 

He calculated earth's orbit around the sun up to 16 decimal places.

Khayyam considered himself as an Avicenna's student. According to Beyhaghi (another respected Iranian thinker), Khayyam was reading Avicenna's

the Book of Healing

before resting in peace.

One of the Moon's holes is named Khayyam.

There is an asteroid named Omar Khayyam.

Martin Luther King pointed to him in his speeches and Abraham Lincoln read his poems before going to bed.

After translating his works by FitzGerald, Khayyam became a well-known poet in the West.

Khayyam's influence on western literature, especially on Mark Twain and T. S. Eliot is obvious.
Omar Khayyam in Myths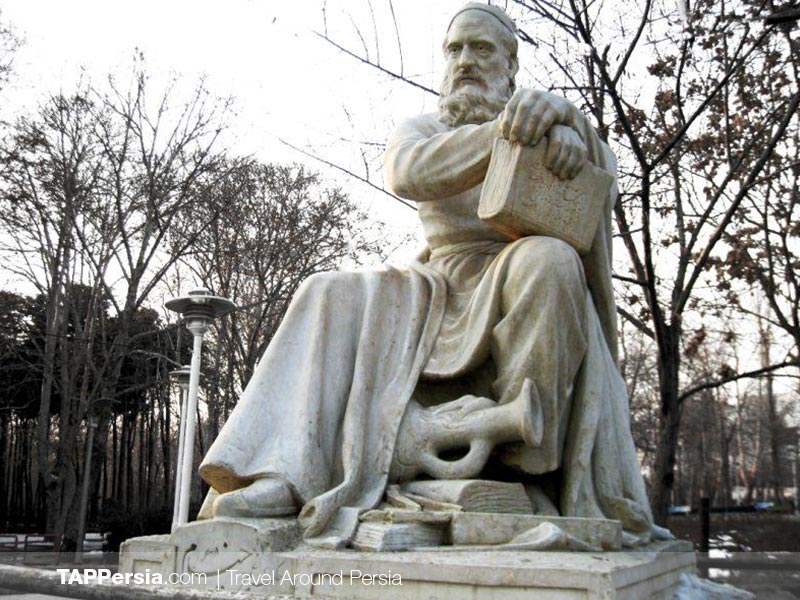 There are some myths created for Khayyam and his poems. In one the myths we read that Khayyam was drinking, but suddenly a strong wind began blowing and his wine spilt. So he composed:
Thou broke my wine ewer, the Lord
Thou closed the door of pleasure for me, the Lord
I drank but thou became drunk
Art thee drunk, my Lord!
When he composed this blasphemous poet, the God blackened his face! So, Khayyam regretted and composed another poem:
Who has done no sin, my Lord!
And how lived no sin doer, my Lord!
I do evil and thou reward badly
So what's our difference, my Lord!
And when he expressed his regret this way, Khayyam's face became white again. (It should be mentioned that I couldn't find the FitzGerald's translation of the above Rubaiyat, so I translated it myself.)
Of course there are other myths created for Khayyam, for example, Three School Friends and so on.
"Omar the Tentmaker", Khayyam's Influence
Omar Khayyam, as an everblooming Iranian figure, has a copious influence on various genres of art and literature. I am going to briefly illustrate his influence on literature, cinema, music, and television in the following lines: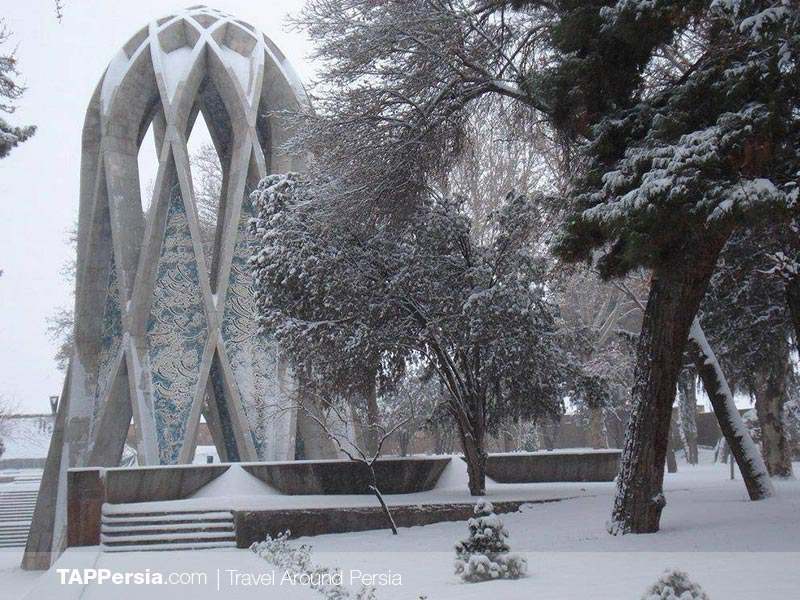 There are novels such as Omar, the Tentmaker: A Romance of Old Persian by Nathan Haskell Dole and Omar the Tentmaker of Naishapur by John Smith Clarke. They were written after FitzGerald rendered Khayyam's name as "Omar the Tentmaker." I can also mention a play named Omar the Tentmaker by Richard Walton Tully.
There is a film named Omar Khayyam. Furthermore, text from and parts of quatrains of Rubaiyat appeared in different films such as A Lover's Oath, Duel in the Sun, Pandora and the Flying Dutchman, and so on.
Some of the quatrains of FitzGerald's translation of Rubaiyat became songs by different composers and singers such as Granville Bantock, Alan Hovhaness, Umm Kulthum, Dorothy Ashby, and so on.
Khayyam influence on television and other arts are also obvious.
Khayyam's Songs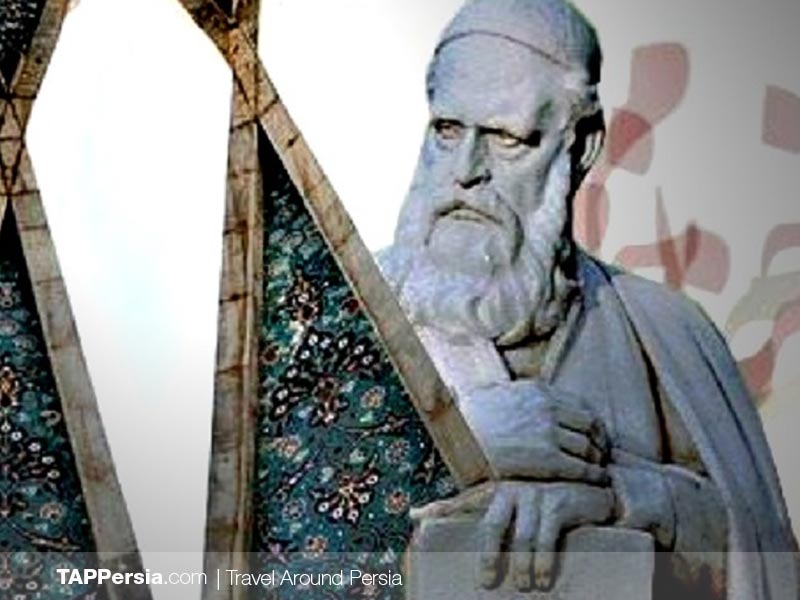 Khayyam's Songs is a book, written in Persian by Sadegh Hedayat, a famous Iranian novelist and story writer. He classified Khayyam's Rubaiyat into different categories as follow:
Creation Mystery

The Pain of Life

Writings from Eternity

Cycle Rotation

Rotating Particles

Let Whatever Comes, Come

It Is Nothing

Discover Now
Some Iran experts believe that Khayyam's Rubaiyat are written against hypocrite ascetics. Abdol Reza Modarres Zade, the vice chancellor of International Association of Persian Language and Literature Promotion says that Khayyam depicted the unreliability and transience of life. The pungent language of Khayyam in Rubaiyat is a sharp whip on hypocrite ascetics.
Omar Khayyam's Life
Emam Ghiyath Al-Din-e Abu Al-Fath-e Omar Benn-e Ebrahim-e Khayyam-e Neyshaburi (that's a really long name, isn't it? But it was common in Old Persian period) is one of the great Iranian philosopher, mathematician, and poets. He lived in the fifth and sixth century AH. He was named Khayyam (tentmaker) because in fact his father was a tentmaker.
Omar Khayyam was one the greatest scientists of his period. Early in his life, he began learning the philosophy and sciences of the period and soon became a well-known figure in philosophy, astronomy, and mathematic.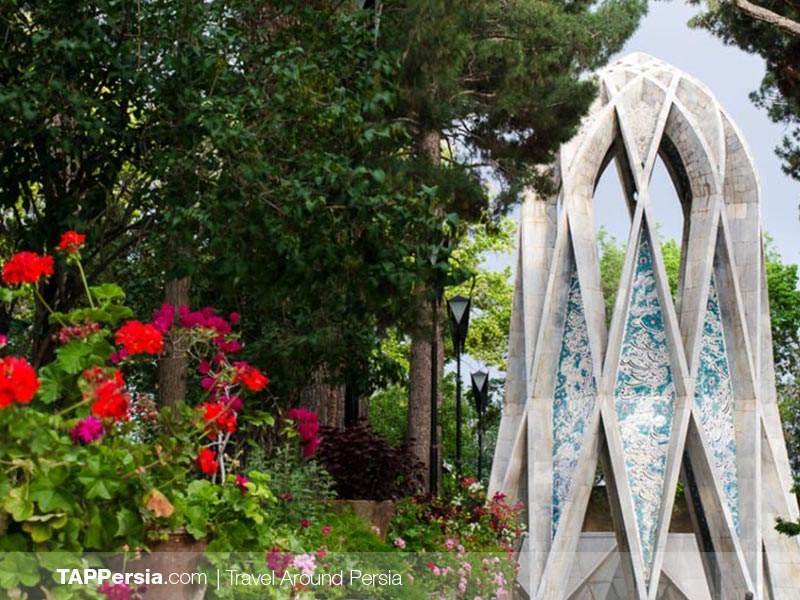 He had an excellent skill in physician as well; it is narrated that he cured the smallpox disease of Sanjar Sultan when he was a kid.
Khayyam wrote his poems in Persian and Arabic and possessed valuable books in different sciences. He enjoyed his fame during his life and people praised him by epithets such as Emam, Philosopher, and Hojjat Al-Haq. 
He lived under the kingdom of Seljuk dynasty; they governed a wide land from Khorasan to Kerman, Rey, Azerbaijan, Rome, Iraq, Yemen, and Fars.
Khayyam is mostly known as a poet, but indeed he is a philosopher and mathematician as well. He studied Avicenna's works and translated one of his famous speeches concerning oneness of God into Persian. 
It is narrated that he travelled to Samarqand, Balkh, Herat, and Isfahan. He perspicuously expressed his philosophical point of views and talked about religious beliefs. Khayyam had great achievements in different sciences as well as poetry.
The Traditional Singing of Khayyam's Rubaiyat in Bushehr
Although the 11th-century Iranian poet Omer Khayyam lived in the city of Nishapur, which is located in the northeast of nowadays Iran, no place appreciates his poetry like the southern Iranian port city of Bushehr. Here you can find a traditional form of southern Iranian music called "Khayyam Khani", consisting out of the singing of Khayyam's Rubaiyat in the accompaniment of traditional southern Iranian instruments like flute, "Ney Jofti" and "Ney Hambon", a form of bagpipes. Rubaiyat is a form of poetry where the poem consists of four short verses.
Over the past few years, the "Khayyam Khani" enjoyed a spike in popularity. It is now performed almost daily in the Cafes of Bushehr and became a must see for everyone visiting this city.
Experiencing Bushehr
Whoever goes to Bushehr will be greeted more than warmly by the locals. Being maybe one of the best examples for the infamous hospitality of the Iranians living in the south at the shores of the Persian Gulf Bushehr has a lot to offer for its visitors. You can find in the narrow alleys of the beautiful old city center and around the bazaar some of the best fish restaurants of all Iran.
The bazaar offers some typical southern Iranian goods like dates,  regional clothes and, of course, fish. But also, the culture scene in Bushehr is very active, especially when it comes to music which has an important role in the everyday lives of the people of Bushehr, especially "Khayyam Khani".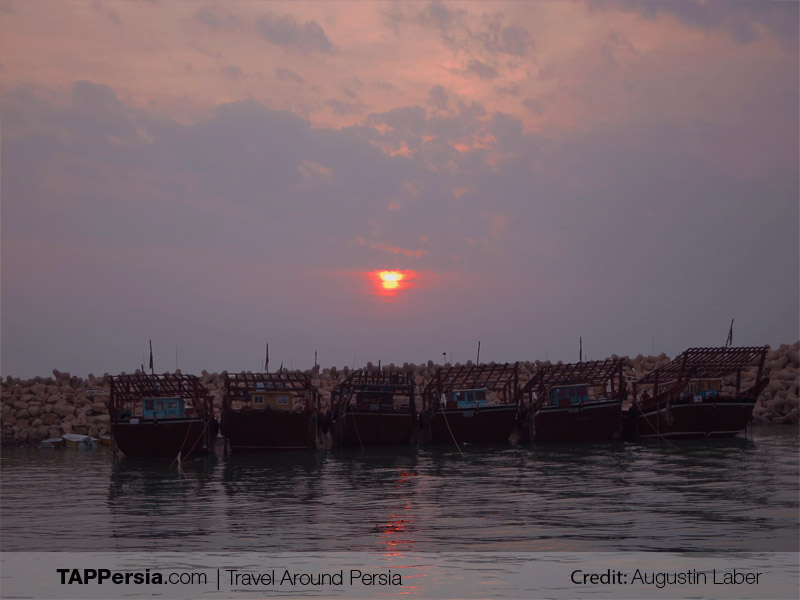 The singing of Khayyam's poems (Khayyam Khani)
There is a special kind of love story between the poet Omar Khayyam and the city of Bushehr. Although he never visited this city his Rubaiyat is the foundation for the so-called "Khayyam Khani". In spite of the fact that the "Khayyam Khani" was originally performed in closed family celebrations like weddings, it became nowadays a public event performed in the cafes of Bushehr. One of the most popular "Khayyam Khani" can be found in the café "Hajj Raees", which is located in one of the beautiful alleys of the old city of Bushehr. Every Thursday and Friday evening the café will be flooded by locals to participate in it.
To the rhythm of drums, the singer, an old man called Kheder, starts singing the rubaiyat of Khayyam (and sometimes poems of other poets like Hafez too) while the crowd is participating by clapping rhythmically to the music. The whole performance starts slowly, Kheder is alternately singing and playing the flute and the whole crowd is clapping hypnotised. Suddenly a young man starts to play the bagpipes (Ney Hambon) and the whole rhythm becomes much faster. The crowd becomes euphoric and men start dancing. After one and a half hour, the crowd leaves tiredly.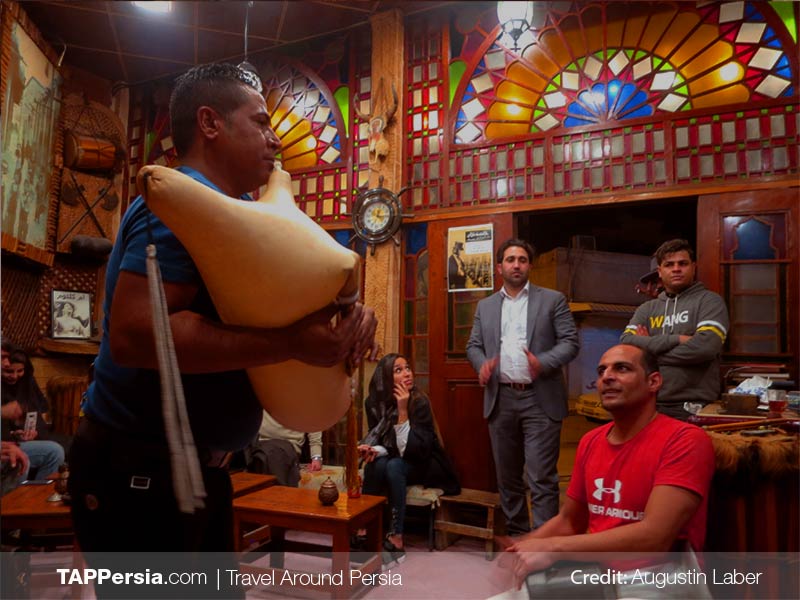 The philosophy of Omar Khayyam
But why is there this connection between Khayyam and Bushehr you can not find anywhere else in Iran, not even in Khayyam's hometown of Nishapur? Maybe it's because the philosophy behind Khayyam's poems is fitting very well to Bushehr: He is telling us to live in the moment and to enjoy our lives now and here. This message is fitting well to a city of fishermen and sailors who would go to the dangerous sea for days and months, leaving their beloved ones back in Bushehr without knowing if they would come home or not. Khayyam's poems reminded them not to think too much about this difficult situation they can't change but to focus on the now and here. That's why till today the people of Bushehr sing poems of Khayyam, such as:
My friend! Come here so that we don't worry about tomorrow
And let us use this one breath of life we have
One day, far from now, we will die
And join the ones who died seven thousand years ago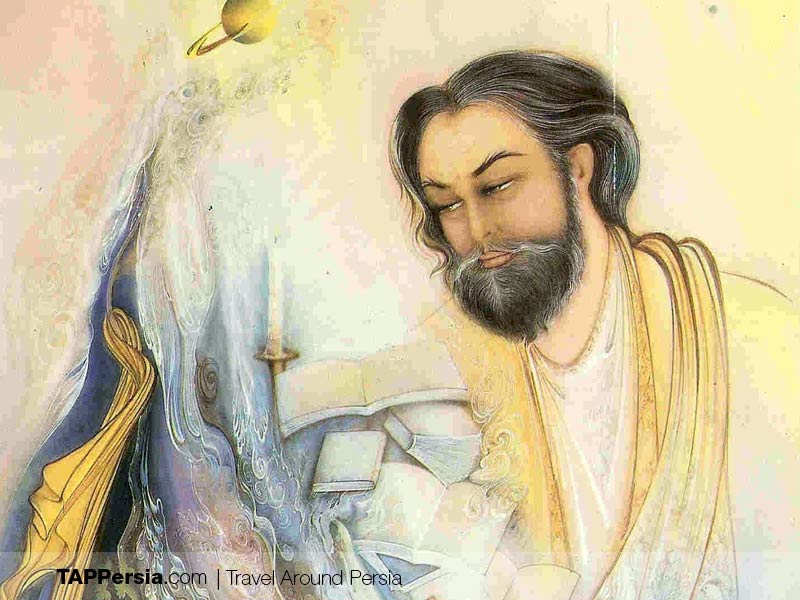 ---
Recommended Tours