There is no doubt that traveling is enjoyable. One part of traveling is to visit different places and the other interesting part is related to buying souvenirs. Mashhad, as one of the main religious cities in Iran, has its own souvenirs. They include edible stuff to handy crafts. But at the same time, they all are valuable. Mashhad souvenir considered different from any other place. They are not just the simple edible stuff or the things that one wears it. But they are considered blessed which is called "Motabarrek". So, people love to receive souvenirs from Mashhad.
A person who visits the Imam Reza holy shrine is called pilgrimage or "Zaer". So, people expect to receive something from the pilgrimage as an experience of being in that holy place. They love to receive souvenirs when one is back home.
There are remarkable shopping centers around the holy shrine.  There is no difficulty to find the needed souvenirs. Just outside the holy shrine, there is a range of shops of souvenirs for the visitors. So, it so common, that after visiting the holy shrine families have a good tour of the available shops, to get what they wish to.
Saffron – The Red Gold
Khorasan is one of the main provinces in Iran to produce this plant. Mashhad is the capital city of "Khorasan Razavi". Recently Khorasan has got divided into three provinces. One is north Khorasan and the other is south Khorasan. And the main one is Khorasan Razavi where Mashhad is the capital city and Imam raze holy shrine is also based there.
Saffron is also known as red gold. It is one of the main Mashhad souvenirs. It is valuable and expensive. It is sold on a gram basis. Mashhad saffron is expensive compared to the prices in other places in Iran. Since it is found in abundance in Mashhad, it is cheaper compared to its price in other countries. Khorasan province provides 75% of the saffron in the whole country.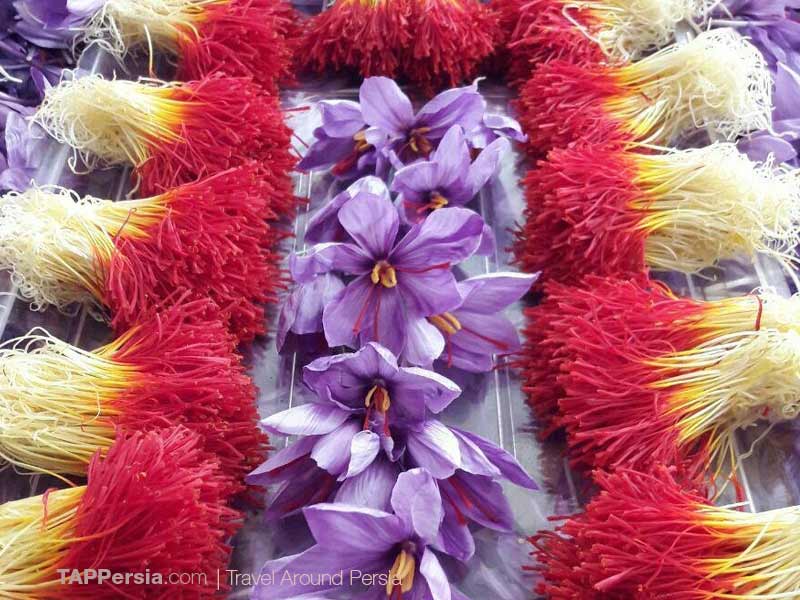 Iran is known for the best saffron, and it exports this product to different parts of the world. From early days this product was one of the agricultural products in Iran and the history goes back to 3000 years ago. The best place to culture this plant is desert areas, so Saffron is called the "gold of the desert".
Saffron has different usages. But in terms of household use, Iranian people use it for cooking purposes. They use it mostly when they want to cook different kinds of rice in order to decorate the rice or to mix it with other ingredients. It gives a beautiful golden color to the white rice. The first one needs to soak a small amount in boiled water. Wait for some time, when the color of the water is completely red, it is ready to be used. Then you can mix it with rice or add it to other foods. 
Saffron has many medical usages also. They include depression treatment, enhancement of memory, anti-cancer, rejuvenating the skin, decreasing the blood pressure and etc.
When you buy this product, keep in mind that it has a dark strong red color. When you soak it in water, it must be done for enough time so that the color is out and water gets red completely.
Barberry Mashhad Souvenirs
Iran is considered the biggest country which produces this fruit. Inside Iran, south Khorasan is the providence which culture it.  The city of "Qayen"- 100-kilometer far from Mashhad is the main center for producing this plant. This fruit is dried and it is used for cooking purposes.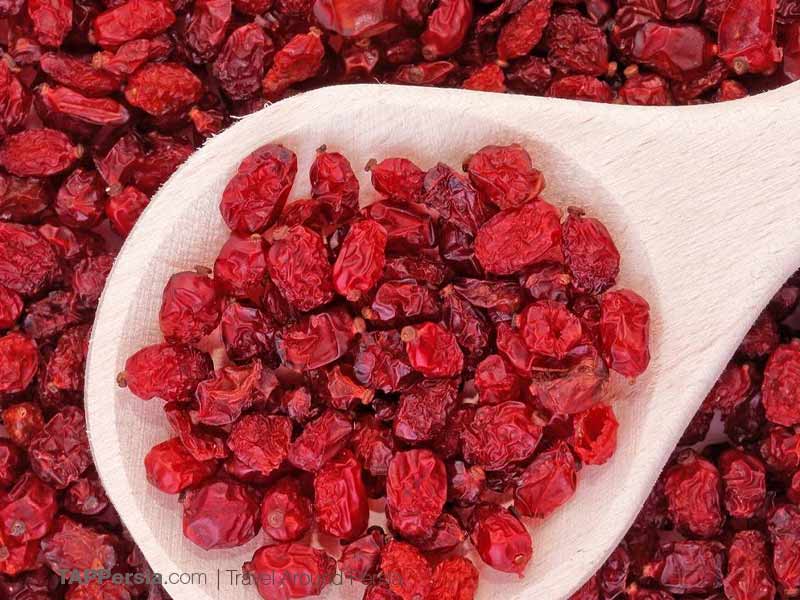 The taste is so sour and the red color makes it perfect for designing Iranian cuisines. It is added to the rice combinations. One of the famous Iranian dishes is "Zereshk- polo" which is rice with a mixture of barberry. Making its juice is also so good.
It has medical usages as well. It boosts the body's immune system against infectious diseases. It increases the appetite too. This souvenir is available on a kilogram basis. Almost all the shops around the Imam Reza holy shrine provides it for the visitors.
Nuts and Dry Fruits
 Nuts and dry fruits are also available in most of the shops near the holy shrine. Iranian people have the habit to serve their guests with nuts and tea. New Year celebration is also the time when families decorate the Haft- seen spread table with it. Christmas tree is for Christmas and Haft- seen spread table is for New year celebration. Nuts include items like peas and raisin, sunflower seeds, dried berries, dried fig, fruit leather, hazelnut, pistachio, jujube, and plums and etc.
Sweets, Candies, and the Famous Nabat
Nabat is one of the Mashhad candy souvenirs. It is used to sweeten the different kinds of tea. In can be purchased on a kilogram basis or it can be purchased inboxes. There are different kinds of the flavor of Nabat. The most common one is flavored with Saffron.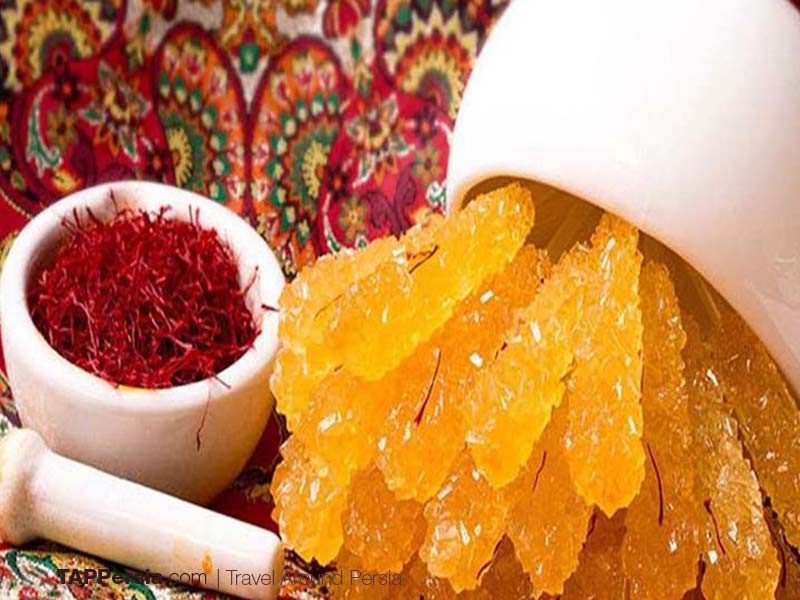 These days Nabat is presented in different colors that have different tastes too. They include flavors of mint, cinnamon, cumin, lemon, saffron, and thyme. Nabat has a warm nature and it can be mixed and eaten with the things which have a cold nature including milk.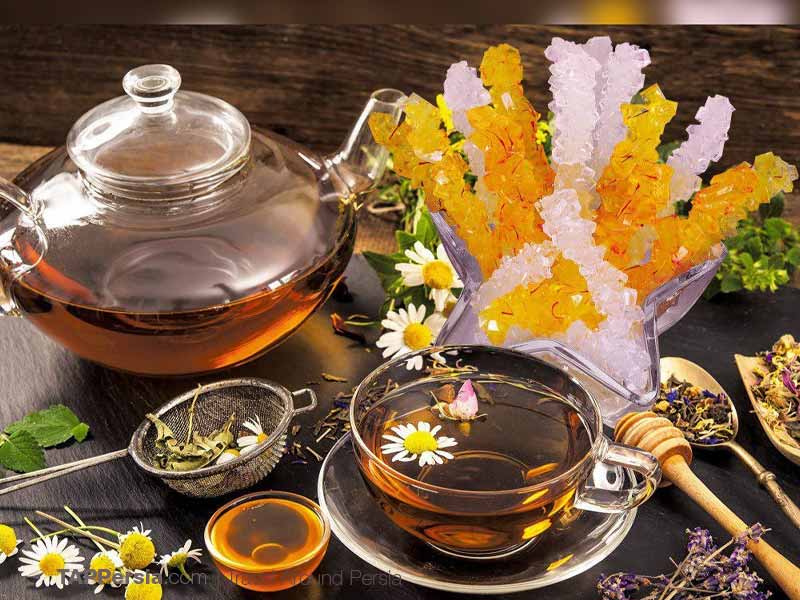 Nabat is also used for decoration of the "Nikah" and "Haft- seen" table spread. Nikah table spread is one of the marriage ceremonies when a couple is religiously and legally married.
Mohr, Sajida, and Tasbih
Mashhad, being a religious city, has religious souvenirs too. Consequently, religious people like to buy related stuff. "Mohr" is a round or rectangular shape stone that is used for praying. Shia-Muslims touch their head on Mohr when they want to prostrate. This item can be found in different cities in Iran. But the one which is available in Mashhad city is made by the soil of the Imam Reza holy shrine. So, people consider it as blessed.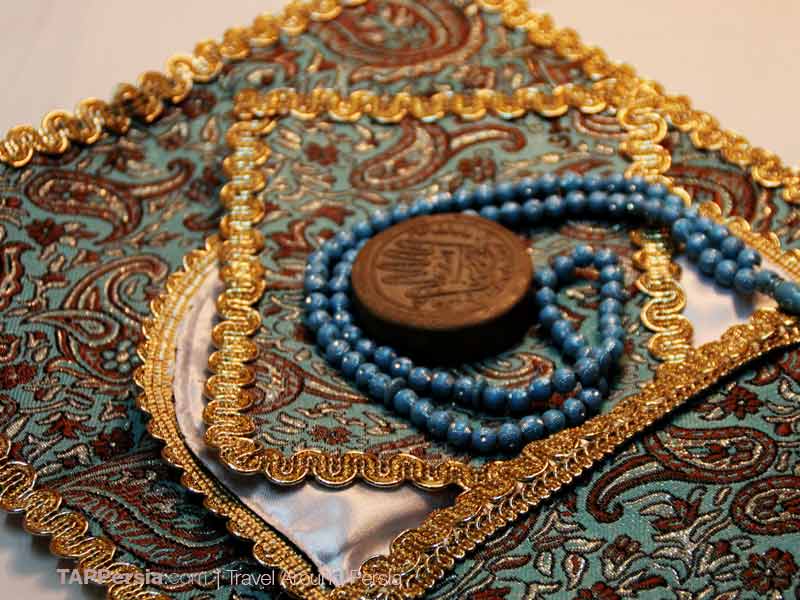 "Sajida" is a kind of cloth that is used for praying. It can be small or it can be big. One can spread it on the floor to have a comfortable space for praying. Another reason for using this clothing is to have a clean area for praying.  This souvenir is so common in all the religious cities and Mashhad is no exception for it.
"Tasbih" is used by people to recite prayers. Or some old people keep it in their hands as a symbol of being religious or a matter of habit.
Perfume of Mashhad – The Holy Smell
This item is also one of the common souvenirs. It is available almost in every shop around the holy shrine. They can be found in different sizes.  Some people use perfume when they pray to have a good smell. One of the devices of the great prophet "Mohammad- the last messenger of God" is to perfume yourself, most particularly when you are praying. So, it is so advised in the Muslim religion to use perfume. At the same time, there is some consideration for the usage of perfume by women. They can use it for the purpose of praying. It should not be used in public to attract male attention.
Available Perfumes in Mashhad come from different flowers. They include citrus uranium, saffron, rose flower, japan allspice, Jasmine flower, amaryllis, and fruit perfumes. Among these, rose and Jasmine perfume is known as the holy shrine perfume. So, giving such souvenirs to people will remind them of the holy shrine atmosphere.
Inside the main halls in Imam Reza holy shrine there are always servants who spread perfume on people which has a very nice smell, and makes the environment physically and spirituality pleasant.
Jewelry Mostly Particularly Turquoise
Turquoise is the blue color stone which is found in Masha's city in abundance. This option is also available for both women and men. Some people mainly like to buy pieces of jewelry form Mashhad. Pieces of jewelry that are designed with Turquoise are so famous in Mashhad.
 Some people believe that wearing turquoise rings can protect from bad eyes (negative impact of other people when they look at you), and also protect one from negative energy. So, in Islamic narratives, it is advised to wear it, most particularly for men. The turquoise stone is considered as the symbol of love,  friendship, prosperity, and serenity. People believe that wearing this stone increase their self- confidence. As well.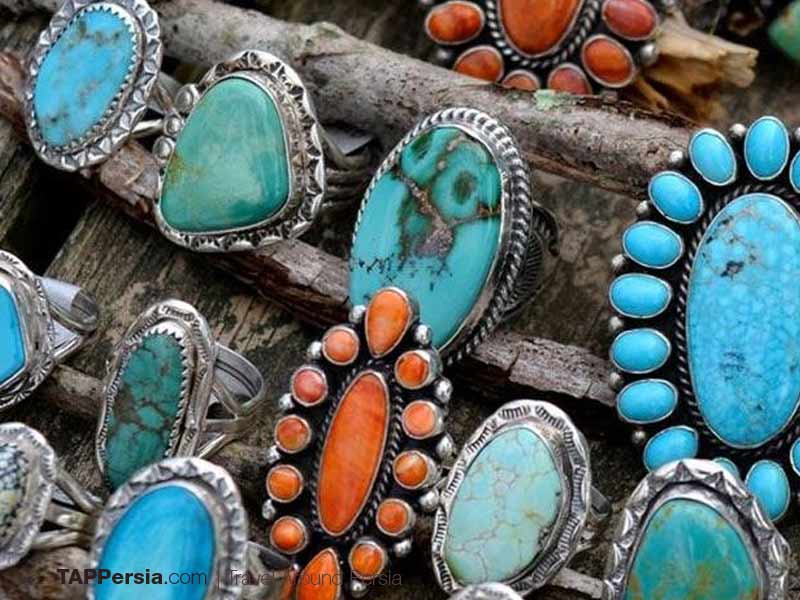 Turquoise is originally coming from "Neyshaboor" city. This city is close to Mashhad. There are one and a half hours of travel from Mashhad to this city by bus or by train. Women pieces of jewelry have a different variety including necklace, bracelet, earrings, and rings with turquoise designs on it. Silver jewelry is also one of the women targets in the Mashhad souvenir list.
Food Spices and the Famous Masala
Iranian dishes are so tasty which come from good food spices and they give enough time to the ingredients to be cooked. There is a kind of food masala which is called "Adviyeh- e- Haft Qalam". It means that there is a combination of 7 items in this food spices.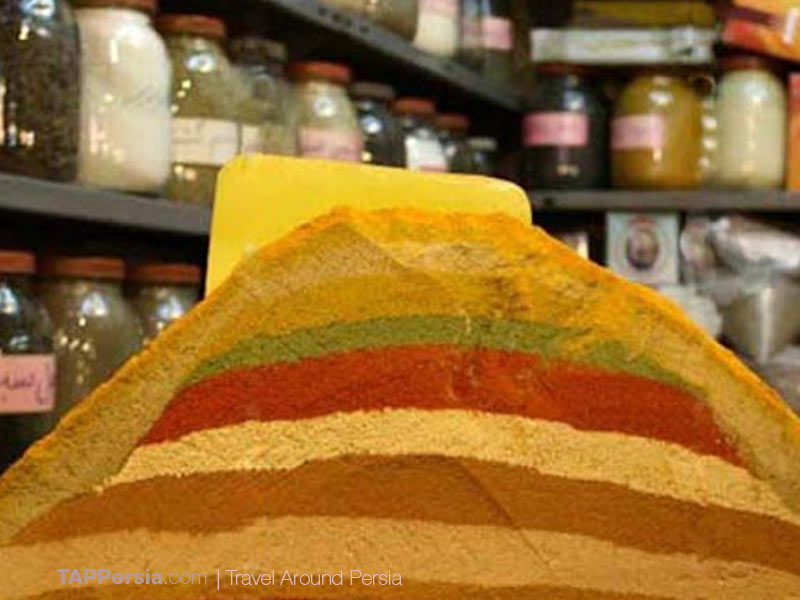 They include turmeric, black and red pepper, Cinnamon, Angelica, Ginger, and Sumac. The way shop keepers design it looks very attractive. Do not forget to try it and use if for your cooking. The spice is mostly used for the cooking of broth and stew.
---
Recommended Tours