Together, let's review the list of souvenirs of Mashhad. Mashhad is a city full of souvenirs, handicrafts, delicious and of course expensive stuff like saffron. However, tourists do not return home without buying this valuable fragrant herb. Join us to learn about the souvenirs and handicrafts of this glorious city.
1. Neyshabur Turquoise
Around the city of Neyshabur in Khorasan Razavi province, there are mines from which the history of turquoise extraction dates back to more than 2000 years ago. For this reason, the art of turquoise carving has been popular in this city for a long time and has reached Mashhad as well. Turquoises are used by artists in various forms to make or decorate ornaments, dishes, paintings, and rosaries. You can get this stone cut or uncut.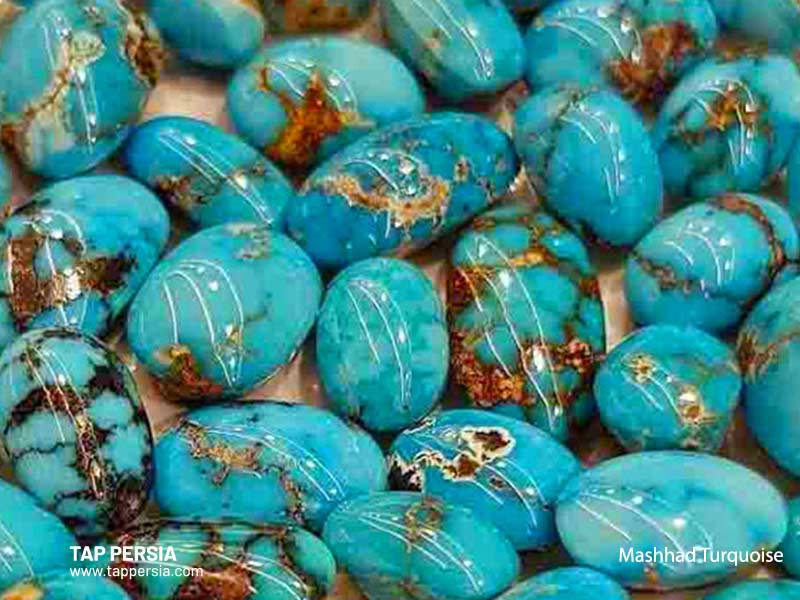 2. Mashhad Rings
Mashhad rings are known for having beautiful and exquisite stones, especially agate and turquoise. The rings of this holy city are valuable for being blessed and also for the religious engravings on some of their stones.
3. Sajadah and Mohr
Due to the blessedness of this religious city, Mashhad is very common to sell Sajadah and Mohr (stuff Shia use while praying). Some of these rugs (Sajadah) are sewn with Yazd cashmere and are very beautiful. Mohr is also made in this city which is one of the famous souvenirs of Mashhad.
4. Tasbih or Rosary
Rosary is a souvenir of many religious cities and the art of rosary making is very prosperous in Mashhad. Rosary beads are made in different colors and sizes. Additioanally, their beeds can be of different materials such as clay, glass, wood, and even the seeds or gum of different plants, precious stones such as agate, ruby, jade, and… All of these may cause their prices to increase or decrease.
5. Mashhad Carpet
One of the most exquisite handicrafts of Mashhad is its carpet. These carpets usually have designs like big flowers. They use wool and cotton thread for their texture. The best place to buy Mashhad carpets is the Mashhad carpet market, where there are many choices.
It is interesting to know that the largest  Mashhad carpet is in the Mellat Palace of Saad Abad complex in Tehran. Also, if you want to see more luxurious and valuable carpets from Mashhad, you can visit Astan Qods Razavi Carpet Museum.
6. Arghavan Weaving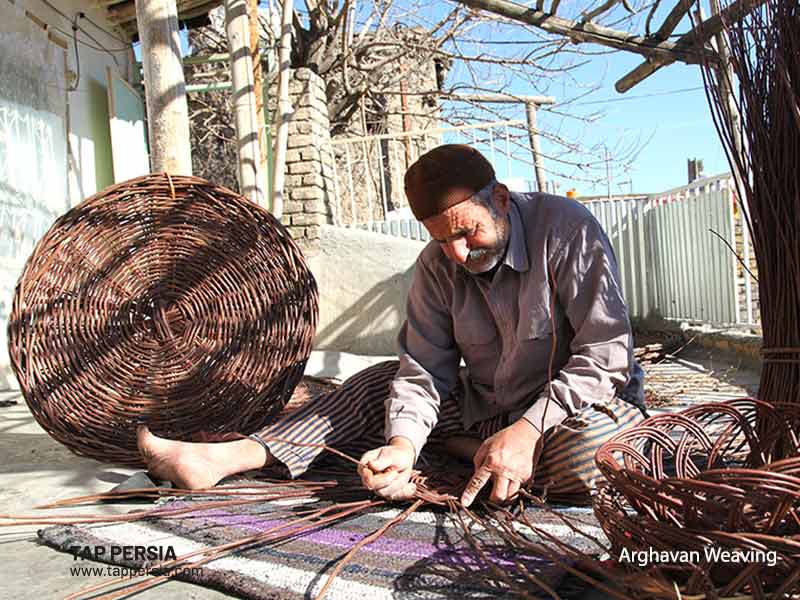 Arghavan weaving is one of the handicrafts of Targabeh. They use the leaves of the Arghavan plant (Judas-tree) to weave decorative items such as flower or shopping baskets, fruit containers, colanders, etc.. Arghavan is a plant that grows mostly in the Mayan hills around Targabeh. Weaving artists, in the spring and autumn seasons, pick the young branches and after keeping them moist in a warehouse-like environment, they start weaving them. You can find these cute handicrafts in markets of Mashhad, Targab,eh or Shandiz.
7. Har-Kareh Tarashi (Stone Carving)
Harkareh Tarashi is one of the most famous and oldest souvenirs and handicrafts of Mashhad and Razavi Khorasan province. This hand-art dates back to 1400 years ago. Khorasan artists make various containers called Harkareh. For this they use a special stone called serpentine and decorate these containers with different designs such as flowers and plants using the art of Ghalamzani. One of the most common Harkareh containers is a small stone pot that are mostly used to cook Dizy.
Interstingly, the serpentine stone is soft and resistant to fire. That's why the food cooks gently in these dishes and gets a more delicious taste. Of course, the art of Harkareh Tarashi is not limited to making pots. And you can find all kinds of cups, samavar, and trays with various designs.
8. Poostin Duzi
Inn this craft, they use tanned sheep skin to make clothes, shoes, and other clothes. Then women apply beautiful needlework on them to decorate these skins. Poostin Duzi has been very popular in the mountainous cities of Khorasan province, such as Mashhad, Quchan, Shandiz, etc., but today it is not very prosperous and you may not be able to find it easily in the city markets. However, by asking local people you will be able to get what you desire. Especially you can find this valuable handicraft in the villages.
9. Mashhad Leather
In general, we can say that Khorasan Razavi is the most important hub of leather production in our country. And some of the biggest leather producers in Iran are working in this city. Among the most important leather-producing companies in this province, two leather brands, Mashhad and Charmiran, are more popular. These two famous brands have branches all over Iran, but if you visit the city of Mashhad, you can see a large number of their stores in the city that sell their various products.
10. Samavar Making
Another old handicraft of Mashhad is Samavar making. And making all kinds of samovar is booming in this city. Mashhad samovars  mostly made of materials such as silver, nickel, steel, etc. Anyways, you can get them either from the city market or from the samovar workshops.
11. Ghayenat Saffron
Saffron is a beautiful, colorful and rich herb whose history of cultivation in Iran dates back to ancient times. They cultivate this precious plant in several cities of Razavi and South Khorasan, especially Ghayenat, and is abundant in Mashhad. You can buy this red gold in Mashhad and know that you are taking home the highest quality saffron in the world!
12. Quhistan and Zirhuh Barberries
Barberry is also one of the popular souvenirs of Mashhad. They grow this colorful and sour-tasting plant in South Khorasan more than anywhere else in Iran. The high quality barberry belongs to the cities of Quhistan and Zirkuh which they transfer to Mashhad and other Iranian cities for further sale.
13. Mashhad Pickle
In Mashhad, you will find red pickles that are quite tempting! This pickled tomato salad is also called Mashhadi salad or Mashhadi pickle. To prepare it, they boil all kinds of vegetables such as carrots, cauliflower, etc. with tomato juice and salt and serve it along with all kinds of stews, rice and other Iranian foods.
14. Nuts and Dried Fruit
In Mashhad, you can buy all kinds of nuts and high-quality dried fruits, especially jujubes, chickpeas, raisins, and  so on. Of course, dried fruit is not one of the old souvenirs of the city; But due to the existence of several large export dry fruit factories in Mashhad, trying it can be a good experience. The sour lavashak, Dried plums and apricots of Mashhad are also very delicious and popular. And you can buy them from different markets in the city.
15. Sweets and Candies
One of the sweet souvenirs of the city is the variety of Noql. Noql can have different flavors from cardamom, coriander, and saffron to cocoa or nutty. And fortunately, you can find them easily in the shops around the shrine or other shops. But a more important souvenir in Mashhad is Nabat (Rock candy). This city has the first rank in the production of Nabat in the country. And truely, its Nabat is among the best in Iran.
16. Alu Bukhara (Prune) of Kharv and Birjand
The city of Kharv in Neishabur is the capital of Iran's plums and Prunes. Various types of plums are grown in this city, and dried plums, which are also known as Alu Bukhara, are abundant in Mashhad. Birjand, the capital of South Khorasan province, is another city that is famous for its plums. You can easily access this delicious product in the markets of Mashhad.
---
Recommended Tours