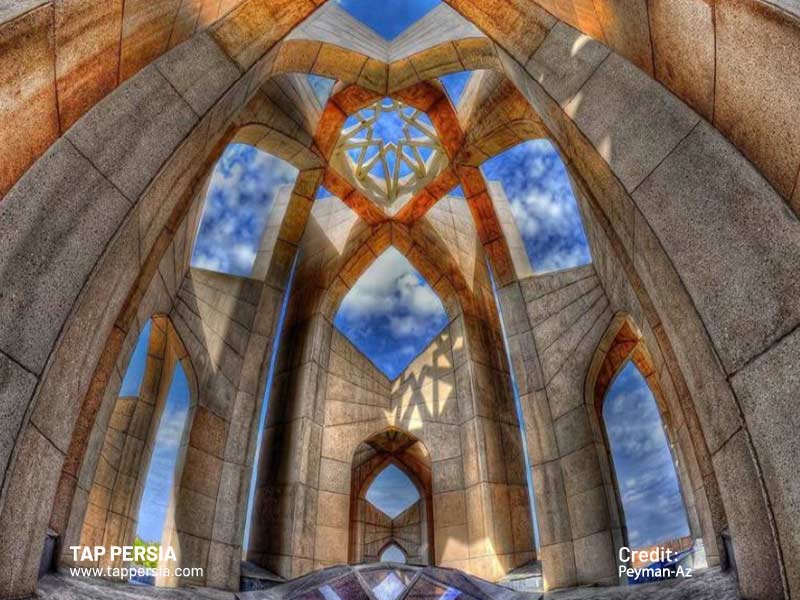 Tabriz is a city full of amazing natural and historical attractions(Tabriz historical landmarks). In its every corner there are things to make your day or night. One of these popular top attractions of Iran in Tabriz is Maqbaratoshoara. Today we are going on a trip to Tabriz to visit this place. Our destination is Maqbaratoshoara or The Tomb of The Poets of Tabriz. It is a place with a modern but esoteric historical view. And it has housed great poets and literates for hundreds of years, now. Join us to visit The Tomb of Poets and to get to know many of the great poets of Iran.  But before we start, let's see why the Tomb of Poets is a must-see in Tabriz?
First, the graves and the tombs of more than four hundred poets and writers of Iran are located in this place. Especially Master Shahriyar, Khaghani, etc. Second, it has beautiful and attractive architecture and atmosphere. Three, it is considered a cultural symbol of Tabriz. And four, it is located in a historical neighborhood and near other old monuments. 
Maqbaratoshoara Of Tabriz, The Burial Of 400 Famous Literates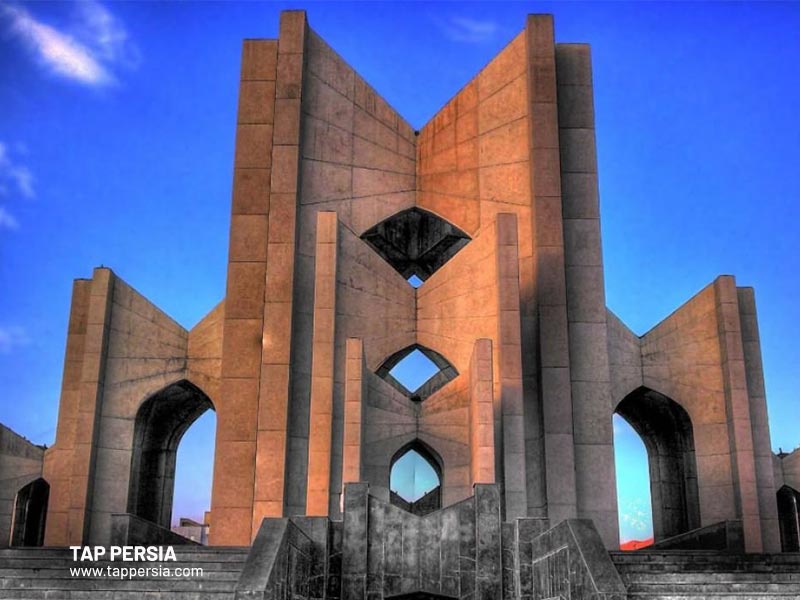 The monument of Maqbaratoshoara of Tabriz is one of the cultural symbols of this city these days. It has a unique and spectacular structure. To visit this tomb, you must take the road to the historical neighborhood of Sorkhab in the heart of the city. Maqbaratoshoara literally means the tomb of poets. In the past, it was part of the Sorkhab neighborhood cemetery. This cemetery has housed more than 400 poets, mystics, and writers since 800 years ago and has been the burial place of great people. In this tomb, the most famous sleeping poet is Master Shahriyar, whose body was laid to rest there in 1988. 
Other important personalities buried in the Tomb of Poets include Hakim Asadi Tousi, Qatran Tabrizi, Khaghani Shervani, Homam Tabrizi, Zahir al-Din Farabi, Lisani Shirazi, and others. This tomb is located near famous and historical buildings and tombs such as Rashidi Quarter, Seyyed Hamzeh Tomb, Sahib Al-Amr Mosque, Qajar House and Museum, etc. According to experts, this tomb is a rich collection of the history of Iranian literature. And its geographical scope goes even beyond the borders of our country.
Famous People Sleeping In The Tomb Of Poets of Tabriz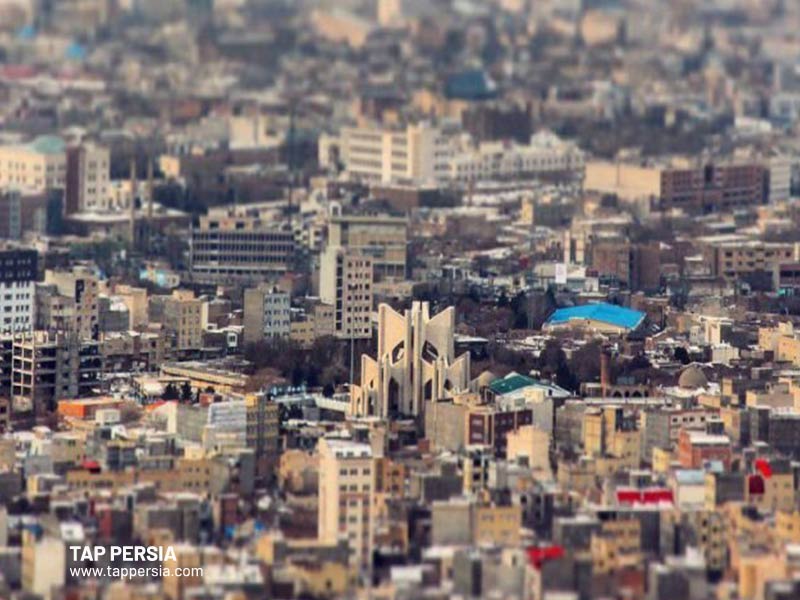 According to narrations, more than 320 poets and mystics, and according to another, more than 400 people are buried in this cemetery. These famous people were from different lands and cities who lived in Tabriz once. They caused the cultural and artistic richness of old Tabriz and the solidarity and pride of new Tabriz.
In this section, we try to introduce you to some of the most famous poets and writers who have been sleeping in this cemetery. Of course, the names of all of them are not in hand. Anyway, we will be learning about some of the most known and popular ones. Here we go:
Seyed Mohammad Hossein Behjat Tabrizi, Shahriar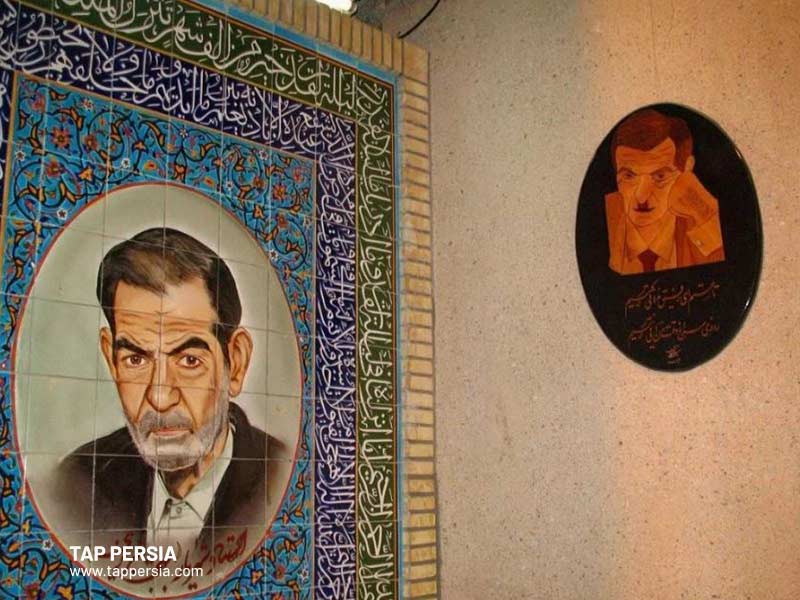 Mohammad Hossein Behjat Tabrizi along with Khaghani is one of the most famous poets buried in this Tomb. His alias was Shahriar. He was born in 1907 in the city of Tabriz and went to Tehran to continue his studies at a young age. Upon arrival in the capital, he met Abolhassan Saba and learned to play Setar (an Iranian musical Instrument). He also learned the principles of Persian music. Shahriar studied religious sciences at the same time in Darolfunun. Then he entered medical school in 1924. During his years in Tehran, Shahriar composed lots of  Persian and Azeri poetry skillfully. And gradually he became a well-known figure in the field of Iranian literature and poetry. This great poet created his immortal work, Haydar Baba, between the years 1950 and 1951.
Heydar Baba is considered one of the masterpieces of Azerbaijani Turkish literature. In This piece of art, he delicately mentions the originality and beauty of his city and country. He returned to Tabriz in 1943 and dropped out of medical school due to a failed love affair. This year he marries one of his relatives and from this marriage, he has three children. In the 1940s, Shahriar had reached the highest level of his fame. He transcribed a third of the Qur'an into beautiful calligraphy. His collection of Persian and Turkish poems was published several times and immediately became scarce. He composed the valuable book Sahandieh during his stay in Tabriz and lost his wife in 1975. He was hospitalized in Mehr Hospital in Tehran in 1988 and died the same year. It was according to his will that he was buried in the Tomb of Poets of Tabriz.
Asadi Tusi, The First Poet Buried In Maqbaratoshoara
Abu Nasr Ali ibn Ahmad, Asadi Tusi is the first poet buried in the Tomb of Poets in Tabriz. He has left works such as his debates in qasida, Garshaspnama, Modern Persian dictionary, and so on. This poet was originally from Tus, Khorasan Province. But in the year 1034, he died in Tabriz and they buried him in the Cemetery of Sorkhab.
Qatran Tabrizi
He is a famous poet of the eleventh century and the second poet they buried in Sorkhab, in the Tomb of Poets. According to the narrations, he is the first Persian-speaking poet of Azerbaijan. Divan-e Qatran, Daqiqi and Manjik are among his works. He died in 1073 and was buried in Sorkhab. The importance of his works also refers to the important historical events of Tabriz.
Khaqani Shervani
Khaqani Shervani is one of the most famous poets buried in the Tomb. He is one of the greatest poets of the 12th century. His birthplace is Shervan or Shirvan. Historical sources state that this great poet was born in 1125 and died in 1199 in Tabriz. Among the works of this great poet, we can mention Khaqani's Divān, the Masnavi of Tohfat al-ʿErāqayn (or Khatm al-gharāʾeb), and so on.
Zahir-al-Din Faryabi
After Khaqani, the most famous poet in Maqbaratoshoara is Abolfazl Tahir bin Mohammad Faryabi, nicknamed Zahir. He was from Balkh and was born in 1128. Unlike Khaqani, Zahir died in poverty in 1202. Among his works, we can mention his poetry collection.
The History Of Maqbaratoshoara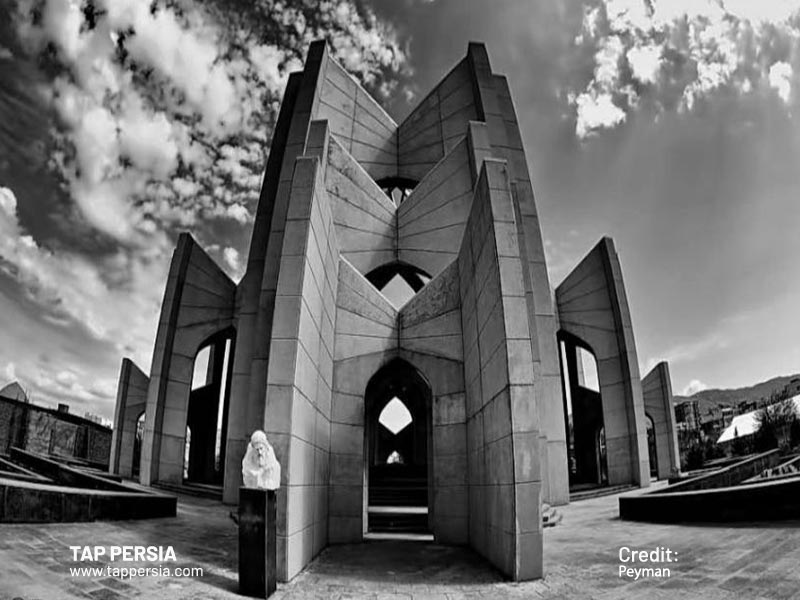 As we have said, Tabriz has long been the mother of educated poets, mystics, and writers who lived in the old alleys and neighborhoods of this city. Both the people who were from Tabriz or came to this city from other places fell in love with it. And made a will to be buried in this land of nobles. Among the various neighborhoods, Sorkhab Alley was very famous and popular because many poets lived in it. That's why many elders liked to be buried in this neighborhood after death.
After the 13th century, when Tabriz was called the center of Atabakan reign in Azerbaijan, this city became a refuge for poets. Because these poets sought a peaceful and comfortable life away from war and conflict. Khaqani, Abu al-Ala, and Falaki from Shervan and Ganjeh, Zahir Faryabi, and Shahpour Neyshabouri came to Tabriz from Khorasan and settled in this city. These poets were buried in special mausoleums at that time, which was later called The Tomb of Poets. Other poets came to this city in different periods from the Ilkhans to the Agh Quyunlus and the Safavid period. And announced in their wills to be buried near the great Khaqani. Of course, You can not find any trace of this tomb's name in documented history, before the 15th century. People also called this place Hazira al-Shu'ara, Hazira al-Qadha, and Sorkhab cemetery.
The First Tracks Of Maqbaratoshoara In Written Documents
For the first time, we can read about biography of poets such as Khaqani and Farabi who are buried in Maqbaratoshoara, in the book "Lubab ul-Albab" written by Mohammad Aufi in 1221. We can see the oldest reference to Sorkhab cemetery in the book "Nuzhat al-qulub" written by Hamdallah Mustawfi in 1339. Also, the book "Mostofi's Tarikh-i guzida" written in 1330 refers to The Tomb of Poets. Over the years, the face of the Tomb of Poets was not like the beginning any longer. Due to natural events such as floods and earthquakes, parts of it were destroyed and its appearance changed. So that in 1779, this cemetery was totally abandoned.
Tabatabai in his book "Olad Athar" written in 1877 has written that the earthquakes of 1779 left no traces of the tomb. Mr. Aziz Dolatabadi, a researcher who is also buried in this tomb, wrote in an article about the earthquakes in Tabriz:
Unfortunately, you will not find the slightest trace of the tombs of the superiors of Persian poetry and literature such as Khaqani Shervani, Asadi Tusi, Zahir Faryabi, Majir al-Din Bilqani, Hakim Qatran Tabrizi, Shahpour bin Mohammad Ashhari Sabzevari, Khajeh Hammam Tabrizi, etc.
During Pahlavi Dynasty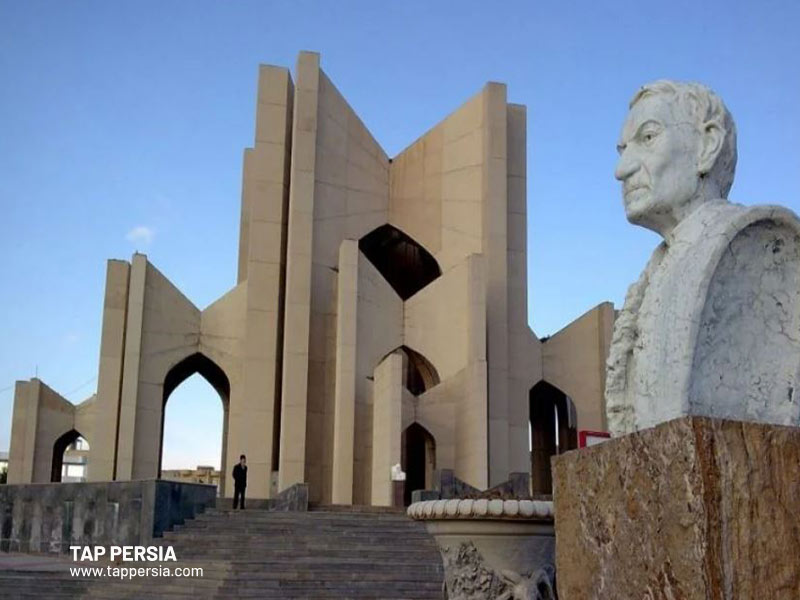 In 1971 during Pahlavi Dynasty, due to the presence of many mystics and celebrities in this area, the government decided to reconstruct this place. They held a competition to reconstruct and design its monument. The announcement of this memorial project was held in the newspapers Ettela'at, Kayhan, and Yaghma magazine. And finally, the proposal of "Gholamreza Forouzan Mehr" was chosen from among other proposals. The construction of this monument was seriously pursued in 1972 and continued until 1982. After that, the Ministry of Culture and Guidance became the custodian of this collection and took charge of organizing the design of Maqbaratoshoara. Of course, the Tomb for the poets is only part of the plan presented by Mr. Forouzanmehr.
According to this plan, there was a cultural campus for artists and art lovers to gather in this place. A historical and cultural collection that, if fully built, could compete with cultural collections such as Hafeziyeh and Saadiyeh. The 11,000-square-meter cultural project included the construction of a tomb, museum, exhibition site, and sidewalk that sought to connect the various historical sites of Sorkhab. During these years, however, the final design of the Tomb of Poets has not yet been fully implemented. Unfortunately, it is unclear when it will be fully completed.
The Architecture Of The Tomb Of Poets
There are not many studies on the architecture of the Tomb of Poets. But there are some interviews with its architect. these reviews are the only way to better understand the design and architecture of this work. Maqbaratoshoara is a structure with both modern and traditional architectural art. And it creates a sense of connection between the viewer and the design. The purpose of such a plan was not to lose the architectural appeal over time.
The architect of the building, Mr. Farzanmehr, says about the construction and strength of the building of the Tomb of Poets in Tabriz:
To implement the plan and make sure that the ground is resistant, we first pounded five layers of soil to obtain a resistance of 1.2 kg per square centimeter. The core of this structure is metal and covered with concrete pieces. The main building of the Tomb of Poets is more than 30 meters high and has become one of the identities, artistic and cultural symbols of Tabriz over the years.
Mr. Forouzanmehr also mentioned the plan that he had presented. And said if the plan had been implemented correctly and completely at the same time, it could have lasted up to 500 years.
What You Find In The Tomb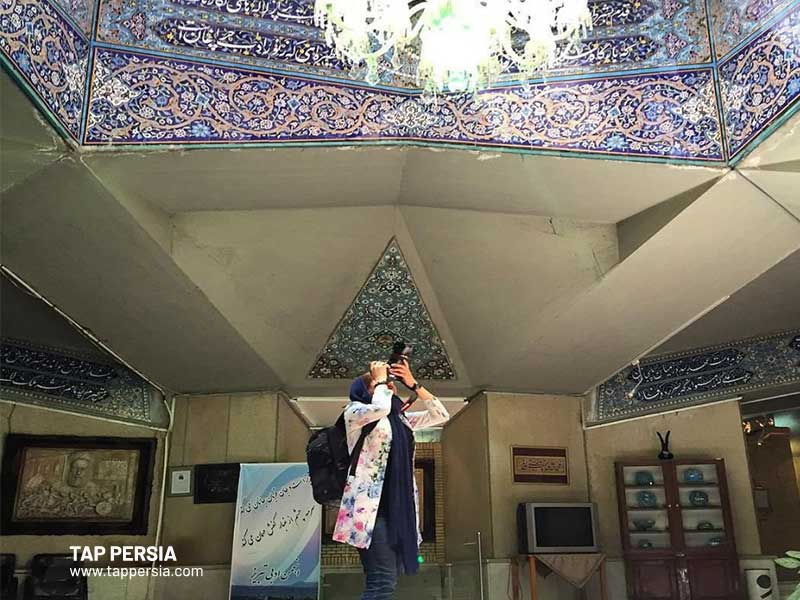 When you go up the stairs of the tomb, you will encounter a huge structure that is a great piece of art. It surrounds you with many arches. To reach the entrance, you must go down the stairs and enter the main space below the symbol of the Tomb. When you reach the main section, you will find yourself in a large room with a few smaller rooms next to it. A tomb in the corner of the room draws your attention to itself. A place that is fenced with glass with engraved poems on it. This is the grave of Mohammad Hossein Shahriyar, a famous Iranian and Tabrizi poet. The room is filled with poetry, writings, sculptures, and paintings of various poems buried there.
There are several side sections there, also. One of them is for office work and another one for selling books, handicrafts, small sculptures, etc. In other sections, you can get to know more about other poets and literates sleeping in this place. The Tomb of Poets has specialized guides that you can ask your questions about this place, as well.
Concerns About The Tomb Of Poets
The most important issue that we can mention about the Tomb is the unfinished constructions of this cultural complex. Its original design has not been completed after years and decades. The concrete blocks, fences, and gables used for the ongoing constructions decrease the beauty and the charm of the complex. This project was supposed to be completed and to be used for the comprehensive plan of Tabriz in 2018, in which it has been selected as the cultural capital of the Islamic world. This work has not been completed yet and is not in the best condition that tourists expect. It is worthwhile for the city officials of Tabriz to complete the project of this complex as soon as possible. This way they provide a space worthy of the names of the poets of this tomb.
How To Get To Maqbaratoshoara
Address: East Azarbaijan, Tabriz, Sheshgalan neighborhood, Thiqah al-Islam St., next to Aref St., Tomb of Poets
In order to get to the Tomb of Poets, you must reach Basij Boulevard, 29 Bahman Boulevard. Take the road to Imam Khomeini Street and after passing the Blue Mosque, turn north to Thiqah al-Islam Street. When you get to the first crossroad, you can see Maqbaratoshoara on your right.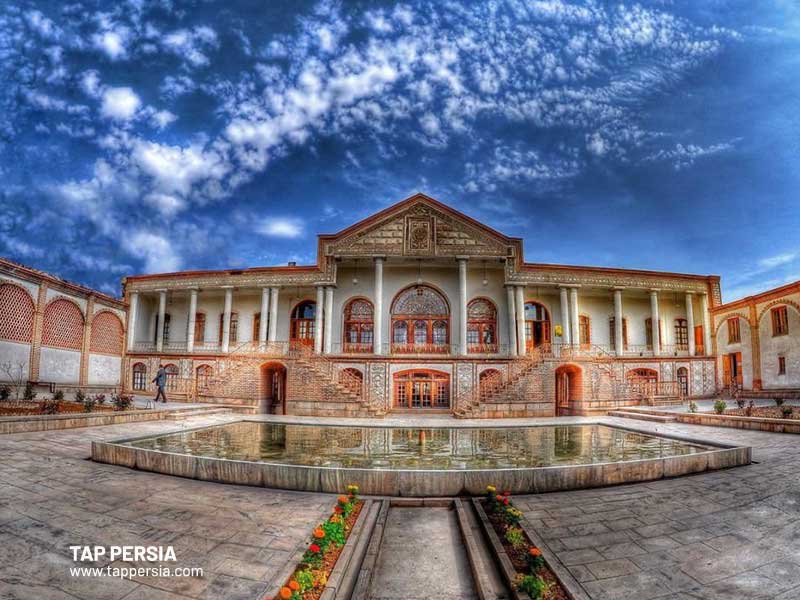 Nearby Attractions
Now let's get to know the attractions and other sights close to the Tomb:
1. Qajar Museum: You can walk there it is only 500 meters away.
2. Tomb of Seyed Hamzeh: It's in the same alley.
3. Rabe-e Rashidi: It is 4 kilometers away.
Final Words
Thank you for joining us on this short trip to Maqbaratoshoara in Tabriz. I hope you have enjoyed reading about it. If so please let us know in the comments. If you wish to learn more about this glorious city or the other Top Attractions In Tabriz, you can read more at this address. Your words are worth the world to us. In case you need more information or you would like to book a tour in Tabriz with Tappersia, our professional guides will be glad to help you. You can reach us via the contact information below the same page. Hope to see you soon in Iran.