Koofteh Tabrizi is a divine Persian dish, in the form of super meatballs which are stuffed with berries.  This tasty Azari food is originated in Tabriz, but you can find it among the top dishes on the menu of most Iranian restaurants! Whether you have tasted it on your trip to Iran or seen mouthwatering photos of it on Instagram, here is a quick & easy recipe for you to make this delicious dish:
Ingredients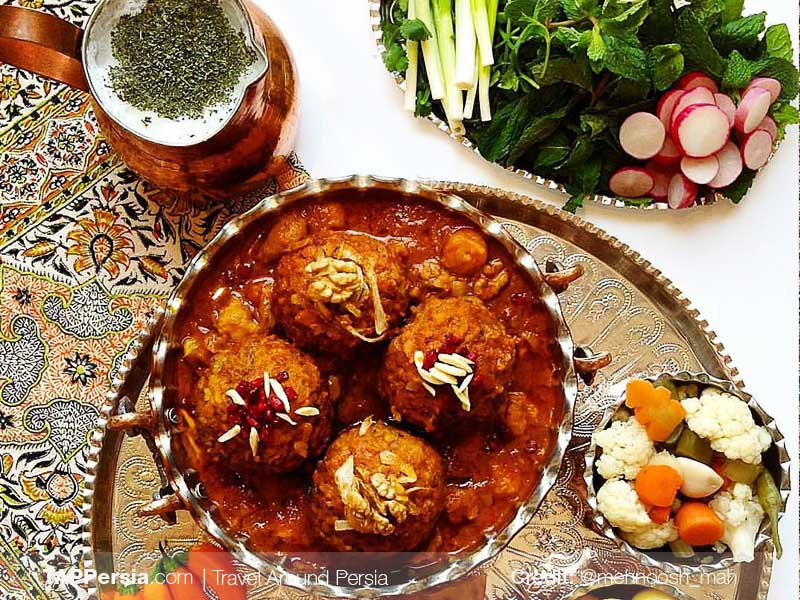 500 g                       Lean beef mince
3/4 cup                   Basmati rice
1/2 cup                    Split yellow peas
1/3 cup                    Chicken stock
400 g                       Diced tomatoes
2 Tablespoons       Dried Coriander, Tarragon, Mint, Salt & Pepper
7                               Eggs ( To fill the meatballs or  150 g  dried fruit/berries )
1                               Onion
½ cup                     Olive oil
Recipe
First of all, you need to cook:
– Rice and diced tomatoes in a pot which contains 3 glasses of water; till rice absorbs the liquid completely and becomes soft.
– 4 eggs in a pot full of boiled water for 10 minutes. Let them cool down before peeling the shells off.
– Yellow peas in another pot too, until they're soft.
The second step is about Mixing!
Mix 3 remaining eggs with minced beef, cooked tomato rice & peas, 1 tablespoon of herbs and spices in a bowl.
Now it's time to make big balls:
Put a cooked egg on your hand and make a ball around it with a thin layer of ingredients. Shape the remaining eggs into a ball this you mixed material and put them aside.  We need them just after making the homemade sauce!
Note: According to the traditional recipe of this food as people in Tabriz used to cook, the meatballs are filled with eggs. However, those who prefer sour taste can replace the inner eggs with dried berries or fruits like dried peaches. In this case, you need to put the dried fruit in a small bowl of water 30 minutes before you start cooking to make them a bit watery. Then use 30 g of them for each meatball.
By frying the diced onion in olive oil with 1/3 cup of chicken stock, 1 tablespoon of spices/herbs & a ½ cup of remaining diced tomato, your sauce is ready.
The final step is so easy and tempting!
Put the meatballs in a pot which you made the sauce in it & simmer on the lowest heat possible. In 45 minutes the meatballs have cooked and the sauce has thickened a bit.
Your Kofteh Tabrizi is ready to serve &
would make a memorable Persian night for your family members and friends
if you could have it besides s a light Persian salad such as Salad-Shirazi!
---
Recommended Tours