Depending on where you live, you may have or have not tasted okra. Khoresht Bamieh is a classic Persian dish that originally belongs to Khuzestan Province in the south of Iran. Bamieh in Persian means Okra and as described in previous posts, Khoresht is actually an Iranian stew mainly cooked with meats and vegetables.
Okra, same as eggplants, has its own fans and enemies. But bear in mind that if you cook it properly, the number of fans will accordingly rise. You definitely need to know how to avoid it becoming slippery and gooey. But stop worrying and get to the kitchen to make a new sort of Okra Stew which almost everybody will love.
A very prominent key in cooking okra is to know that inside the okra produces a sticky substance. So we highly recommend you cook the whole okra and do not cut it when being cooked.  
People in north Iran, typically make the Khoresht Bamieh with tamarind sauce, while in other parts, since people do not have access to tamarind sauce, they use tomato sauce instead. Depend on what you have in your kitchen and most importantly your taste, choose either tamarind sauce or tomato juice.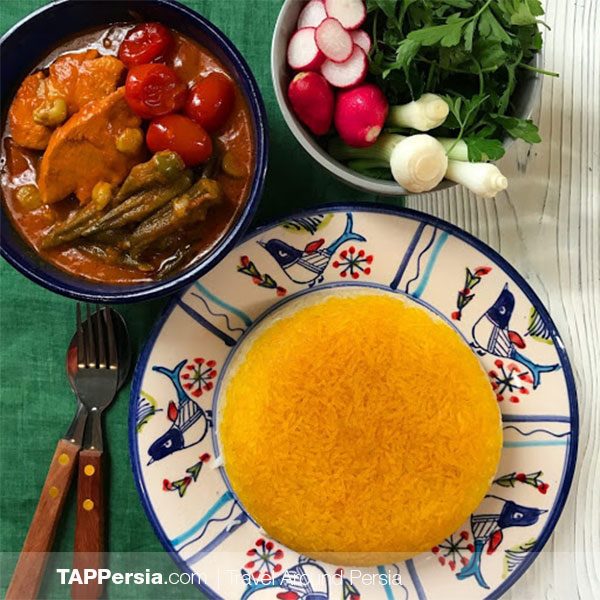 Prep Time: 30 minutes
Cook Time: 2 hr
Ingredients for Okra Stew

:
(Serving four people)
0.5 lb whole okra

1 onion, diced

0.5 lb beef

3 tbsp tomato juice

5 cloves garlic, minced

1 in cinnamon stick

0.5 tsp of each turmeric,

black pepper,

 salt

2 tbsp sour/unripe grapes or lemon juice

oil
Steps to Make Khoresht Bamieh

:
     

Saute the onions on a pan as long as it turns into yellow.

     

Cut the beef into the one-inch pieces and add them to the pan and let it saute as long as the red meat changes color (takes about 2-5 minutes).

     

Then, add the spices, minced garlic, and the cinnamon stick.  

     

Now it is time to add the potato sauce to the onions to have it cooked for 3 minutes.

     

Pour three-four cups of boiling water on the mixture and close the lid and let it be cooked at a low temperature.

     

Meanwhile, saute the okra with oil on a frying pan over medium heat for 10-20 minutes depending on the size of the okras. Only stir them gently once in a while to avoid being burnt. Put the okra aside. Make sure to have it cooked well enough.

     

After the stew being cooked for 2 hours, add the okra and unripe grape to the pot and let it cook for an extra 20 minutes.

     

Now, your Khoresht Bamie is ready, do not forget to take out the cinnamon stick from the stew while serving.

Notes

:
–          Same as other Persian stews, serve the Okra Stew with cooked rice known as Polo.
–          Be careful to have the stew moist but not watery, meaning that the most part of the water should be vapored.
–          Like so many other delicious Persian stews, you can add saffron to make it even tastier.
–          You can use two tomatoes in the stew as well.  
–          Do not add the okra to the stew from the beginning to avoid becoming slippery.
–          If you do not like beef or have an allergy to it, make your stew with lamb or chicken. Cut it into small pieces the same as beef in your stew; since chicken is cooked faster, it will take less time.
–          In case you don't have a cinnamon stick, use ¼ teaspoon of cinnamon powder instead.     
We hope you enjoyed the delicious recipe of  Khoresth Bamieh. Using fresh okras are highly recommended for this stew. In case you liked it, we suggest you trying Albaloo Polo, Tahchin, and Sabzi Polo as well. Don't forget to share your ideas and questions in the comment below.
---
Recommended Tours