an has a rich culture and way of life because of its long history as one of the most civilized countries in the world. Iran has succeeded in drawing the world's attention today. The growth of various arts up to the present has undoubtedly been attributed to this civilization, which has allowed Iran to rank among the top nations in several creative disciplines including ceramics, calligraphy, weaving, and painting.
In this article, we highlight the most exquisite Iranian handicrafts, which are well-known across the world and represent an expression of the country's ethnic and national culture. Handicrafts are often seen as "the use of art by people's hands using simple tools and regional supplies, which create an artistic enterprise.
Handmade goods and contemporary goods differ in a number of ways. These handicrafts are different from other goods in terms of how they are manufactured, but they also help people that are interested in this skill cultivate a particular attitude.
Iran, with its rich cultural history and long historical backdrop, has played a significant role in the development of regional handicrafts over the ages and into the present, leading to 3000 different varieties of Iran handicrafts being recognized worldwide.
The Rich History of Iranian Handicrafts
The 5,000-year-old cultural legacy of Iran is reflected in its art and architecture, which has undergone substantial historical growth. Beautiful works of art created by several artists are well-known across the globe. Persian carpets, Minakari (silver carvings), miniatures, Khatamkari, and Ghalamzani (metalwork) are some of the most well-known Iranian handicrafts.
Iran is home to several historic crafts. The depth and breadth of these fields may be further subdivided into other classes, demonstrating the diversity and flourishing of Iranian traditional arts and its antecedents in the country's long and illustrious past. Here are 10 well-known Iranian handicrafts:
1.Khatam Kari: The Art of Marquetry in Iran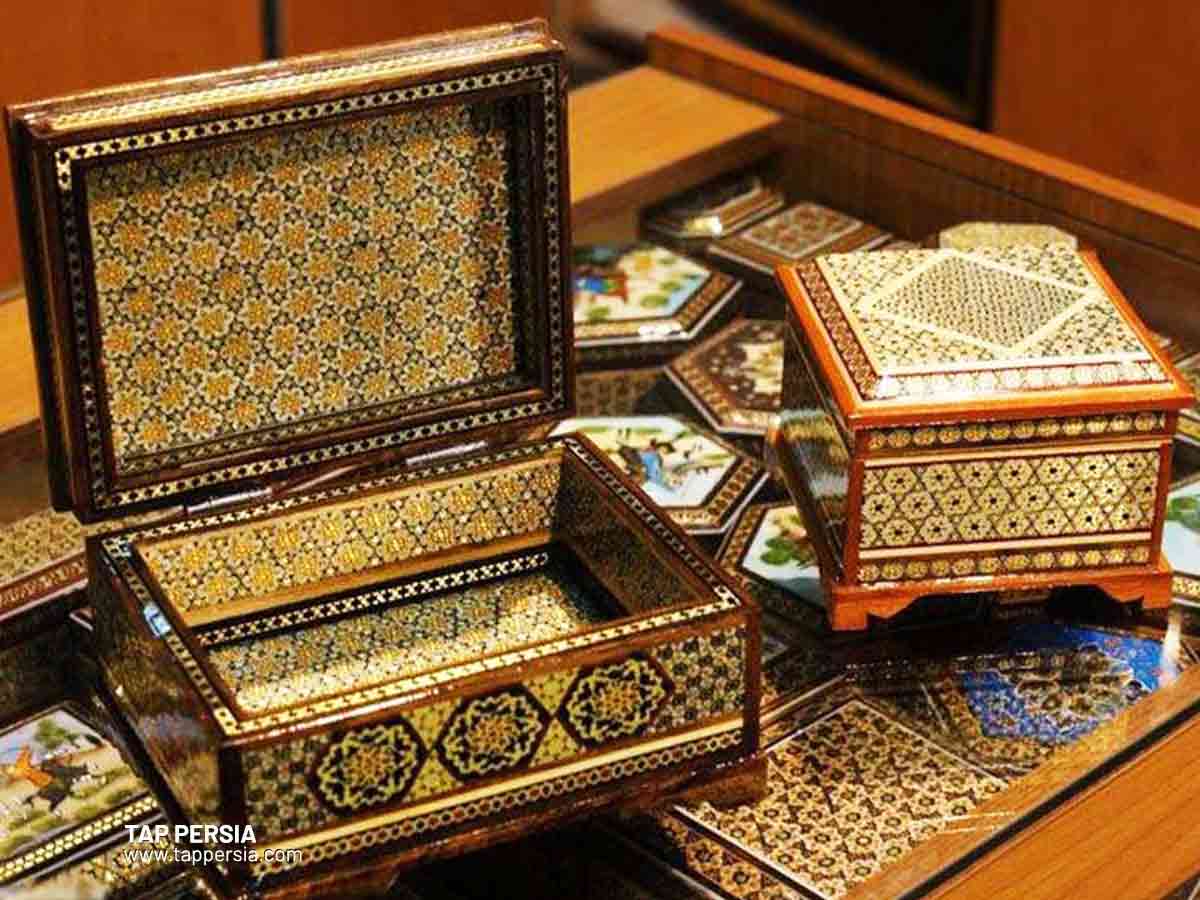 Khatam Kari, which is the technique of inlaying tiny fragments of bone, metal or wood on the surface of various items, is one of the most exquisite Iranian handicrafts. Using thin sticks of wood (orange, ebony, rose and teak), camel bone (for the white sections) and brass (for the golden parts), this Iranian handcrafted art creates intricate patterns in geometrical forms, notably star-shaped patterns.
The sticks are then put together to create triangular beams, which are then joined together in a certain order to create a cylinder with a geometric design, such a six-pointed star inside of a hexagon. Shorter cylinders are created by cutting the longer ones, which are then crushed and dried in between two wooden plates. These pieces are prepared to be plated and put onto the item before being lacquered. Khatamkari is one of Iran's most intricate handicrafts.
Up to 250 pieces of metal, bone (typically camel bone), ivory, and wood may be stacked side by side in a cubic centimeter. One of the oldest Persian crafts, Khatam Kari, dates back to the Safavid dynasty and is currently produced in Isfahan, Kerman and Shiraz.
Ghalam Zani: The Beauty of Hammer and Nail Metal Engraving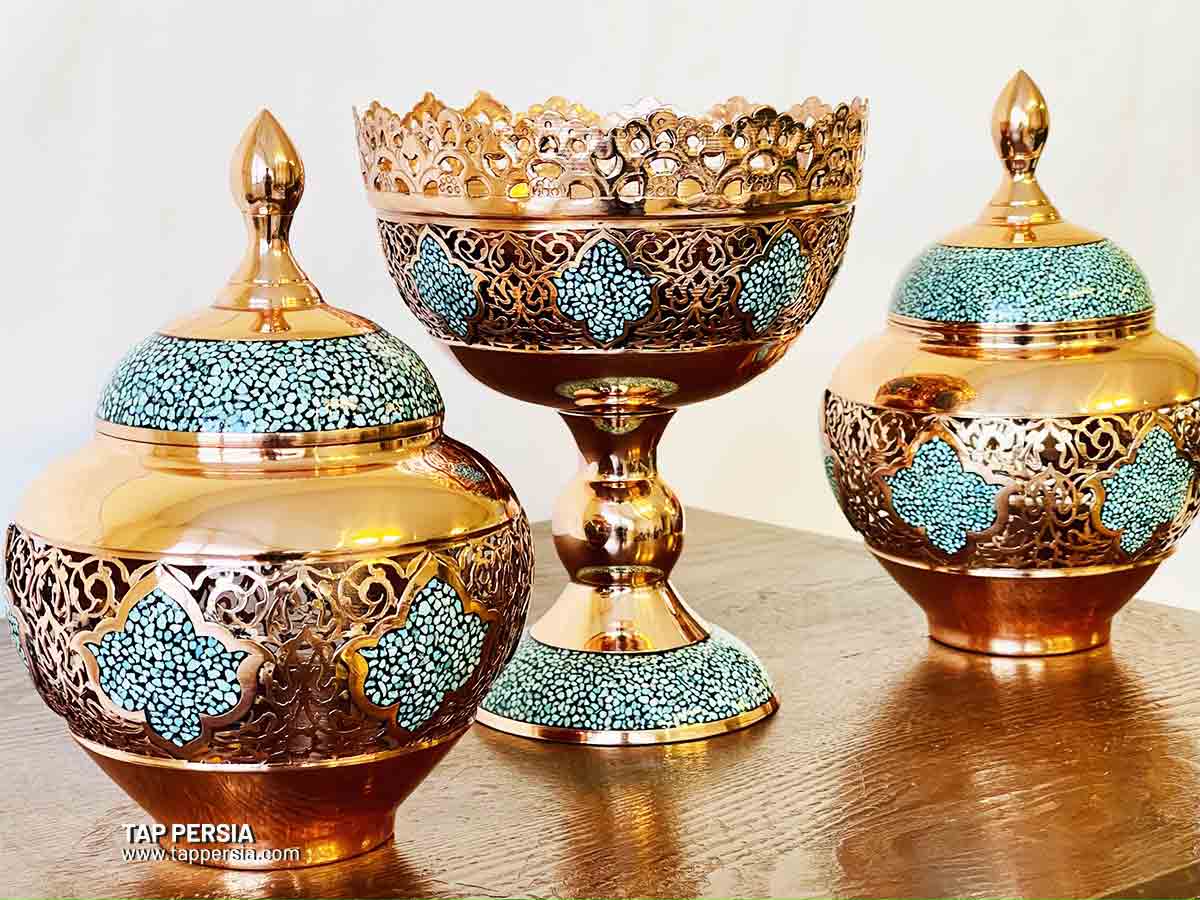 One of the most exquisite Iranian handicrafts and works of Persian art is Ghalam Zani. The craft of Ghalamzani involves hammering and chiseling (Ghalam) intricate, beautiful Persian motifs into a variety of metals, including silver, brass, copper and gold.
The best-documented Iranian artistic form from the Islamic era is considered to be Persian metal engraving. As early as the Safavid (1600 A.D.), Sassanid (700 A.D.) and Seljuk (100 A.D.) kingdoms, historical findings of this Iranian heritage handcraft have been made. This Iranian handicraft has been revived over the past 80 years by Masters Mohammad Taghi Zoufan and Mohammad Oraizi.
Today, you can discover a variety of items and utensils that have been skillfully etched in Iran handicraft shops, notably in Tehran, Isfahan and Shiraz, such as candy boxes, plates, candlesticks, trays, etc.
Mina Kari: The Charm of Enamel Painting on Metal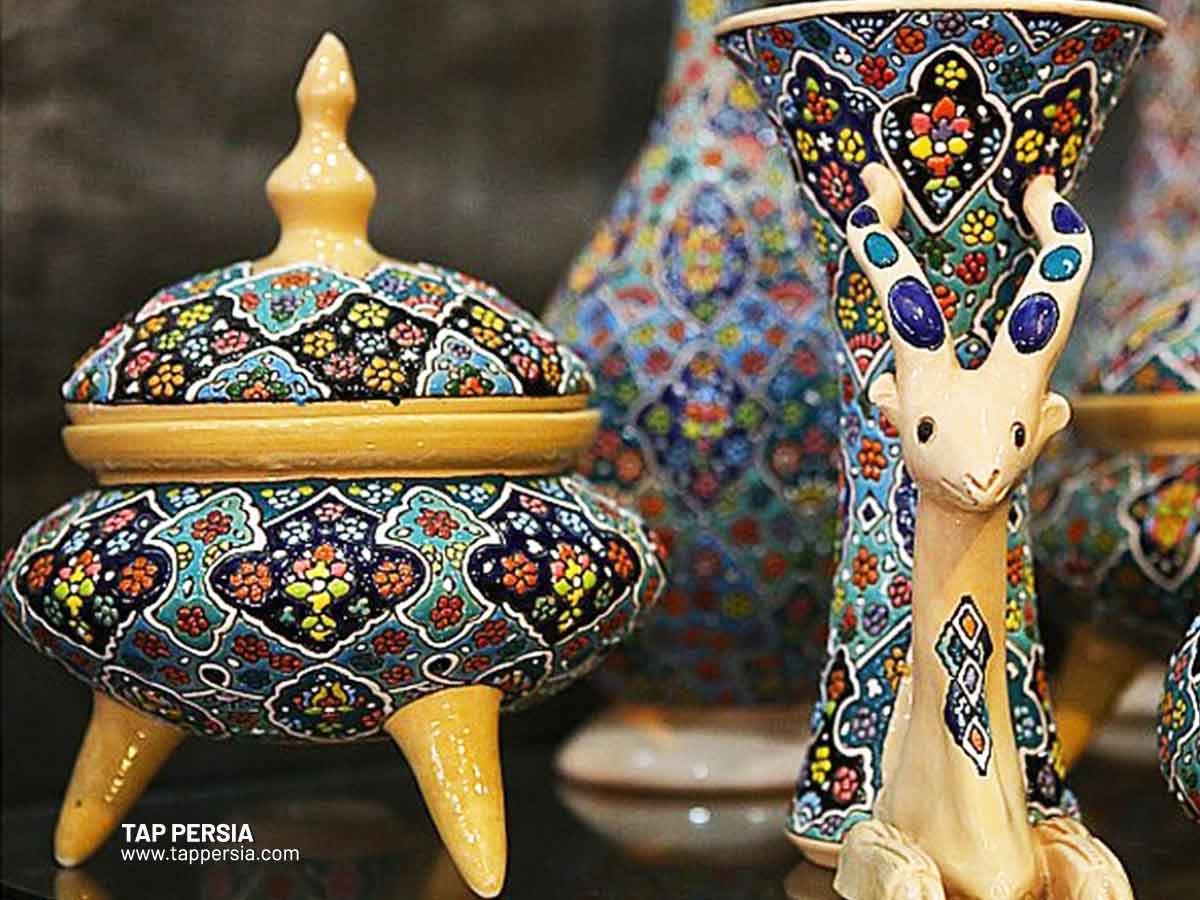 One of the most well-known Iranian handicrafts, known as enameling or Mina Kari, is mostly done in the cities of Shiraz and Isfahan. The practice of minakari involves fusing vivid colors over metals and even ceramics to color and embellish their surfaces. A glass-like colored coat known as mina (which derives from the Minoo word for heaven) is a coating that may be stabilized by heat (often between 750 and 850 degrees Celsius) on a variety of metals, including copper.
This wonderful art is utilized to make vases, home decor, jewelry, wall-hanging plates and confectionery dishes (produced by many Persian handicraft suppliers). The doors and chandeliers of old palaces, homes, and temples that you could see while on a historical tour of Iran include Mina Kari, a well-known Sassanid handcraft.
Shokrollah Sanizadeh, whose ancestor was a famous painter, is the greatest enameling craftsman of Isfahan. One of this master's precious masterpieces from the years 2008 to 2009 was used to create a stamp honoring Iranian handicrafts, which was later designated as a national treasure. These artists have exhibits of their work on Chahar-Bagh Street and close to Naqsh-e Jahan Square.
Firoozeh Koubi: The Splendor of Turquoise Stone Inlaying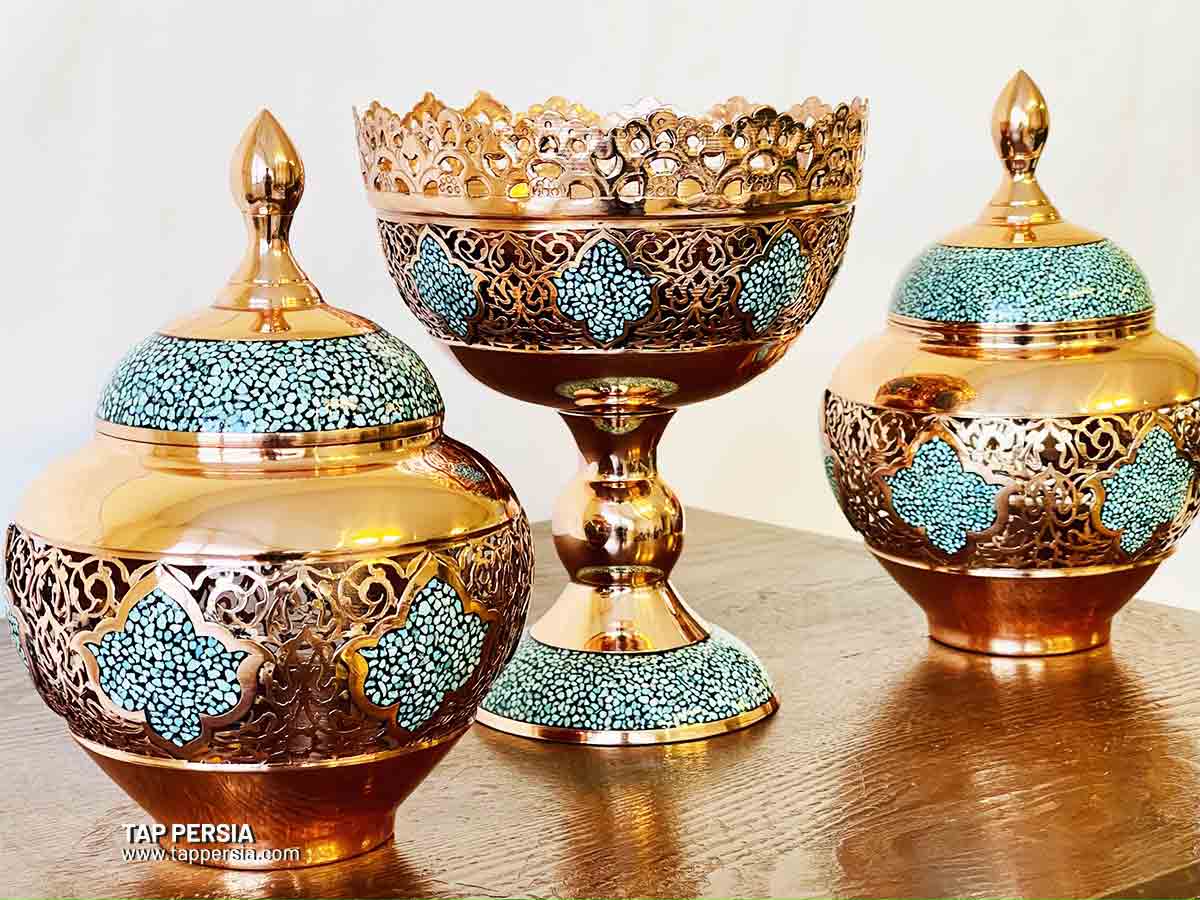 Firooze Koubi is one of the most renowned and finest Iranian handicrafts. One of the Iranian souvenirs manufactured by a big number of Persian handicraft vendors is this item. Small chunks of turquoise are put in a mosaic pattern on the surface of different metals (copper, brass, silver, and gold) in turquoise inlaying art to give the object a unique glitz.
The tiny fragments of this priceless gemstone may be used to embellish not only ornamental plates and utensils but also chic accessories like earrings, rings, necklaces, etc. Turquoise stone inlay plates happen to be the most affordable handicrafts in Iran, and many tourists buy them when they are shopping there. Because of its unique color, turquoise has been coveted as a gemstone and decorative stone for thousands of years. The Firoozeh Koobi's history is quite new, having only existed for around 70 years. The city of Isfahan is where these crafts are made.
Iranian Miniature: A Grand Tradition in a Small Package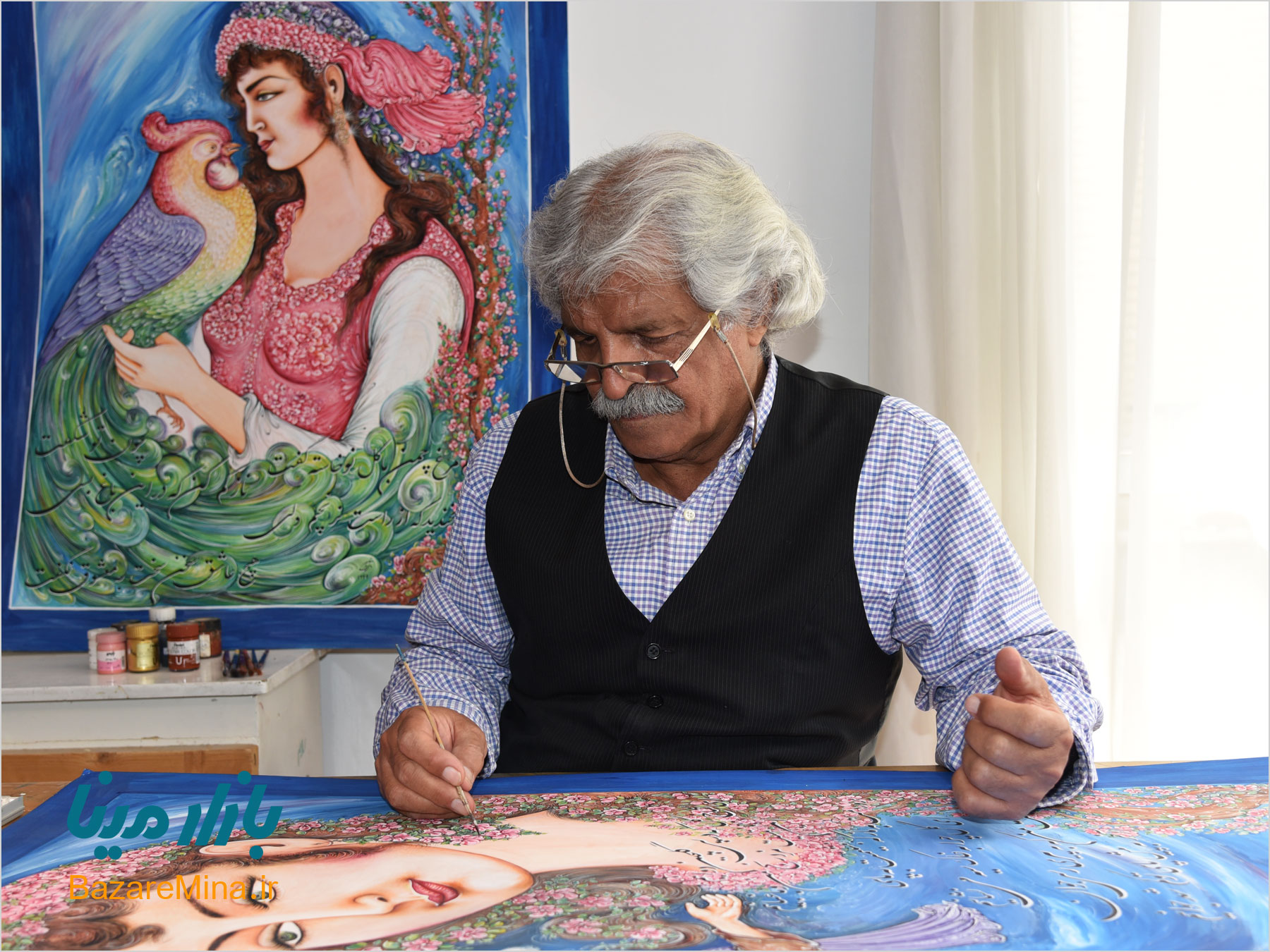 A Persian miniature is any work of art, whether it be a little painting on a scrap of paper, an image from a book, a piece of camel bone, or another medium, that is intended to be kept in a collection of miniatures known as a Murraqa.
Most of the techniques are reminiscent of the Western and Byzantine traditions of tiny illuminated manuscripts. Other traditional goods in Iran include jewelry boxes and Iranian handicrafts painted in a tiny style. Persian wall painting is a tradition that has been around for a while, although miniatures have a greater survival rate and condition of preservation. Furthermore, miniatures are by far the most popular Persian painting style in the West, with many of the most notable specimens being in Western or Turkish museums.
Following the Mongol invasions (1219), miniature painting was influenced by China and by the 13th century had become a significant Persian form. The tradition was at its height in the 15th and 16th centuries. Following this, the custom continued, heavily influenced by the West, and is being practiced by a few people today. The Mughal miniature on the Indian subcontinent and the Ottoman miniature in Turkey were two other Islamic miniature traditions that were significantly influenced by the Persian miniature.
Iranian Carpet Weaving: The Story of Knotting Silken and Woolen Threads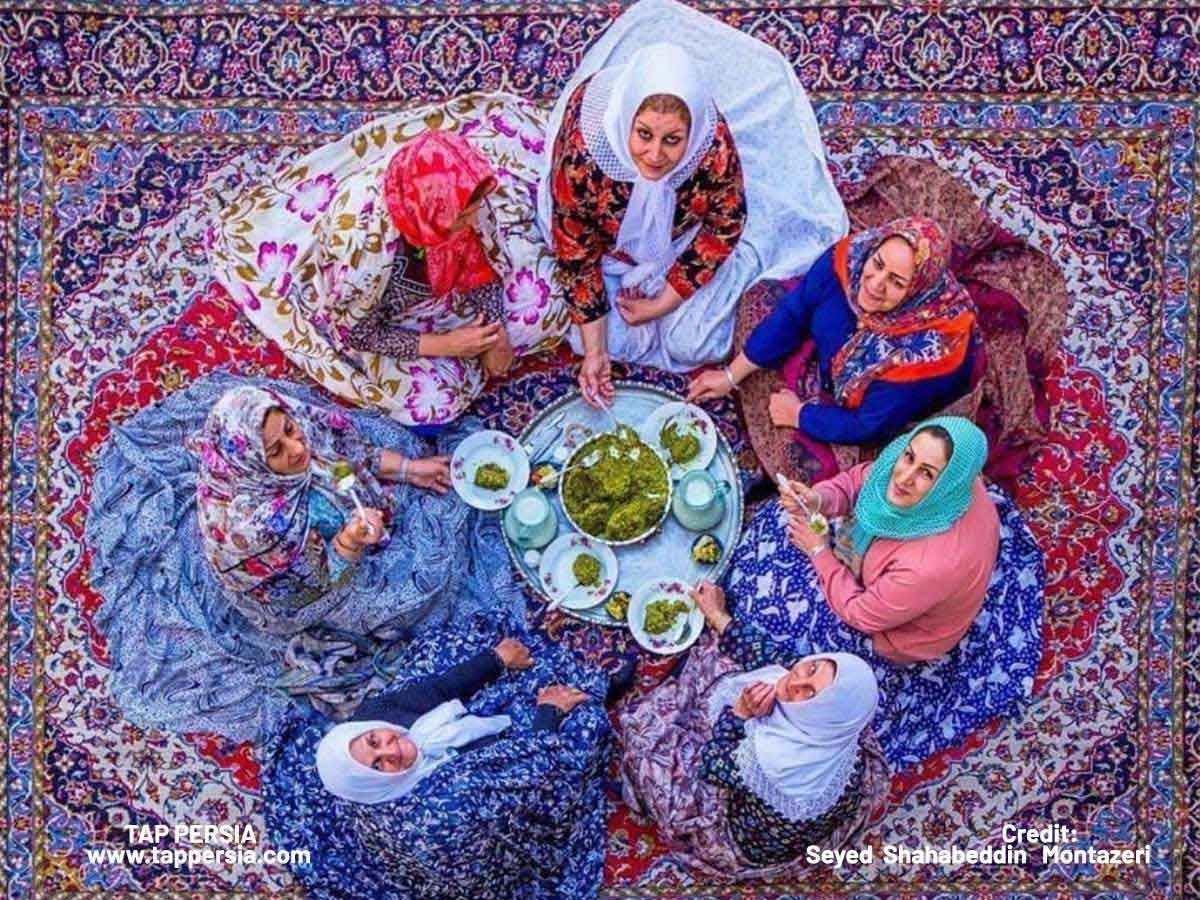 The most well-known type of Iranian handicrafts and Persian art in the West is carpets. Europeans first saw Persian carpets at least in the 15th century, and since then, the idea that Iran is unrivaled in carpet production has persisted. Nobody is completely clear on the origins of carpet weaving in Iran. The most ancient Iranian carpet ever found was made about 500 B.C. It is currently referred to as Pazyryk after the Siberian archaeological site where the frozen graves of Scythian leaders were discovered.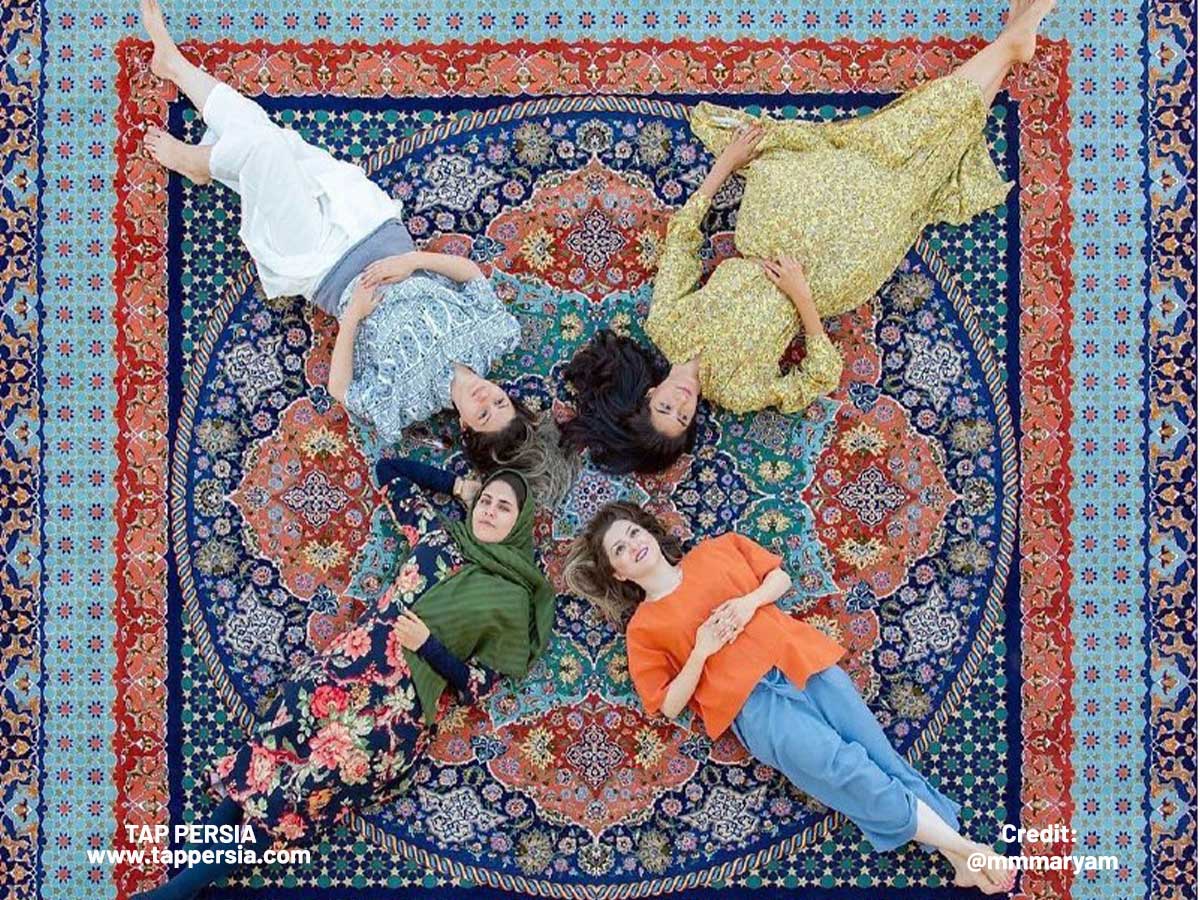 The designs of Iranian carpets have a big part in how much money they are worth. Before starting the weaving process, professional weavers frequently make a paper model of a quarter of a carpet's surface; nomads generally improvise. The main area and the edges, which may be further divided into three sections, make up the carpet.
Iranian carpets come in an amazing variety of patterns. They exhibit a poetic worldview and a belief in the potency of symbols via their complex design and attention to detail. One of the most important topics a Persian carpet designer concentrates on is the garden.
According to some historians, a large carpet portraying a classic Persian garden that was created for the audience hall of the king's palace and symbolised the idea of Paradise was among the beautiful treasure obtained by the Muslim Arabs when they conquered the Persian capital "Ctesiphon" in 637.
Currently, the primary centers for carpet weaving are Iranian towns like Isfahan, Qom, Kashan, Kerman, Tabriz, and Yazd as well as nomadic regions like Bakhtiari and Qashqai.
The quality of the wool is one of the most crucial elements in determining a rug's durability and aesthetic appeal. As the nation produces the best carpet wools anywhere in the globe, Iranian carpets have traditionally been the most sought-after rugs in the world and one of the most well-known items to purchase in Iran.
Termeh Weaving: The Luxury of Quilted Textile
The Yazd-originating handcraft known as Termeh is a colorful cloth that is hand-woven with distinctive designs, most notably paisley. It is created with high-quality threads. Silk, fluff and wool are just a few of the materials used to make the soft and attractive fabric known as Termeh handcraft.
Prior to the importation of clothing and textiles created in factories, the Termeh industry enjoyed great success due to its widespread use and high demand among the upper strata of society. A delicate and time-consuming task, Termeh weaving is a handicraft. Since the commencement of the Safavid period, Termeh weaving has been a popular traditional skill in Iran.
Ghalamkar: Exploring Hand-Printed Textiles in Iran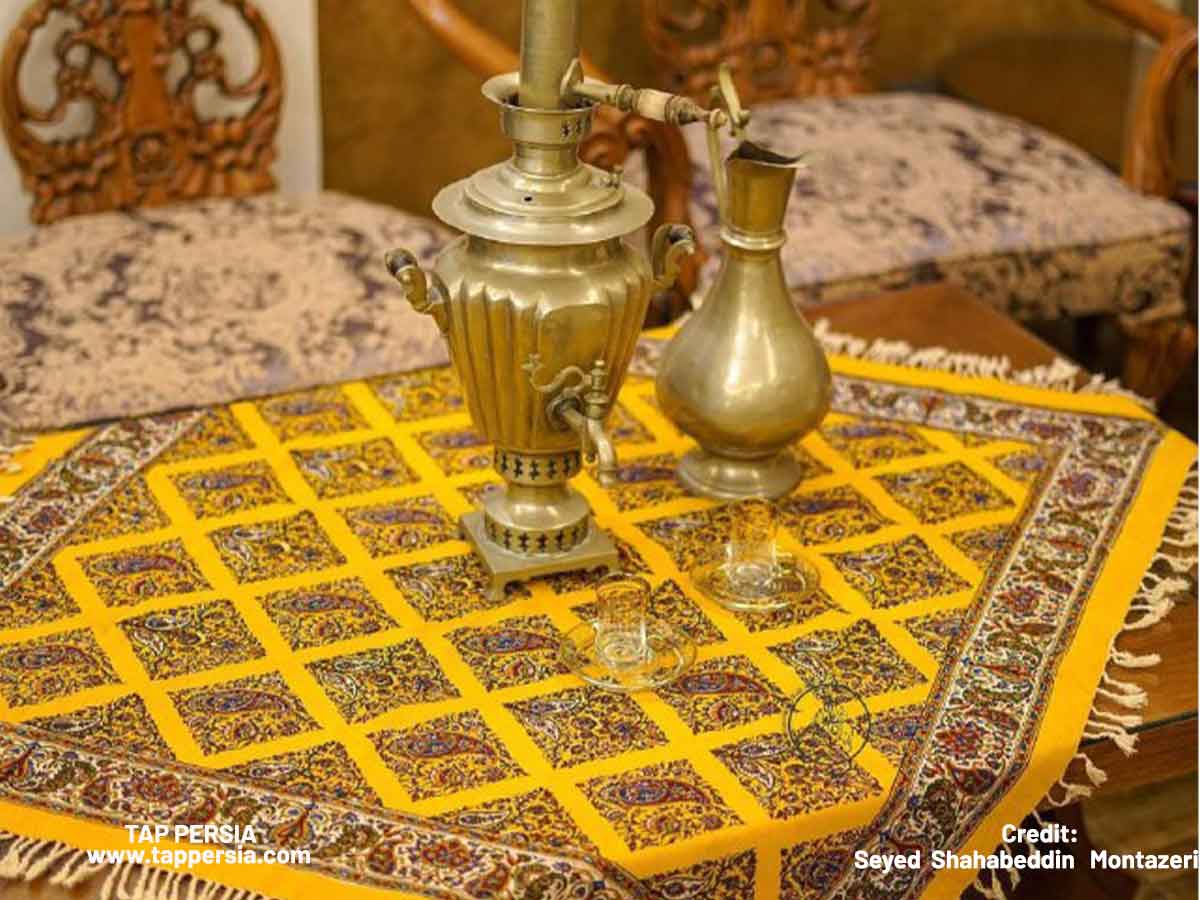 The most well-known Iranian handcraft is Ghalamkar, a type of cloth printing that uses patterned wooden stamps. The major material utilized to manufacture the stamps is pears because of their excellent flexibility, firmness, and durability for carving. Each Ghalamkar studio has hundreds of different designs, including geometrics, flora and fauna, arabesques, pre-Islamic themes, polo matches, hunting scenes and Persian poetry.
After printing, the fabric is first steam-treated for at least an hour to fix the patterns. Then, in order to give it time to soak completely, it is transported to the riverside and kept in a few basins. As a last step, the pieces must be rinsed in the river once more after being soaked and cooked with a specific color stabilizer.
A tapestry can be stamped hundreds to tens of thousands of times, based on its size and density. For instance, a piece measuring two meters by 1.4 meters should be stamped anywhere from 580 to 4000 times in an attractive piece. One of the most well-known Iranian handicrafts, Ghalamkar, is mostly created in Isfahan.
Giveh Weaving: The Art of Making Hand-Woven Shoes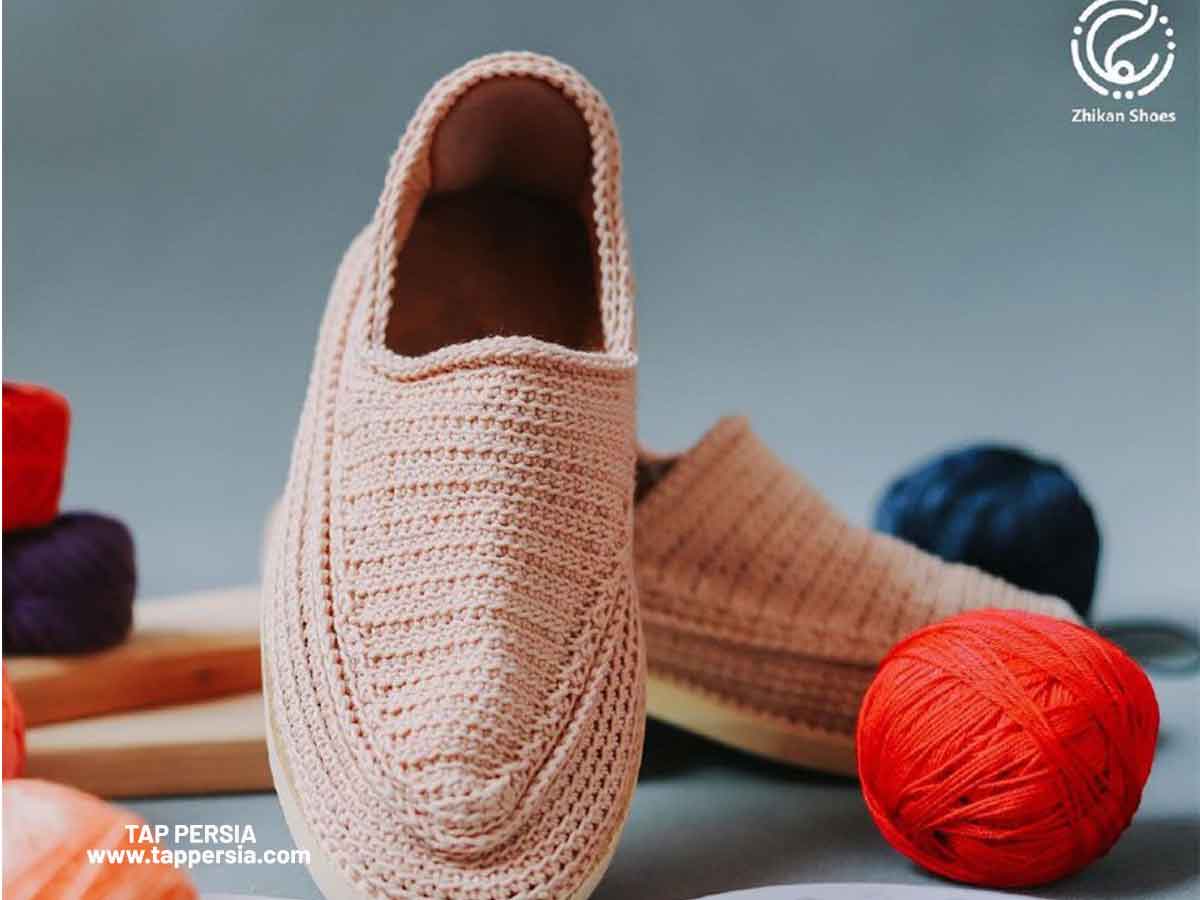 Iranian artisans create the lightweight, comfortable Giveh shoe by weaving a unique material—typically carpet yarn—by hand in remote areas. Giveh weaving is one of Iran's ancient handicrafts and is a modest home enterprise. Up until a few decades ago, this type of footwear was quite common throughout the nation. Given that the materials used in Giveh weaving have microscopic holes that allow air to pass through, they are ideal for hot summer days. This Iranian handcraft is made in a variety of Iranian towns, including Shiraz, Zanjan, Kermanshah, etc., in various colors.
Iranian Pottery: A Look at Baked-Clay Forming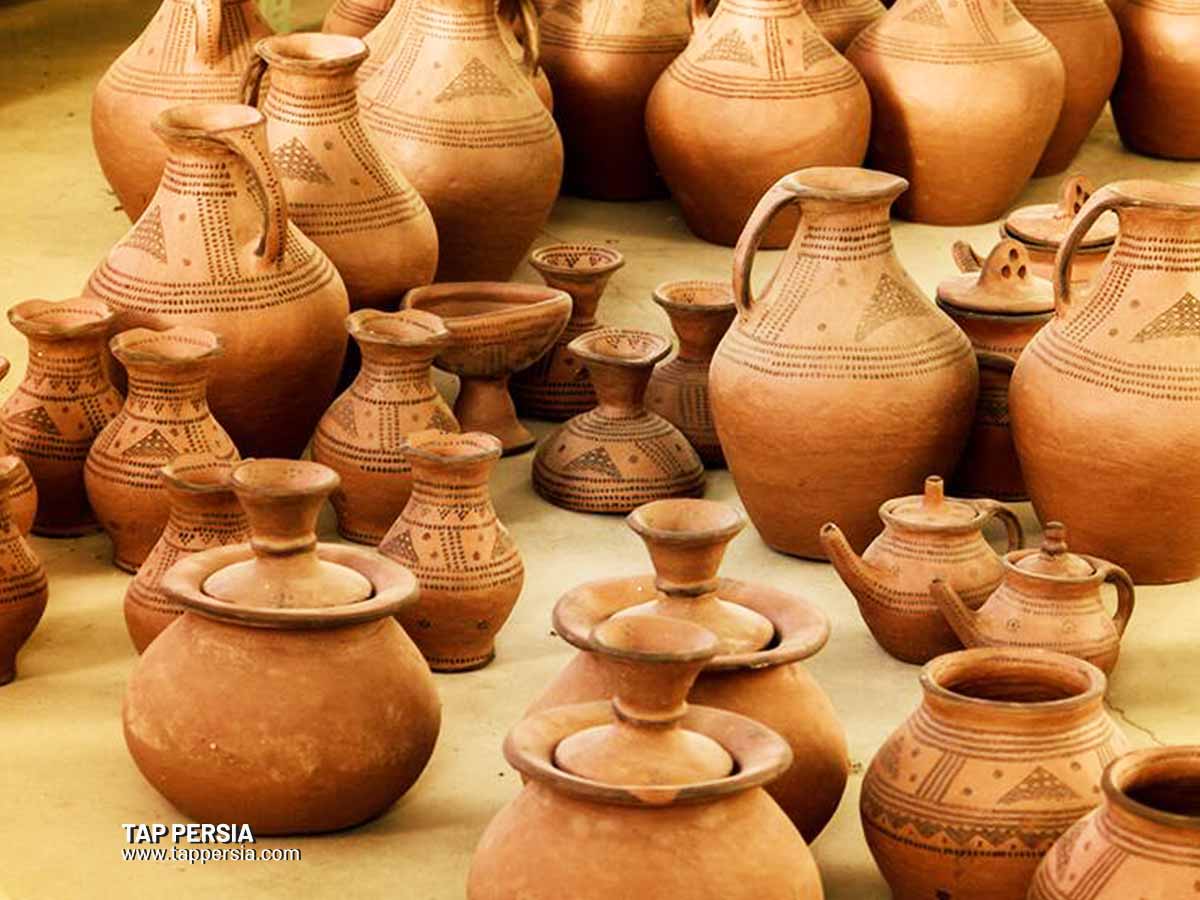 In the distant past, approximately 4000 B.C., when agriculture was established and cultivation began on the Iranian plateau by prehistoric races of this country, humans created utensils out of baked clay to fulfil their requirements. Prior to the widespread usage of glass manufacture, the majority of human-made bowls and pitchers were made of clay.
Currently, one of the most well-liked Iranian handicrafts is pottery. Clay or other mixed muds are made by hand, on a pottery wheel, or by slushing in the branch of Iranian handicrafts known as "glazed pottery," and then dried before being baked at 800°C. At temperatures between 900°C and 1100°C, the completed pottery is then glazed and re-baked to give it a lustrous, permanent glaze.
The azure blue glaze used on Isfahan-made Shahrezai ceramics is one of the most recognizable patterns in handicrafts. Unique floral and avian motifs seen nowhere else in the world may be found on ceramics made in this city. Pottery, manufactured with exceptional patterns and designs and covered with top-notch glazes, is one of the most authentic Isfahani handicrafts.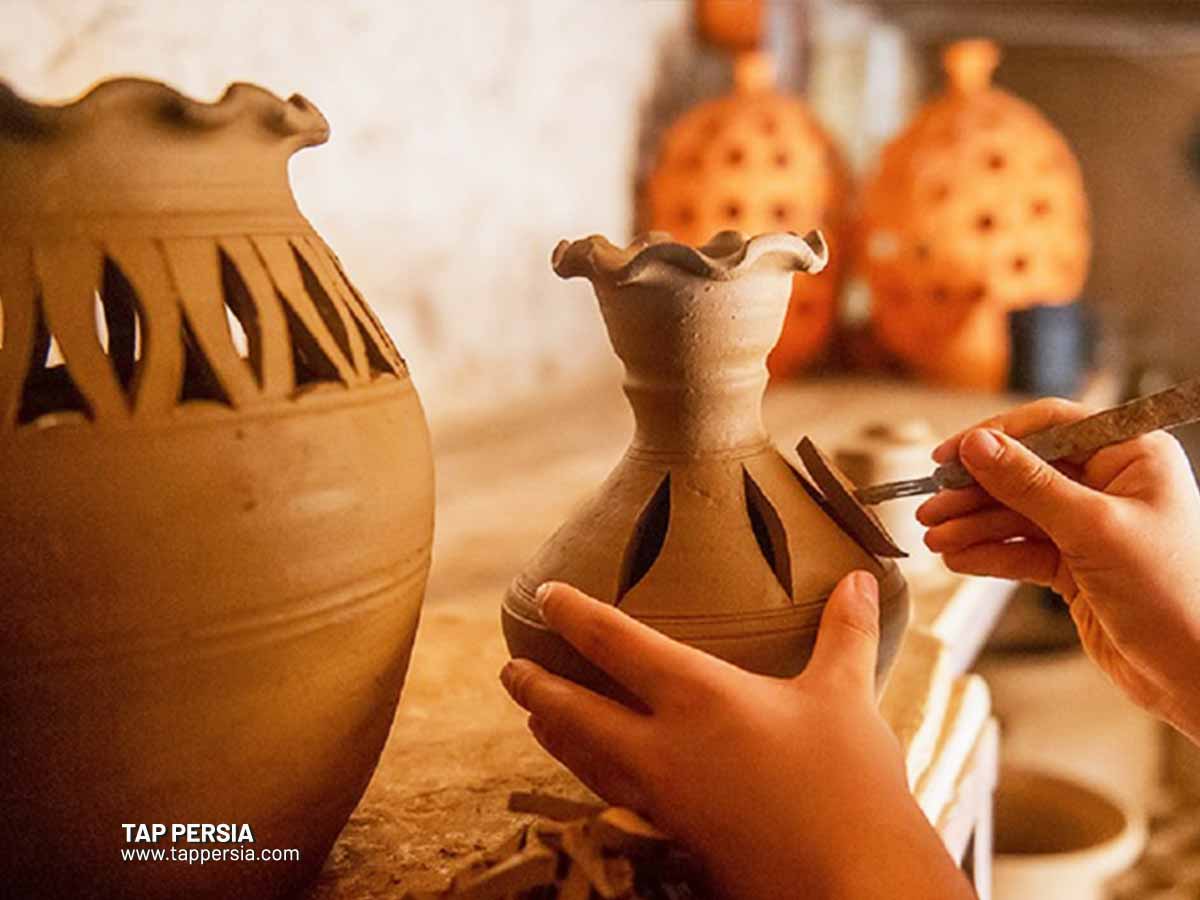 One of the places that distributes ceramics to the Iranian market is Yazd. The ceramics feature depictions of the sun, chickens and fish as substitutes for the native birds. Elegant and beautiful may be seen in Semnan ceramics. Jars and clay figures featuring different birds and natural designs made by skilled artisans are the best handicrafts in this location. Iranian pottery has an extensive background, and Saveh ceramic jars are widely known for their unusual designs and colors.
The greatest Iranian pottery is made in Lalejin. Ceramics from Lalejin are available in thin and golden designs for vases and sculptures. It is simple to observe that Lalejin handicrafts with semi-embossed motifs are of greater quality than other ceramics since the color and glazes hold up over time.
Where to Buy Iranian Handicrafts: A Guide to Local Bazaars and Shops
In terms of Iranian handicrafts and the arts, Iran has a lot to offer. Persian civilization is known for its beauty and lengthy history, which have led to a flourishing handcrafted artisan industry. For individuals looking for Iranian handicrafts, strolling around bazaars of Iran filled with stores selling them would be beautiful, but for those who are only traveling there, it may be a threat.
Despite how alluring the handcrafted Persian items are, you won't be able to leave Iran's bazaars without purchasing anything.
Iran is home to a large number of bazaars, which can be found in the majority of its major cities, including Isfahan, Shiraz, Tehran, Hamedan, etc.
Sharing the Stories of Iran: Handicrafts as Souvenirs and Gifts
Every city on earth has a wealth of tales to share. The city's architecture, the way its residents speak and dress, as well as their social interactions, all reveal these stories. However, a city's handicrafts and souvenirs are where history and tradition are most clearly displayed. Gifts are given on nearly every occasion these days and have long been fashionable. When presenting presents to other people in Iran, keep the following considerations in mind.
The very first factor that elevates handmade goods above manufactured goods is the fact that you cannot obtain them anywhere else in the entire globe. Because the younger generations are surrounded by fake products, the value of Iranian handicrafts as presents has dramatically grown and they are currently in high demand.
A handcrafted present allows you to personalize it any way you like. The secret is imagination, and while it's nearly difficult to create the exact replica of the bizarre masterpiece you've seen in your head, it's more than achievable with handicrafts.
Unexpected presents that never go out of style are handmade items. Today's generation is fully aware of all the technological advances, which makes it simpler for them to foresee your future present, but with brain-drawn imaginations, it is less probable to guess what is in store for your loved ones.
Because the recipient of these gifts will always treasure the moment you gave it to them and keep it for a lifetime, you become an irreplaceable person even when you're far from them. These gifts cannot be used and thrown away.
Whether you give it to your brother, your sister, your mother, your father, your girlfriend, or anyone else you feel deserves it and who will cherish it for the rest of their lives, the feeling of accomplishment when they open it and see something extremely significant to the both of you will do wonders for maintaining your relationship.
All that is required to be kept in mind while selecting a handicraft as a present for a loved one is the information provided above.
Preserving Iranian Traditions: The Role of Handicrafts in Modern Iran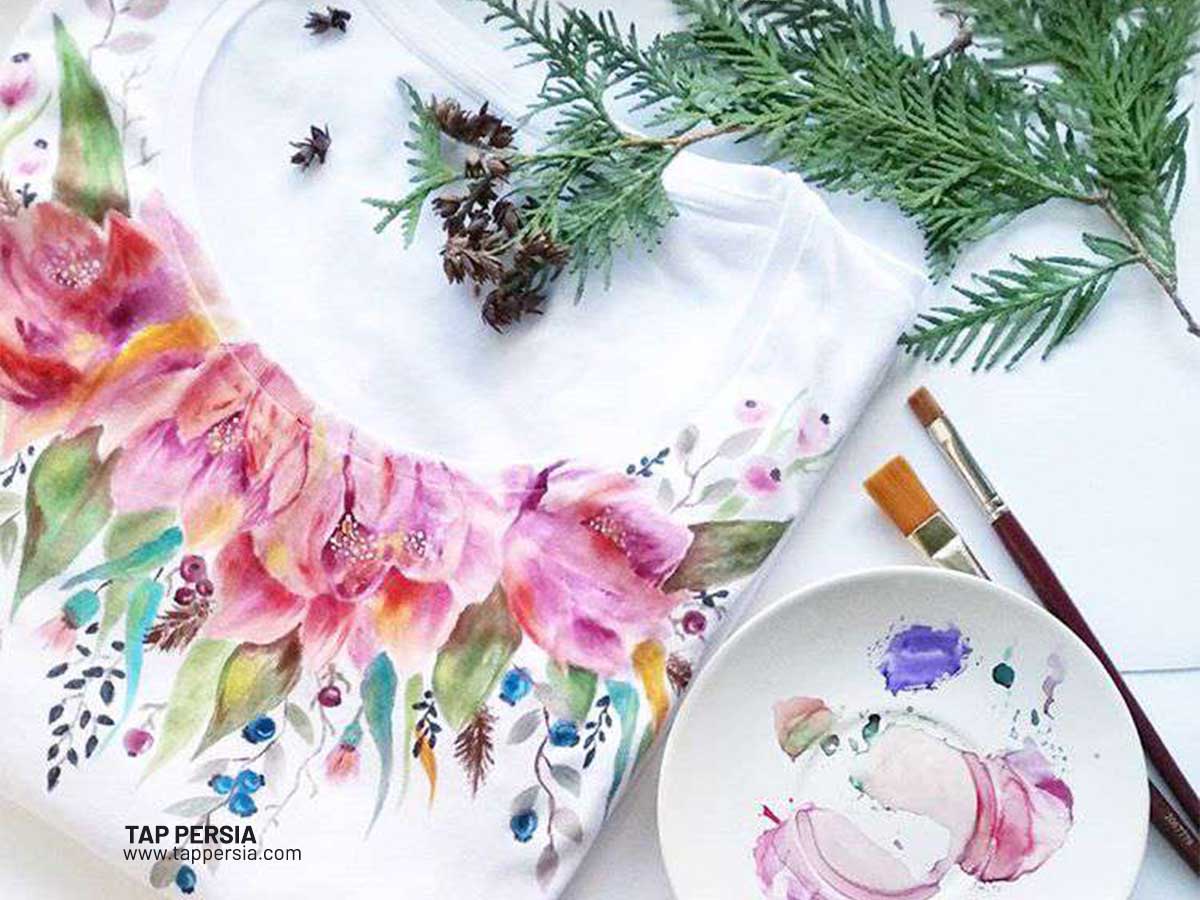 According to the requirements and necessities of existence, traditional arts and handicrafts were among the items that were produced and evolved throughout history. Through the millennia, they through the stages of their creation while maintaining the original traditions, mixing beliefs, vision, philosophy, manners, and customs with the surrounding environment and the way of life of the populace.
Since a long time ago, many handcrafted items made by Iranian craftsmen have been common in different regions of the nation; yet, some of them have only been found in ancient buildings as a result of lack of support and marginalization.
While doing so, you may prevent the destruction of any outmoded arts or crafts that are on the verge of oblivion since they have the capacity to define new uses and consumption. Meanwhile, it is important to educate and mentor the next generation so they may master these skills and find new applications for them via innovation and creativity.
This is a key factor in why visitors prefer to gravitate towards traditional culture and handicrafts in general. Traditional arts and crafts, in a peculiar and effective way, give people a sense of serenity and security.
In addition to all of their other uses, handicrafts are able to be used as souvenirs to share the cultural aspects of travel with both domestic and international tourists. This is because part of traveling and tourism is buying souvenirs and gifts, which not only has a big economic impact but can also be used as a cultural messenger to the entire world.