We are living in a global village. Every country in this world is trying to play its role in the best way and attract others through soft power. Exchanging international students and scholars as cultural actors, which comes under the cultural diplomacy, is one of the basic policies for sharing knowledge, culture, experience, love, and peace among nations. Iran also is trying to attract more international students in its universities.
It is not a new strategical initiative in Iran universities to attract foreign students. Such an exchange program was done even before the Islamic Republic of Iran regime. Information given in this article reflects a general view on the subject and there might be some different details in each section.
People, who are eager to know more need to check the details. The main body of the context has been done through an interview with the former deputy of Iran cultural house in Kabul, Dr. Novroozi.

Scholarship and Non- Scholarship Programs
Studying in Iran can be categorized into two sections: scholarship students and Non-scholarship students' programs. Scholarship programs are announced through different channels, depends on which Iranian government institutions are active in the host country.
First: The Iranian embassies can be considered as one of the options to offer such a program. Second: Iranian Cultural houses are also another channel to get this chance. Third: Iranian universities functioning in the host countries, including Payam-e Noor University, Azad Islamic University, and AL-Mustafa International Universities, are also other ways of connecting to the Iran embassies and eventually connecting to the Iran universities.
Fourth: direct academic agreements between some universities in Iran and universities in the host countries for exchanging students and professors is the next option. Fifth: direct agreements between the Iran Ministry of Science and Technology and the Higher Education Ministry in the host countries is another option. This order does not mean that one option is superior to another, it just tries to give the idea of various options.
When one is clear about the result of the scholarship program, she/he can process the visa and official formalities to move to Iran to study. One of the ways for the Foreign Students, who are living in Iran, is that they can attend the university national entrance exam called "Kunkoor". Government universities are the first platform to implement scholarship programs. Non- scholarship programs are dealt with mostly by Azad- Islamic universities, with tuition fees plans.

What are the Different Types of Scholarship Programs?
Scholarship programs are common ways to exchange students in all parts of the world. Students, who are privileged with scholarship A, and are studying in Iran, do not need to pay college fees. They will be offered free accommodation, or any other basic fees will be covered in this package. They can enjoy using some other services, including health insurance, college vocational tours, and will receive some amount of money as stipend on a monthly basis, to be a help for their personal expenses. So, this is one way that one may try it and can get admission to Iranian universities.
In Scholarship B, students do not need to pay college fees or hostel fees. But they need to pay for their personal expenses including food costs. And they do not receive any stipend. This is the second way that one can get studying opportunities in Iran. In a Scholarship C program, one does not need to pay college fees. But she/he is responsible for all other expenses.

What Are Non- Scholarship Programs or Tuition Fees System?
The tuition fee is also a way to get admission mostly in private Iranian universities. In this program, students need to pay for all their expenses and can study in their favorite discipline. International students at Islamic Azad Universities and universities affiliated with the ministry of health should pay for the tuition fees program.
It is a source of revenue for the universities. They welcome international students to attend their universities. There is an initiative program in some of the Government Universities as well, where a student can pay the fees and study in the favorite major. In case one is a top student – has a great academic achievement -might get scholarship opportunities too.
Number of International Students in Iranian Universities
According to the official saying by Dr. Alizadeh director of foreign students' affairs at the ministry of science and technology, around 40 thousand foreign students studying in Iran universities. This number includes government universities, universities affiliated to the ministry of health, Azad Islamic university and higher education institutes.
According to the information published in the university of Tehran website, around 1000 students studying for a degree at the University of Tehran. It includes 66 percent male & 34 percent female. Students are enrolled in various bachelor, master and PhDs degrees. Students come from different nationalities, including Afghanistan, Iraq, turkey, Japan, China, Syria, Moldavia, Hungary, Ukraine, Poland, Singapore, America, Australia, Pakistan, Netherlands, Korea, Armenia, Italy, Canada, France, Bahrain, UK, Azerbaijan, Indonesia, Russia, Denmark, Senegal, Lebanon, Mexico, India, Germany, Egypt, Taiwan, Romania, Slovakia, Croatia, Nigeria, Oman, Serbia, Slovenia, Vietnam, Georgia & Sudan.
Iran as a Muslim country located in the middle-east, and due to the war crisis going on currently in the region, is the second education destination for many Muslim students. International students in Iranian universities, mostly are from Arab and Neighboring countries.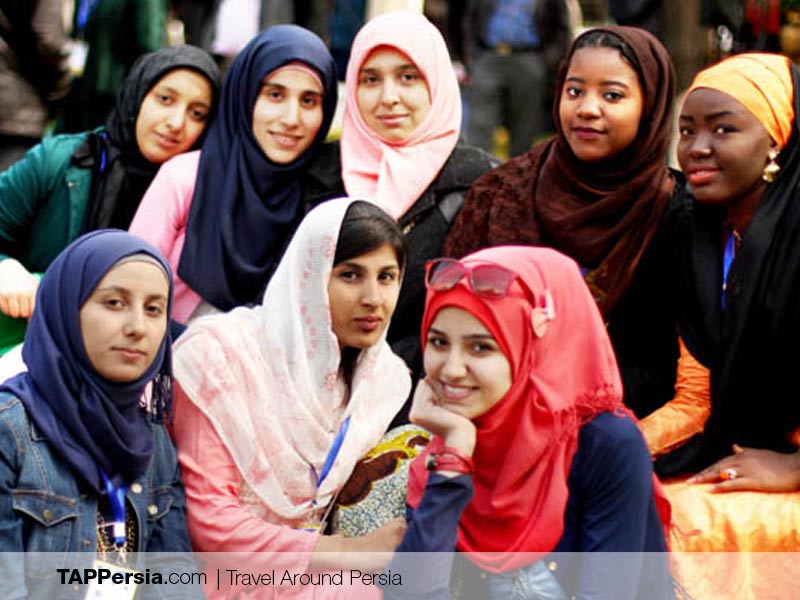 Cities with the Top Universities to Attract Foreign Students in Iran
Tehran is the capital city of Iran. It has many universities. Some of them are among the top universities in Iran, which accept foreign students. The University of Ferdowsi in Mashhad comes in second place. The University of Shiraz and the university of Gilan also accept foreign students. Al-Zahra University, which is the top one university, dedicated to women only, is one of the oldest universities, and also accepts foreign students.
Recently, Universities in Iran are competing with each other to attract the maximum number of foreign students. So, each one is trying to offer more lucrative courses/programs to attract foreign students. The University of Esfahan also is working to accept more foreign students.