If you find yourself walking down the modern streets of Tehran, you may suddenly come face to face with a gorgeous, out-of-this-world and historic arch-covered marketplace. Welcome to the grand Bazaar of Tehran.
Stretching over 10 kilometers, the magical halls of the bazaar split into several branches where you can perceive a world of action, movement and excitement. The hustle and bustle of the bazaar energizes you as you make your way through each shop.
The spices, herbs and other intoxicating aromas within the atmosphere will no doubt arouse your appetite. Ask anyone around about the best food around and they will all cheerfully answer:
"you must have Dizi sir". Once the locals have guided you to the Dizi bar, get ready to kick off your shoes (literally) and eat like a real Iranian.
The Special Dizi Pot and How To Eat
Dizi is an ancient and classical Persia dish, almost exclusively served in special short clay, stone or metal pots. Each pot contains a variety of old-world produce such as lamb shoulder, a variety of beans, potatoes, and of course, pasture-fed animal fat along with copious amounts of lamb broth.
All the ingredients are initially swimming inside of the tiny pot which is then brought to your very table. The dish is often served with a side of fresh garden vegetables and crisp, raw onions.
Although you may be quite tired from walking around the Bazaar, you should never eat Dizi the way it is served right away. There is a special method and etiquette with eating Dizi properly, which can be very entertaining.
Tradition states that in order to set the initial mood, you should first smash the onion open with your fist instead of cutting it with a knife. It's not only the best way to get out the true aroma of organic onions, but it's also a whole lotta fun.
Next you need to drain the broth from the pot into a small bowl that comes with the main dish. Since you don't wanna burn your precious fingers, you can use a piece of flatbread to tilt the pot and pour the broth into the bowl. Then, using a handheld masher, mash the contents of the pot, until you have a uniform paste.
Dizi Itself
We call the broth Abgoosht (ab-goosht) and the mixed meat and vegetables Koobide (koo-bi-de). Now, take it to the next level: We suggest that you rip off  several small pieces of flatbread and add it to the broth to create a thick soup called Tilit (ti-lit).
A classic blend of Persian spices such as turmeric, black pepper and cinnamon create a magical scent, which, combined with dried lime, gives it a truly called for touch of acidity. The delightfully aromatic steam rising from the broth will surely electrify all your senses.
You can now enjoy the mashed meat and broth separately, taking breaks from time to time to enjoy a bit of greens and some fresh onions.
Ingredients
| | |
| --- | --- |
| 1/2 cup | Chopped Onions |
| 5 medium | Tomatoes |
| 400 gr |  Lamb Meat |
| 1 cup | Chickpeas |
| 2 small | Dried Limes |
| 1 teaspoon | Salt |
| 1  teaspoon | Pepper |
| 1  teaspoon | Turmeric |
| 1 whole | Cinnamon Stick |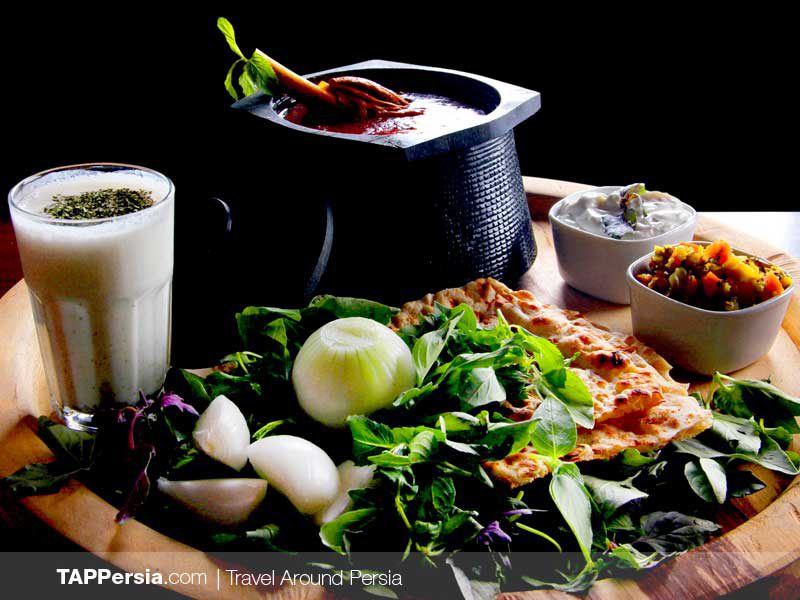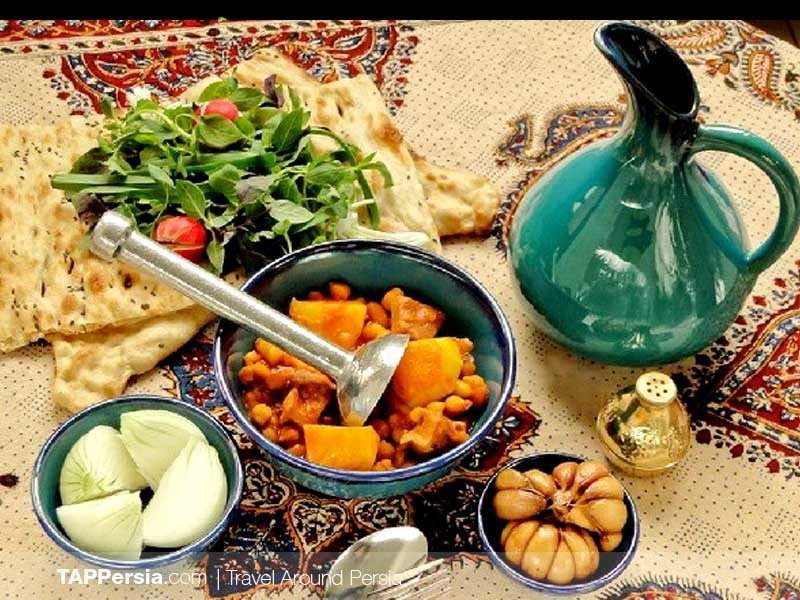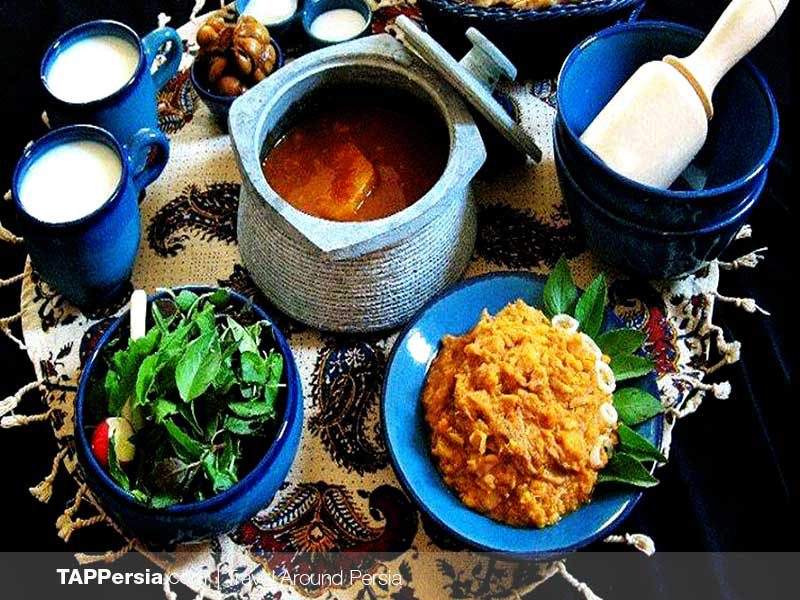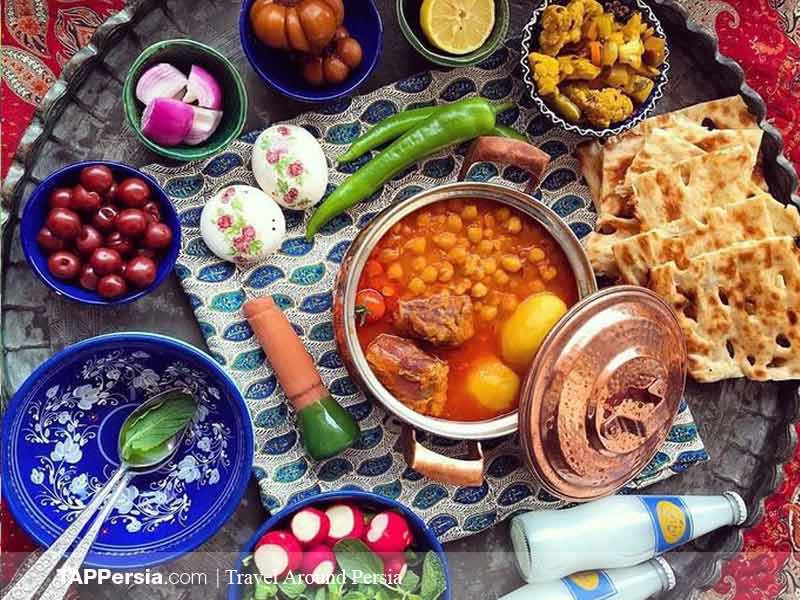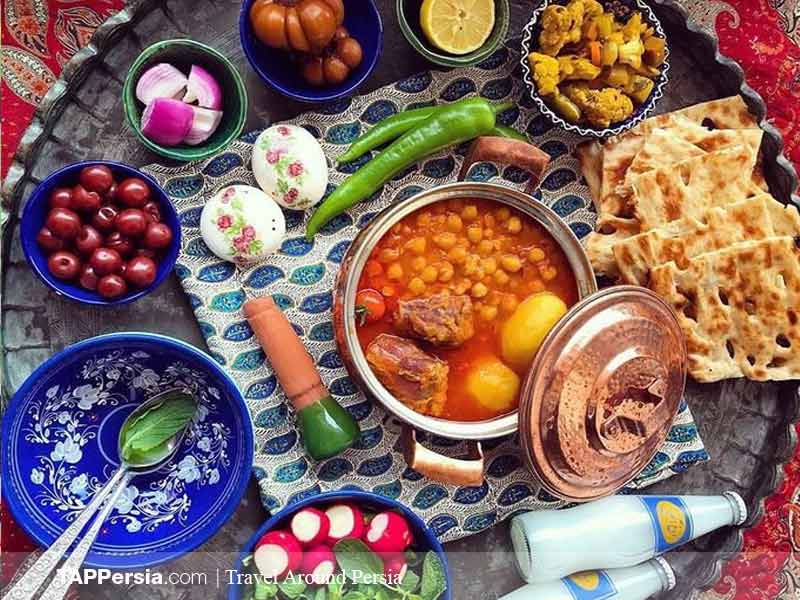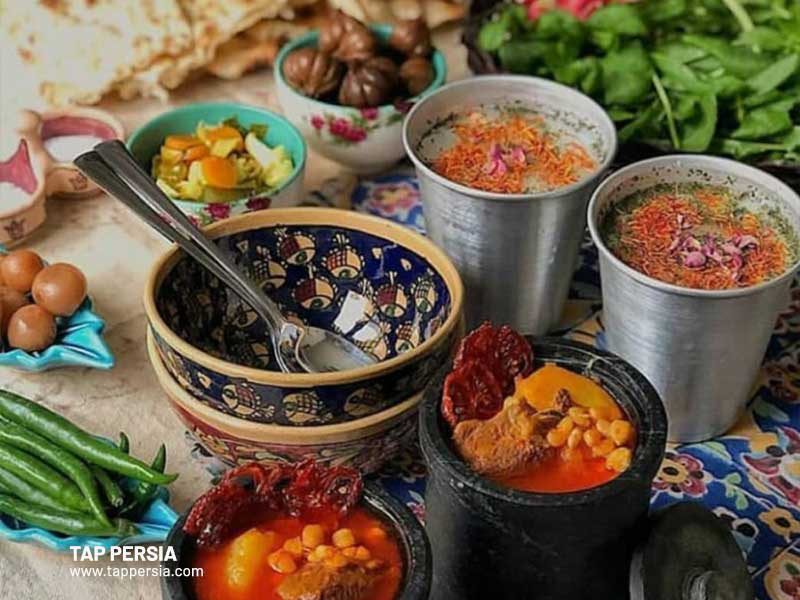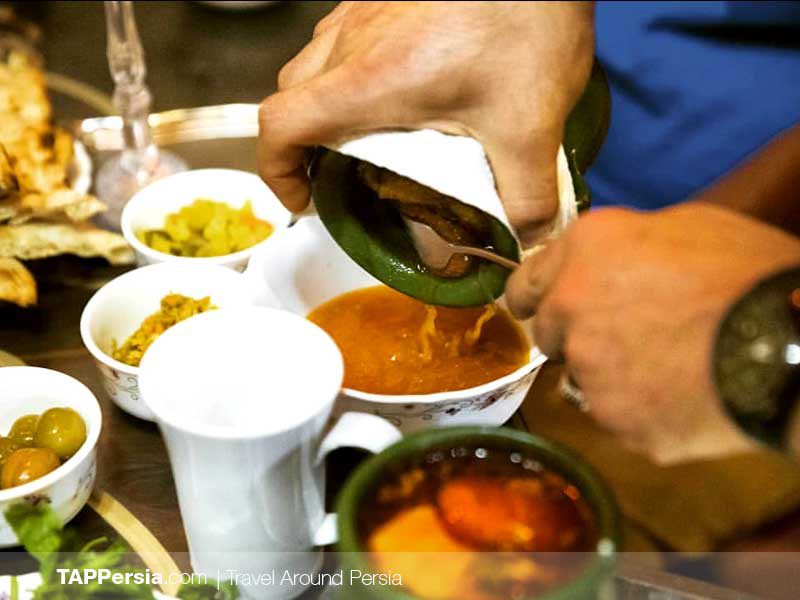 ---
Recommended Tours