There are hotels in every corner of the globe, some luxurious and others really cheap. For those looking to satisfy their wanderlust on a  budget, Isfahan has a wealth of reasonably priced accommodation options. These budget options are as unique as they are cheap. 

Sheykh Bahaei Hotel Isfahan
Take a stroll down the Chaharbagh Paen Street near the top attractions of Isfahan and book a nice and clean room at Sheikh Bahaei Hotel. The hotel staff will welcome you with a nice drink at first and help you to carry your baggage to the top floor. Beds are clean and comfy with enough room to breathe. The rooftop gives you a nice outlook for brunchers who are willing to enjoy a good meal in the balcony with a nice view of Chahrbagh Street. 

Setareh Hotel Isfahan
Setareh Hotel located in Hafez street in a few steps from the most beautiful part of Isfahan. The big entrance will help you to find the hotel nice and easy. It is a two-way street so you do not face any problem reaching the hotel.  Setareh hotel serves up a generous breakfast along with a cup of coffee or Iranian tea and a dinner on the rooftop at night with fresh flatbread and Kebab which make your day. The hotel is a great budget-friendly option with an ideal spot to stay in the middle of the city center.

Zohreh Hotel Isfahan
Chic and basic The hotel decoration attracts you from miles away. Amazing job by the lobby mesmerize anyone who walks in. The rooms are small but clean with a private bathroom. Great service and good quality breakfast are free along with the bed. The price per room is acceptable. Take a walk in the Ostandari street to get to one of the tourist spots of Isfahan, Naqsh-e Jahan Square.

Hasht Behesht Apartment Hotel Isfahan
Hasht Behesht Hotel in Ostandari Street is the perfect base for those who are looking for low prices which are easy on the wallet. the hotel was listed as the "Best Hotel" in 2014 by Tripadvisor website. Each room provides a TV, refrigerator, and a whole set of equipment for a happy meal in the kitchen.

Azadi Hotel Isfahan
While keeping an eye on your wallets, you might want to consider staying at Azadi Hotel. Clean and tidy rooms give you the opportunity to save up some for the souvenirs you can get in a 5-minutes walk to Naghshe Jahan Square. This 30-year-old hotel tries its best to have a reasonable price beside the well-mannered staff. Each bedroom has its own private bathroom and a light bulb in the middle of the room. 

Iran hotel Isfahan
Iran hotel is conveniently located in the central part of Isfahan near the Hasht Behesht garden. People in Esfahan love to walk in Chaharbagh street, so if you want to get involved with local customs, you may find this hotel room for a reasonable price and join the people of Isfahan for a nice afternoon walk along the Chaharbagh street. The hotel is cheap and simple with a medium-sized room.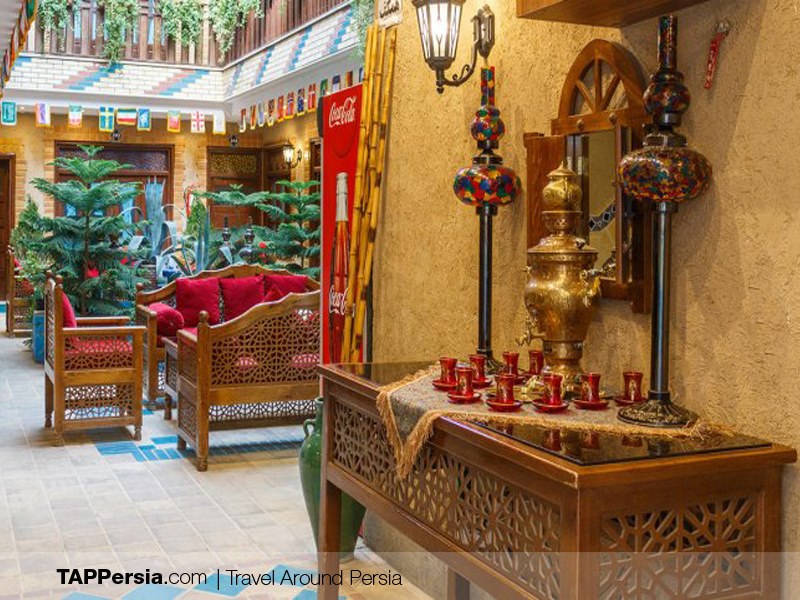 Saraye Ordibehesht Hotel Isfahan
If you are looking for something budget-friendly, Chic, and basic Saraye Ordibehesht hotel located in Kashani street would be the best option. Despite the name, the retro decoration and stylish furniture are much less basic than you 'd imagine. Rooms are clean and cheap, However, they are comfortable and chilled out in a charming, Mid-century style.

Tourist Hotel Isfahan
Regardless of your mood on arrival, you will be amazed by a room with an unbroken view of the Chaharbagh Paeen. Downstairs in the street you can find plenty of street food and cafe for some quality time with the locals. The rooms are small but cheerful and with a 2-min walk, you can enjoy historical Si-o-Se Pol bridge over Zayandeh Rud River.

Sepahan Hotel Isfahan
Sepahan Hotel creates cheap, unique with traditional theme rooms. This three-star hotel is set on Farshadi Street in a 20th-century building close to historical bridges. The neat and minimalist decor here features with white walls.

Viana Hotel Isfahan
The rooms at this one-star hotel are decorated in a classy way and come on two floors to keep you out of the noisy streets. Breakfast is included in the room rate and the friendly staff will help you with your demands. With a 20-minute walk, you can easily get to the city center. Do not forget to ask for a city map at the reception desk.
---
Recommended Tours