You might stay in a nice apartment in Isfahan without spending a lot of money. Yes! Your reading was accurate. From mid-range to high-end luxury hotels, all of them are tastefully created and furnished in the city of Isfahan. All of these hotels can give you nice amenities and satisfy you. You may select the best cheap hotels in Isfahan to stay in if you're not only interested in price and cost.
We wish to expose you to the top cheapest hotels in Isfahan in this post. We wish to inform you about the facilities and evaluations of these hotels' rooms, as well as their location in relation to the major Isfahan attractions.
In Search of Cheap Hotels in Isfahan?
Are you looking for a cheap hotel in Isfahan so you can save money for other things to do? In comparison to other popular tourist destinations throughout the world, Isfahan's hotel rates are rather reasonable. As a result, you may stay in Isfahan in hostels, cheap hotels, or even ancient homes. Enjoy a daily, healthy breakfast for under 8 USD/EUR.
These cheap hotels nonetheless have a lot to offer for travelers on a tight budget, with the majority providing Wi-Fi and handy locations. Many of the establishments, which are popular with hikers, are located near historical monuments and Isfahan's center and provide cozy rooms with private or communal toilets. There are also other accommodations that offer luggage storage and a front desk that is open around the clock.
Here is the list of the top 13 cheapest hotels in Isfahan:
1.Karbat Hotel
In the city of Isfahan, there is a new hotel called Karbat. The 1401-opened Karbat Hotel is one of the more affordable accommodations in the city of Isfahan. One advantage of staying at the Karbat Hotel in Isfahan is its excellent location.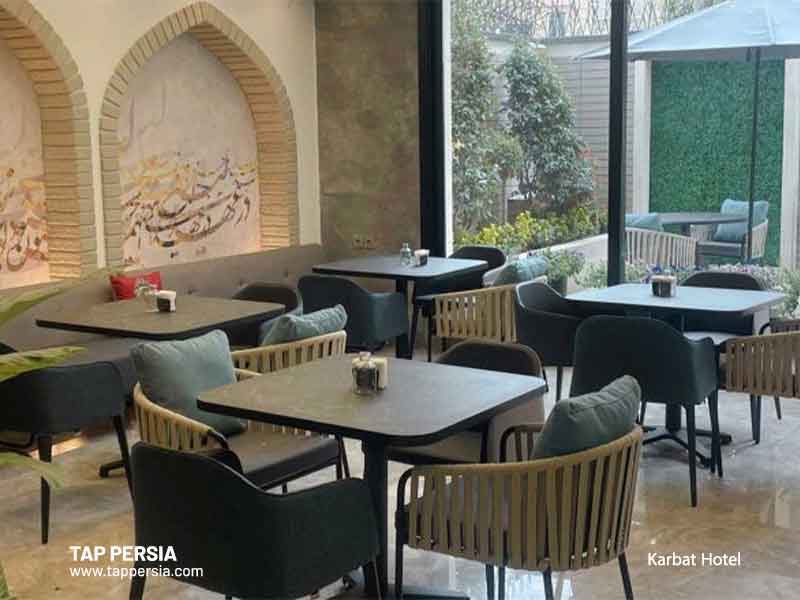 The location of this brand-new hotel is in the center of Isfahan. If you stay at the Karbat Hotel, getting about Isfahan's attractions will be simple. Isfahan Karbat Hotel is only 700 meters from Ali Qapo Mansion, which is situated 550 meters from Hasht Behesht Garden. You may simply go to this lovely city by purchasing an airline ticket to Isfahan. You may expect interesting times at the Karbat Hotel, one of the cheapest hotels here.
2.Bekhradi Historical House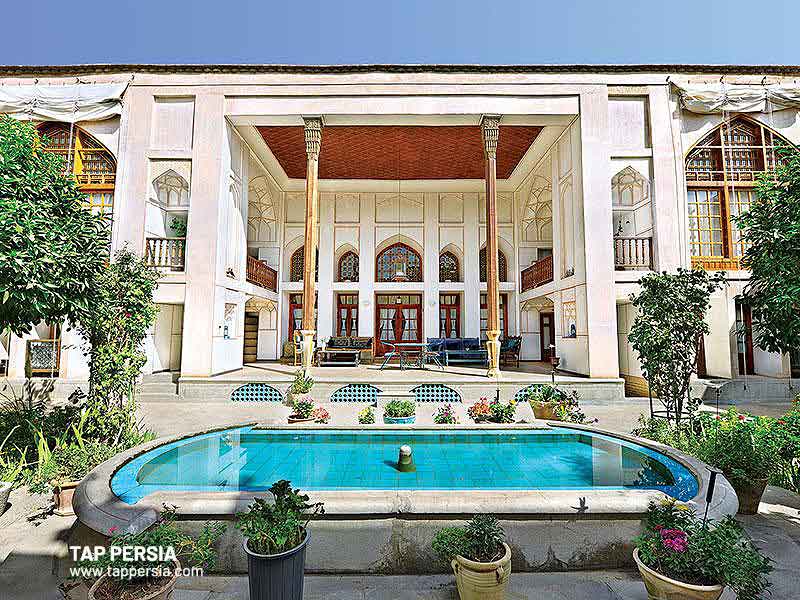 Bekhradi's Historical House is the only Safavid historical building that has been repaired and utilized as a traditional dwelling in Iran since 2005. (also known as Bekhradi Historical House). A memorable stay in a historical home with the comforts of a hotel, the privacy and convenience of a home, and the feel of a museum has led to the renovation and modification of this Safavid home.
The Bekhradi Historical House is one of the cheapest hotels in Isfahan and has personally created each suite and guest room, providing each one with a distinctive historical flavor and modern amenities that will make your stay with them unforgettable. In addition to the Safavid building that had been restored, Bekhradi's Historical House built a Qajar building between 2017 and 2019 to create a complex of 25 suites and rooms.
3.Yas Traditional Hotel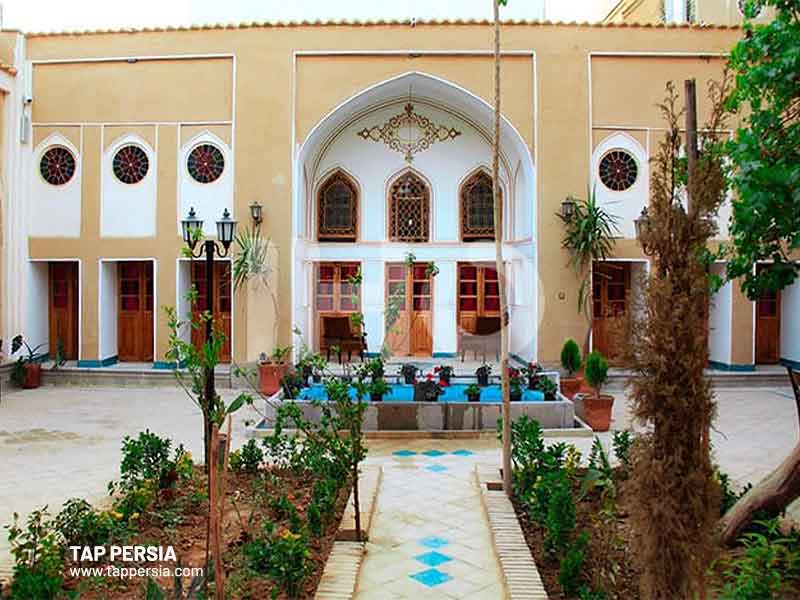 In the midst of Isfahan Bazaar, the Yas Traditional Hotel was a historic home that underwent a five-year renovation. The Yas is one of Isfahan's cheapest hotels and has an authentic Iranian home vibe. the traditional Iranian style of painting the rooms. You will like the bright windows' light. Their traditional cuisine is another distinctive feature of their hotel. Their intention is to make your stay in Isfahan special.
The hotel is situated close to historic structures and attractions in the heart of Isfahan's bazaar. You can experience the Iranian way of life firsthand by visiting Chehelsotoun Palace, Naqshe Jahan Square, and Hasht Behesht Palace by taking a quick 10-minute walk. In this new hotel, you can experience what it was like to live in old Isfahan.
4.Isfahan Traditional Hotel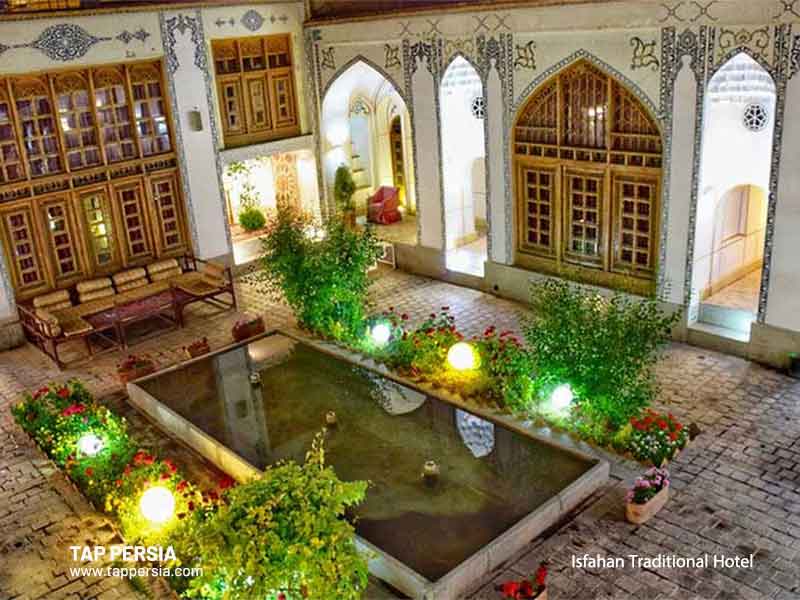 One of Isfahan's cheapest hotels is the Isfahan Traditional Hotel which is the earliest and oldest traditional hotel. It is situated around two courtyards in adjacent Safavid and Qajar-era residences in the Bazaar, close to the historic Hakim mosque and Naghshe Jahan Square. This hotel stands out from the competition due to its affordable pricing, excellent location, quiet and peaceful yard, and buffet breakfast.
This hotel is distinctive and stands out from the competition due to its affordable pricing, excellent location, quiet and peaceful yard, and breakfast buffet. They are a skilled team with welcoming personnel, and they go above and beyond to make you happy and content. They are accessible to you at all times. By staying here, you can have an unforgettable experience.
5.Atigh Traditional Hotel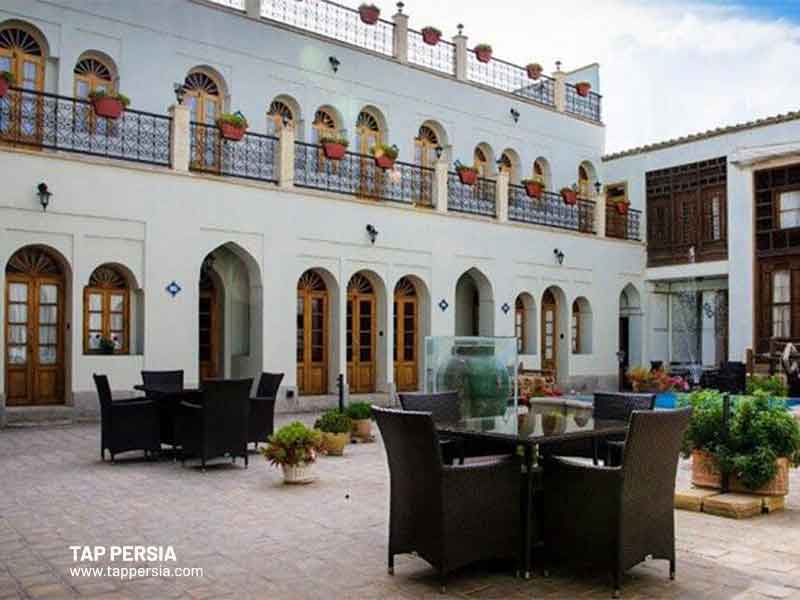 In 2002, Atigh's building structure was registered by Iran's National Heritage Organization and is considered one of the cheapest hotels in Isfahan. Two rounds of renovations to this monument were placed in 2003 and 2010. The second restoration provided the suites and rooms with cutting-edge designs and standards combined with classic architecture, which is incredibly comfortable for the guests to have a sense of both tradition and modernity.
With the assistance of its devoted customers, knowledgeable employees in the tourism business, and consistent active engagement in hospitality and tourism over the past 20 years, the Atigh hotel in Isfahan has been able to offer the best services to visitors. Additionally, ATIGH Traditional Hotel has pledged to give its visitors with a tranquil and pleasant staycation in addition to the customer satisfaction philosophy by holding memberships in the Iran Hotel Association (IHA) and Iran Heritage Organization.
Two courtyards—the outer courtyard and the inner courtyard—make up this wonderful and serene location. There is a lengthy corridor after the hotel's front door. Two yards surround the rooms.
6.Sheykh Bahaei Hotel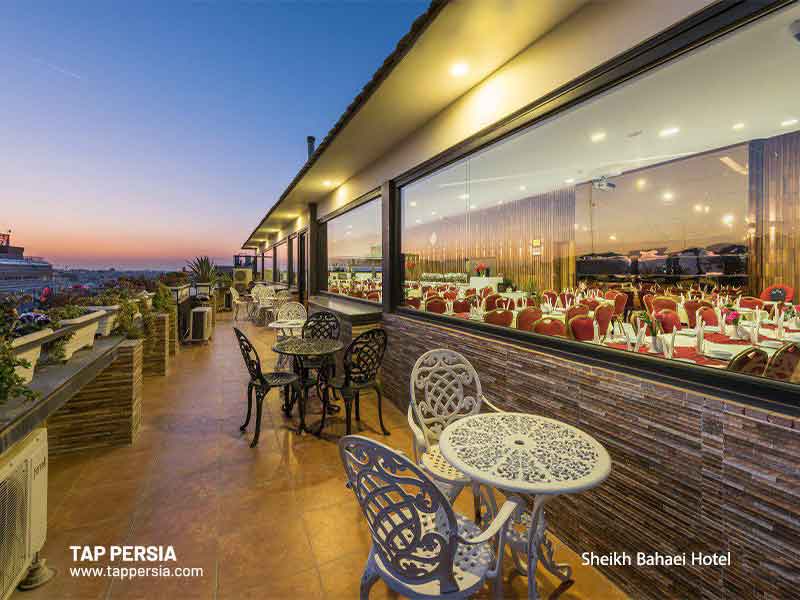 In Isfahan, close to Chaharbagh Abbasi Street, is where you'll find the three-star Sheikh Bahaei Hotel. The three-star hotel is one of the most well-liked in the area. First and foremost, you'll want to stay an extra night or two due to the contemporary architecture and comprehensive amenities.
Consequently, this hotel offers online booking. You should extend your trip and explore Esfahan more than you had anticipated. The famous, 400-year-old Chaharbahg Street is thus conveniently close to the hotel.
The Sheikh Bahaei Hotel in Isfahan has 30 rooms. There are three different room types: single, double, and triple. Additionally, honeymoon rooms are accessible. A refrigerator, flat-screen TV, and personal safe are included in every room. Additionally, there are climate controls and tea and coffee makers.
7.Beed Hostel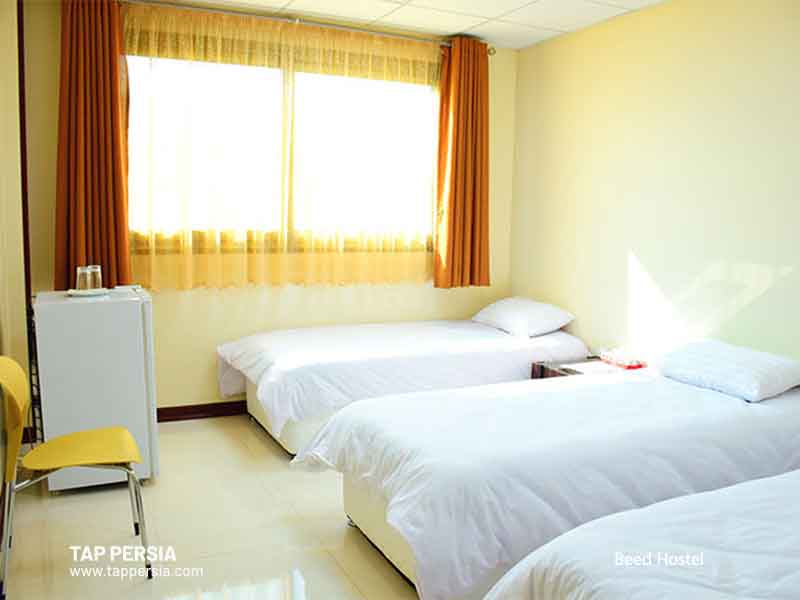 In a 400-year-old bazaar, next to the Aligholi Agha historical bathe house museum, mosque, and Aligholi Agha Zoorkhaneh (an ancient and historical Persian sport), the Beed hostel opened its doors in July 2019 in a historic area of Isfahan.
They provide both individual and shared accommodations. They can arrange city tours and off-road excursions, and all rooms come with air conditioning, free Wi-Fi in the lobby, breakfast, and all taxes included (desert).
On request, they provide traditional cuisine, a small patio where you may unwind, and a welcoming environment within the hostel.
8.Setareh Hotel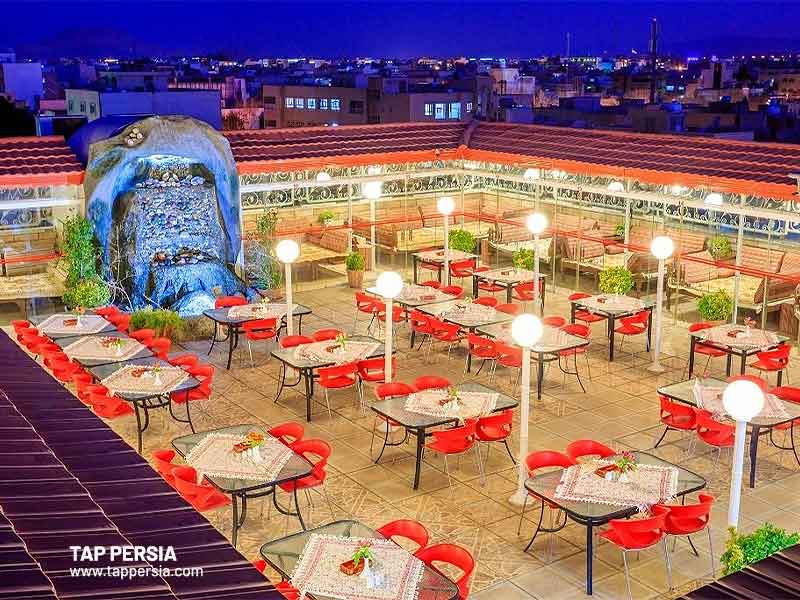 If you want to visit on a budget, Setareh Hotel is a fantastic option. This 3-star hotel can be found in the historic section of Isfahan, close to Naqsh-e Jahan Square. Khatam Kari, a Persian art form that involves inlaying, is used in the hotel's entrance design. You can hang out in the opulent lobby or chat with the welcoming staff members inside the building.
The classic chandelier's light can be reflected by the hall's ceiling, which is decorated with tiny mirrors to give off a glam atmosphere.
You can eat in the hotel's traditional restaurants if you want to try Persian food, especially Isfahani cuisine. The Baam restaurant on the roof of the Setareh Hotel is a fantastic feature, but it is only open during the summer. From there, you can enjoy eating while admiring the stunning view of the Shah mosque.
9.Zohreh Hotel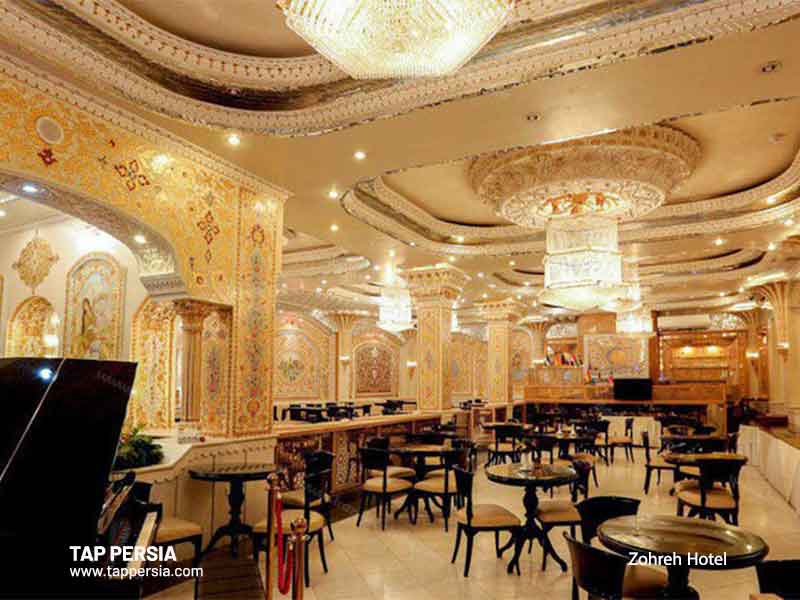 The Zohreh Hotel is one of the most fashionable three-star hotels in Isfahan because of its old classic style and well-designed furnishings. Its status as a high three-star hotel is confirmed by the fully furnished guest rooms and suites with lovely lighting. An important feature of this hotel is its proximity to historic sites like Ali Qapu Palace, Chehel Sotoun, Naqsh-e Jahan Square, Hasht Behesht Palace, and Vank Cathedral. In close proximity to the hotel are an airport, train station, subway stop, and bus terminal.
For those looking for a typical Iranian-style hotel at a reasonable price, the Zohreh Hotel is a suitable option. The customers are served by a restaurant, a traditional restaurant, and a 24-hour coffee shop with delectable food, beverages, and desserts. Additionally, the hotel has a prayer room, internet access, 24-hour room service, a newsstand, and currency exchange services.
10.Golara Traditional Hotel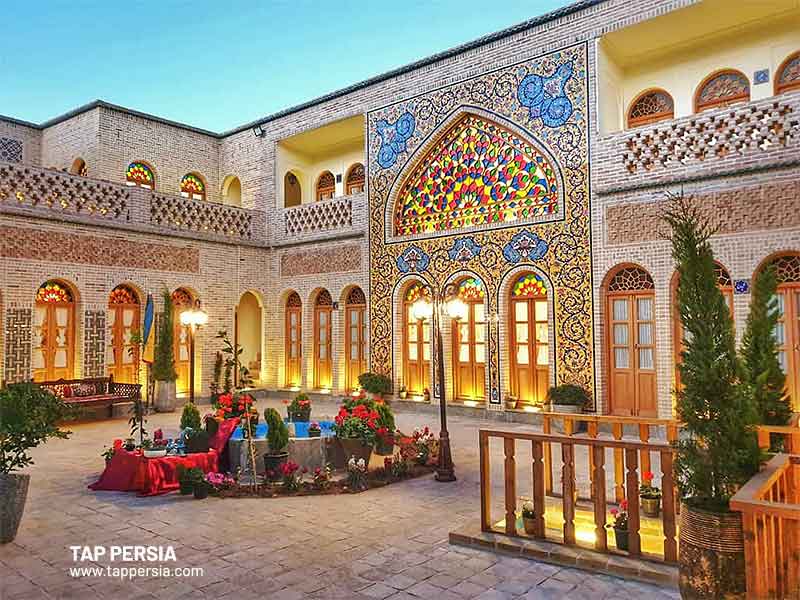 One of the accommodations in Isfahan is the Golara Hotel. Traditional in design, this house is regarded as a historical and beautiful location in the city. It is also a very significant hotel in Isfahan because of its advantageous location.
We may include Si-o-se Bridge, Assar Khaneh Shahi Museum, Qeisarie Bazaar, Ali Qapo Mansion, and Sarai Hinduha Bazaar as some of the most significant tourist attractions in this city. All visitors are encouraged to visit these locations, which are close to our hotel.
This house, which has one story and nine rooms, was placed into service around 1400 and is prepared to house visitors. Therefore, all you need to do is purchase a plane ticket and reserve this conventional lodging in order to have one of the adventures of a lifetime.
11.1001 Nights of Chaharbagh Hotel
The classic 1001 Nights hotel is located in the heart of Isfahan. It features a wonderful coffee shop and a welcoming atmosphere with Iranian friendliness. Travelers from all over the world frequent the city of Isfahan, where the property is situated. When you stay at the hotel, the staff ensures that you are at ease and that you enjoy the surroundings and stimulating conversations.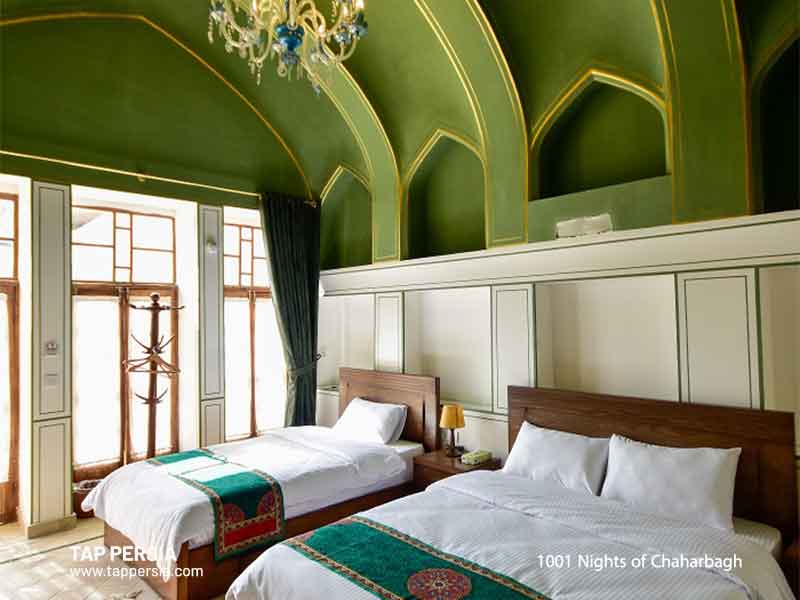 The hotel is housed in a historically significant Qajar dynasty structure. You can rest easy knowing someone will be available to you at 1001 Nights Hotel's 24-hour reception whenever you need them.
It is situated in the heart of Isfahan, just 5 minutes on foot from Naqshe-Jahan Square. It is in a very quiet neighborhood and, of course, very close to many city attractions. Additionally, there are a lot of markets and dining options close to the 1001 Nights Hotel.
12.Armenia Hotel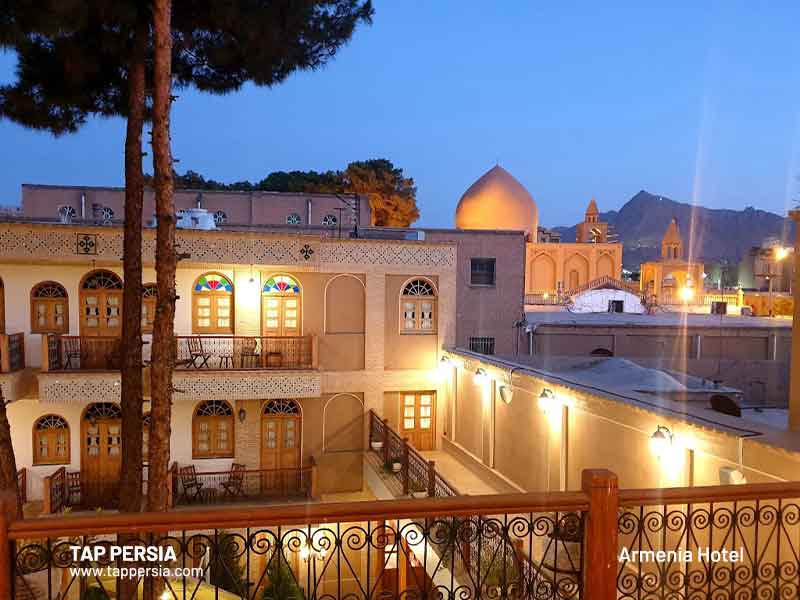 The structure was built in 1879, and in the winter of 2020, it opened as a hotel. One of the premier properties among Isfahan's cheapest hotels, the Armenia Hotel boasts 28 exquisite rooms, a free breakfast, a cafe, a restaurant, a free minibar, free Wi-Fi access, and subsidized excursions and sightseeing.
The authentic atmosphere of the Armenia Hotel is expressed through its collection of traditional wood ceiling designs, historic pillars, magnificent balconies, elegant rooms, and contemporary services.
It is fortunate to be close to several popular tourist destinations, including the Isfahan Music Museum, Jolfa Square, Saint Bethlehem Church, Si O Se Pol Bridge, Khaju Bridge, Chehel Sotoon Palace, and Naghsh-e Jahan Square. The Vank Church, a 400-year-old church, is also nearby. At a distance of 1.8 kilometers, there is also a Metro Station in Isfahan. One may argue that such an experience doesn't exist in Isfahan at all.
13.Soufi Hotel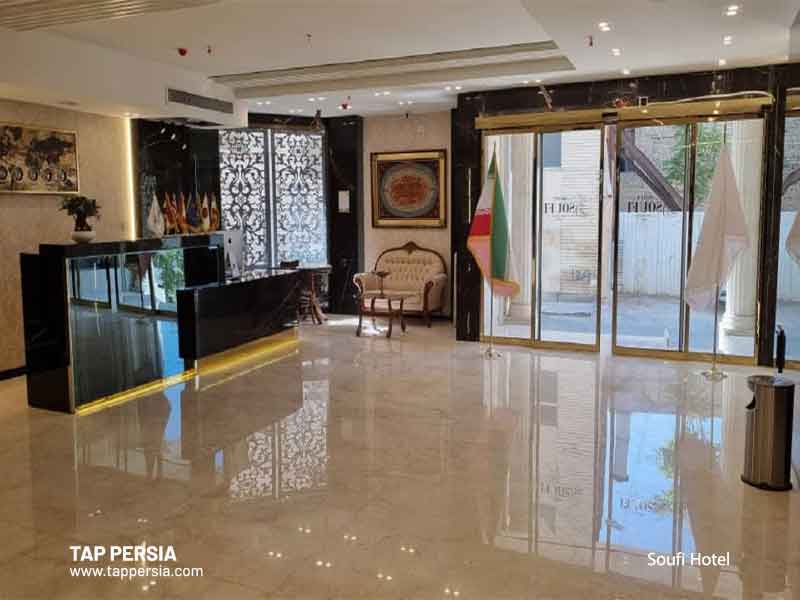 In Isfahan, the Soufi Hotel is a recent addition. It was first established in 1401. 41 rooms are spread across 8 floors of this hotel. The hotel offers amenities for guests' comfort, enabling them to enjoy their stay by making use of the pool, Jacuzzi, sauna, and bicycle rental available. Access to Isfahan's most significant historical and recreational sites in the shortest amount of time is one of the benefits of choosing this hotel. To ensure that you have a relaxing and enjoyable trip, the knowledgeable staff at the Soufi Hotel is proudly prepared to welcome you.
If you want to make a reservation, contact us via WhatsApp or on the Iran Hotel page.