Isfahan is absolutely one of the must-see destinations when you are planning to visit Iran. The city of tranquil domes, Zayandeh Rud River, and as it is known deservedly, Haft of the World. While visiting this magnificent city in Iran you should also make the best choice for where you want to stay in order to make your trip to Isfahan totally perfect. So, continue reading if you want to make the smartest choice since we have honorably provided the list of best hotels in Isfahan for you.
Keryas Traditional Hotel – Find Yourself in the History
With only a few minutes walk to Naghsh-e Jahan Square, you will get to a traditional hotel which is just like a jewel in architecture and design. A building dating back to the Qajar era, where you can live the history. Keryas Traditional Hotel is located at the neighboring wall of Shah Mosque, Ali Qapu Palace, and Sheikh Lotfollah Mosque.
Keryas Hotel has only 15 rooms which makes it a private space that offers guests a peaceful atmosphere. In addition, the hotel provides the most modern facilities for your maximum comfort. While staying at this traditional hotel, just relax, close your eyes and you will find yourself in the ancient Isfahan.

Ghasr Monshi Boutique Hotel – An Ideal Romantic Hotel
In a monument from the Qajar dynasty, you can experience an unforgettable feeling in a spectacular Persian ambiance. It is worth mentioning that this building was one of Fathali Shah's few houses in Isfahan in his ruling time. Ghasr Monshi is historically significant, as it is registered as a national heritage. You can see the Persian culture and history in this hotel.
This amazing Boutique Hotel is situated in Neshat street, not very far away from Naqsh-e Jahan Square. This hotel has a nice courtyard with traditional seating which is suitable for having a sip of Persian tea at night. In addition, you will have one of the best breakfasts in your lifetime, the most delicious Persian dishes, alongside the elegant, clean, and spacious rooms.

Bekhradi Historical House – 400-Year-old Charm of Isfahan
If the main characteristic of a hotel for you is the comfort and beauty, Bekhradi Historical House is your best choice. This museum-like hotel is a Qajar building which is located right next to a Safavid building which is added to this historical house. In this charming 400-year-old building, you will make an unforgettable memory of your trip to Isfahan.

Taak House
Taak House is a historic house located at the center of Isfahan with only 5 rooms to offer. However, these rooms are extremely comfortable and the atmosphere is just indescribable. But again, this is not the best part. You will taste a dish of breakfast that you've never had in your entire life anywhere in the world. The well-trained staff will make your stay even more, with their kind and helpful attitudes.
User Christine Asuncion wrote a comment in Tripadvisor: "The owners are warm and helpful hosts. I don't think anybody has regretted staying here, and I'll surely consider staying here again if I return to Isfahan." This lovely, cozy traditional house is situated in Mirdamad Street.

Abbasi Hotel – Isfahan Precious Hotel
The 5-star luxurious Abbasi Hotel is a precious heritage in the Isfahan architectural style of the Safavid era. This magnificent complex was built at the time of king Sultan Hossein about 400 years ago. You can feel the spirit of this beauty, living in the patterns, paintings, and fabulous design. As well as the charming environment it has in itself.
With about 225 rooms, Abbasi Hotel's staff provide the best comfort for you that you can only relax and enjoy the view of the glorious garden or the postcard-worthy view of the turquoise dome of Chahar Bagh school. Besides, you shouldn't miss the garden, which is a deserved symbol of real Persian Garden. Just picturing a harmony of tall green trees, colorful flowers, and Persian fountains making them half. This diamond is situated in Amadegah Street, Chahar Bagh Boulevard.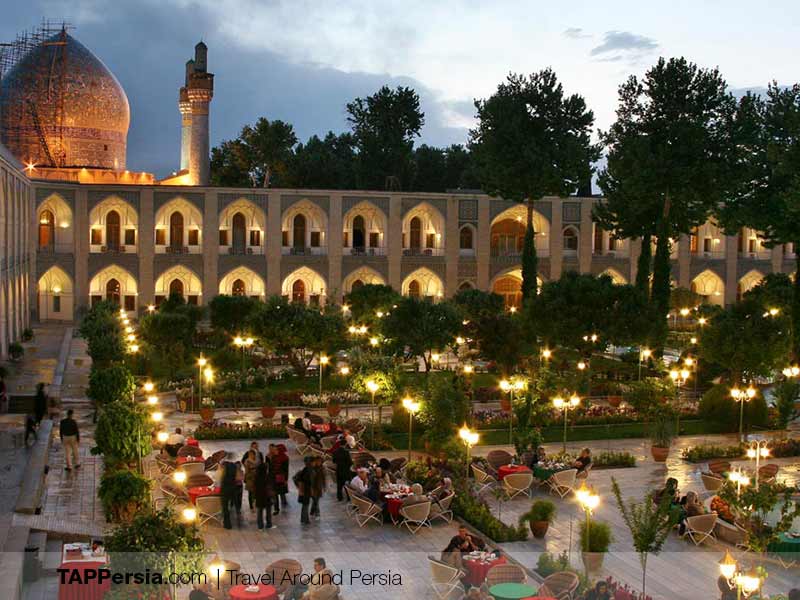 Khajoo hotel
Khajoo Hotel in Khajoo Boulevard is an amazing 4-star hotel but provides the amenities of a 5-star one. The hotel offers a family-friendly environment alongside many helpful amenities, designed to enhance your stay with clean comfortable rooms, and on top of all, well-experienced friendly staff.

Kianpour Historical House
The hotel itself, its around-yard rooms, the design, architecture, and the amazing breakfast are only some of the reasons that make Kianpour Historical House one of the best hotels in Isfahan. In addition, this unique monument from Qajar has a suitable location, in Chahar Bagh Paeen Boulevard, providing easy access to Isfahan top attractions. This mansion is about 150 years old which is now a glorious boutique hotel.

Isfahan Traditional Hotel
Isfahan Traditional Hotel is located in the Bazaar right next to the ancient Hakim Mosque and Naqsh-e Jahan Square. It is beautifully built with its two courtyards in adjoining Safavid and Qajar dynasty buildings. The reasonable price, great location, calm and vibrant atmosphere, an amazing breakfast, and many other reasons have made this hotel a unique choice for you.

Joybar Boutique Hotel – Magic of the Past
Joybar Boutique hotel and its friendly staff welcome you all, to a delicate atmosphere, elegant architecture, and a part of history. The house dates back to the late Qajar dynasty ruling time. The hotel is an exceptional accommodation providing a comfortable stay for you. Situated in Neshat Street, the hotel also provides easy access to top attractions in Isfahan.

Sheikh Bahaei Hotel
Sheikh Bahaei Hotel is located at the center of Isfahan, in a peaceful corner in Sheikh Bahaei Street. This hotel is surrounded by Isfahan must-see attractions including Chahar Bagh, Zayandeh Rud River, Naqsh-e Jahan Square, metro station, and Hasht Behesht Palace. The hotel is a beautiful combination of traditional gloriousness and modern design.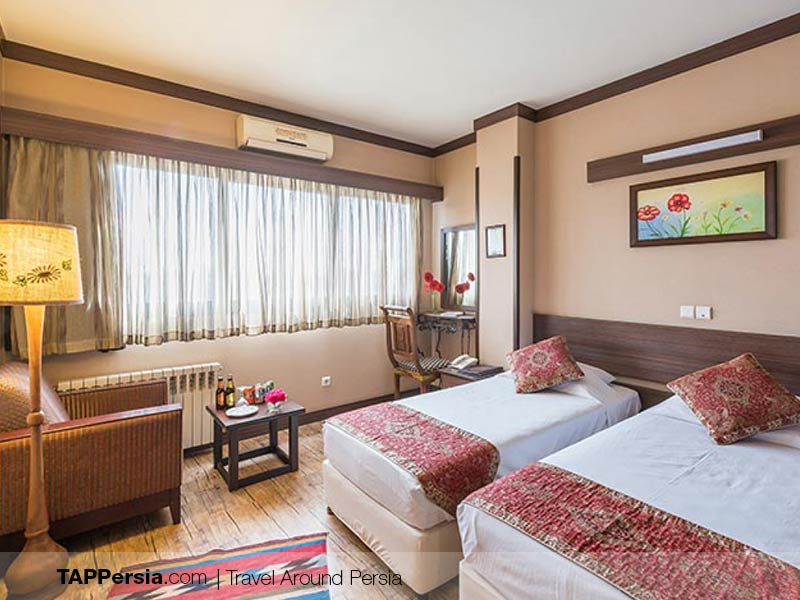 Atiq Traditional Hotel
A traditional hotel built nearly 200 years ago in the Qajar dynasty, which is not only a mesmerizing traditional house but also the perfect accommodation for you while staying in Isfahan. This hotel is close to the Jame Mosque and the Great Bazaar of Isfahan. In addition, you have easy access to Naqsh-e Jahan Square and other top attractions of Isfahan.
The hotel is decorated in the most incredible way with wonderful paintings and molding. Although it has been renovated completely, you can still feel the traditional spirit in every corner of this hotel. Enjoy the lovely courtyard, the peaceful atmosphere along with the nice staff and equipped rooms.

Parsian Kowsar Hotel – A View of Zayandeh Rud River
The 5-star Parsian Kowsar Hotel is located right in front of Si-o-se-pol Bridge, Mellat Boulevard. If you are lucky enough you will experience the rooms with the picturesque view of Zayandeh Rud River. The hotel's well-trained friendly staff provide everything you need so that you experience a comfortable stay. You can walk in the garden after you had the best breakfast of your entire life, enjoy the cafes and restaurants of the hotel.

Sohrevardi Traditional Hotel
The antique Sohrevardi Traditional Hotel has found its way on the list of the best hotels in Isfahan because of its cosy environment, friendly staff, clean rooms, delicious food, and the beautiful architecture that catches your eyes the moment you step into this traditional hotel.

Parsian Ali-Qapu Hotel
Located in Chaharbagh Abbasi Boulevard, the 4-star Parsian Ali-Qapu Hotel invites you for an unforgettable stay. The hotel offers different amenities in order to enhance your comfort while staying in this hotel. The comfort that Ali-Qapu provides for you is truly exceptional. In addition to all these, you have easy access to many top attractions of Isfahan including Chehel Sotun, Naqsh-e Jahan Square, and Si-o-se-pol Bridge.
The user CWieland said in TripAdvisor: "The hotel is next to the famous Chahar Bagh, a relaxed boulevard for nice walks under trees and without cars. the rooms are nice and calm and the people are very friendly and helpful for any situation."

Keshish Traditional Hotel
Keshish Traditional House should definitely be on the list of best hotels in Isfahan since it is one of the few houses remained in Julfa neighborhood, with its magnificent Safavid style. This house belonged to Gargin Haranian, an honorable priest. Now, you can see how it really feels to live in a traditional house with an indescribable garden.
This splendid traditional hotel is built in Hakim Nezami Street, Sangtarashha Alley. With this great location, wonderful neighborhood, vibrant atmosphere, and most important of all, friendly staff, you will experience a comfortable peaceful stay while you are in this traditional house. In addition, you can enjoy the delicious food in the garden while you are surrounded by flowers.

Aseman Hotel – Live in the Sky
The 4-star Aseman Hotel is an ideal family-friendly hotel that is known for being the tallest building in Isfahan. This hotel is built alongside Zayandeh Rud River, right in front of Felezi Bridge. This hotel consists of 13 floors with a spinning restaurant at the top, offering a great view of the city alongside its amazing food.
---
Recommended Tours