Meaning Herbed Rice, Sabzi Polo is an inseparable part of Iranian's table on Nowrouz (Persian New Year) –beginning of the spring-. It is one of Iranian's favorite foods and through your visit to Iran, tasting Sabzi Polo is a must. They typically serve it with fish but you can also serve it with chicken or meat. Same as so many other delicious Persian foods like Albaloo Polo and Khoresht Bamieh, it is symbolizing prominent elements of Iranian culture. The herb used in the food is a great representative of rebirth and the fish is symbolizing life for Iranians. So, in case you want to get closer to Persian Culture, it might be a good idea to cook Sabzi Polow with Mahi on March, 20. In this article, we provide you with all the detailed information on how to make Sabzi Polo like a professional chef?
Ingredients of Sabzi Polo
The main ingredients of Sabzi Polo are good smelling rice and fresh herbs. But it has a very tasty part called Tahdig. Do not worry; we cover all the things you need to know about cooking a topnotch Sabzi Polow.
Ingredients: (serves 4 people)
4 cups of rice
4 chives of garlic
2 tablespoon of brewed saffron
Salt
Oil
Water
1 cup of chopped leek, parsley, coriander, and dill (one cup for each)

How to Make Sabzi Polo?
Step 1: Have the rice in a large bowel covering with cold water. Rinse the rice several times so that you will not have any starch left and the water runs clear. Then have the rice with two teaspoons of salt in the water soaking for two hours in the bowel and finally drain.
Note: Do not have your hand to the rice to wash in order to avoid rice being too overcooked and mushy.
Step 2: Bring three quarts of water to boil. Drain the rice and add it to the boiling water. Add two tablespoons of salt and oil (either olive oil or ghee). Depending on the type of rice you are using, it will take about 3- 8 minutes for the rice to soften at the ends and firm in the center.
Step 3: Mix the leek, parsley, coriander, dill, and chives with the rice. Put a clean pot on the oven and pour some oil in it. Gently scatter bread or chopped potatoes and pour some brewed saffron and salt on it. Then scatter the mixture of rice with the herbs. With the bottom of a spoon, make some holes in the rice so that it will be cooked better.
Step 4: Cover the pot while being on high heat. The moment it starts steaming, turn to reduce the heat to the minimum, and cover the pot with a parchment paper. It takes about 45 minutes to be cooked. After about 35 minutes, open the pot and pour some butter on the rice. And increase the heat so that your Tahdig will be more crispy.
Step 5: Meanwhile, you can fry the fish. They typically use Tilapia, white, trout, and anchovy fish. First of all, make a sauce with chopped onion, lemon juice, pepper, salt, and turmeric. Have the fish floating in the sauce for a minimum of ten minutes. You must season the fish with turmeric, garlic, pepper, coriander, and fenugreek. If you have access to Persian spices, we highly recommend using Persian spices especially the spices of south Iran like the specific fish spice. Mix the spices with the flour and coat the fish in the flour and then fry it in a hot pot. Serve the fish with fresh lemon and vegetables. If you prefer not to use oil for frying, you can instead grill the seasoned fish as well.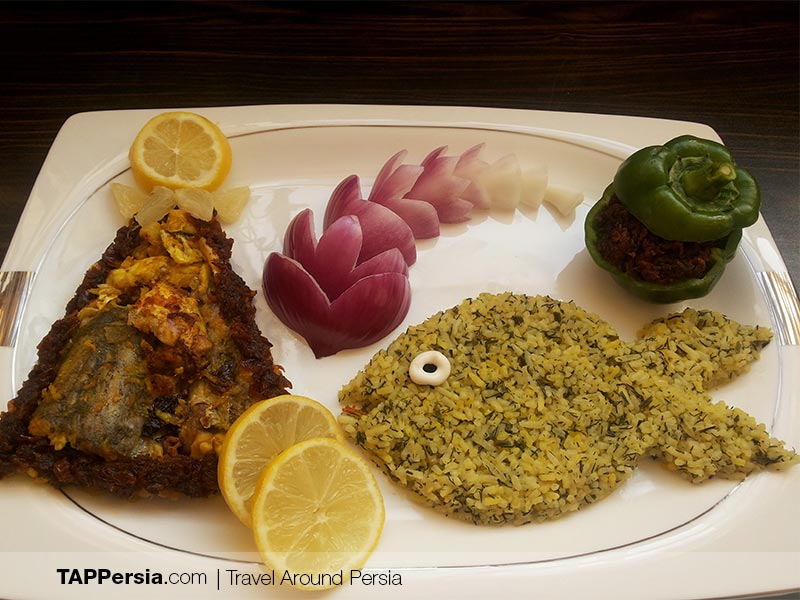 How to Serve Sabzi Polow?
You can serve it with various things like pickles, fresh vegetables, Salad Shirazi, olive, and lemon.
Notes:
Sounded it easy? Huh? Well, if you take steps in order and carefully, cooking Sabzi Polo is not much of a trouble. To have your dish tastes and looks more alike Persian original Sabzi Polo, take these notes into account.
Serve the food warm.
Preferably use fresh vegetables since your food will be tastier but bear in mind that you can use dried vegetables as well.
The common fishes used in Sabzi Polow is Tilapia, white, trout, and anchovy. But in case you are living in an area where you have no access to those types of fish, you can have any type of fish you like.
As mentioned above, the main herbs used are leek, parsley, coriander, dill, and chives. If you cannot find them, use which one you can find but bear in mind to increase the amount of the herb you are using since you need to cover for ingredients you do not have.
The side dish for this food is fresh vegetables, lemon, bitter orange, pickles, and pepper. Avoid using yogurt since its combination with fish upsets digestion.
Instead of having fried or grilled fish, you can use stuffed fish as well.
We hope you enjoyed the recipe. If you have any questions about how to make Sabzi Polo, share it with us in the comments below. Do not forget to share the photos of your dish in the comments as well.
---
Recommended Tours