Jackson in his travelogue narrates about Quran gate and Allah o Akbar canyon that: "… Shiraz is truly similar to an island that emerges from the heart of an emerald sea where a chain of purple color hills surrounded it. Coloration of such a spectacular view is various and harmonious at the same time.
So, it is not astonishing that people has named the city entrance, which is situated in the heart of a natural glorious entrance, Allah o Akbar canyon. Be sure, everybody will spontaneously say "Allah o Akbar," when he encounters this spectacular view."
Quran Gate and Iranian Culture
Iranians move under the holly Quran in order to be blessed. This way they protect themselves against unpredictable and unpleasant events. Quran gate generously does the duty for everybody.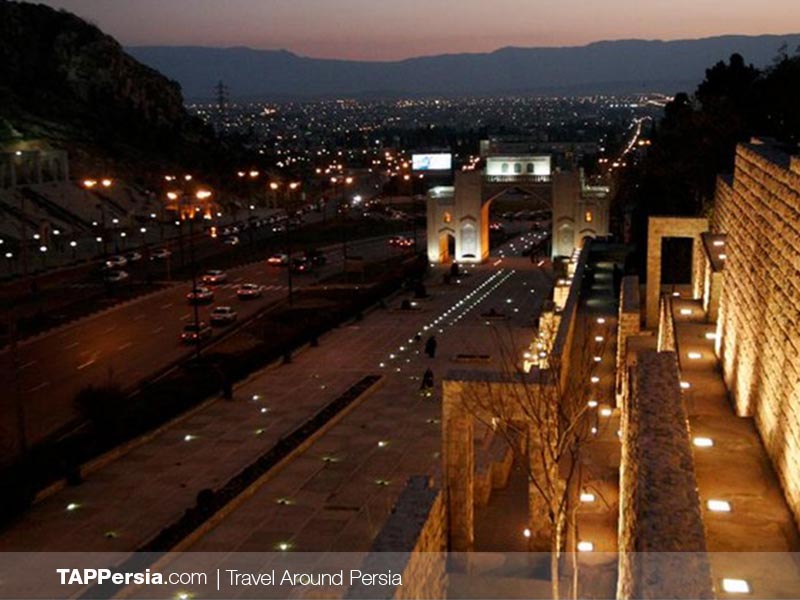 Shiraz, the city of love and poetry, is replete with enchanting historical and cultural tourist attractions. However, none of them have the ability to keep you safe but the Quran gate. So, I suggest you visit this beautiful memorial building and enjoy the lovely environment, Khajuye Kermani garden and tomb, and bless yourself of course!
Have fun
There are a number of recreational facilities in the place with which you will get familiar in the following lines:
1. Khajuye Kermani Garden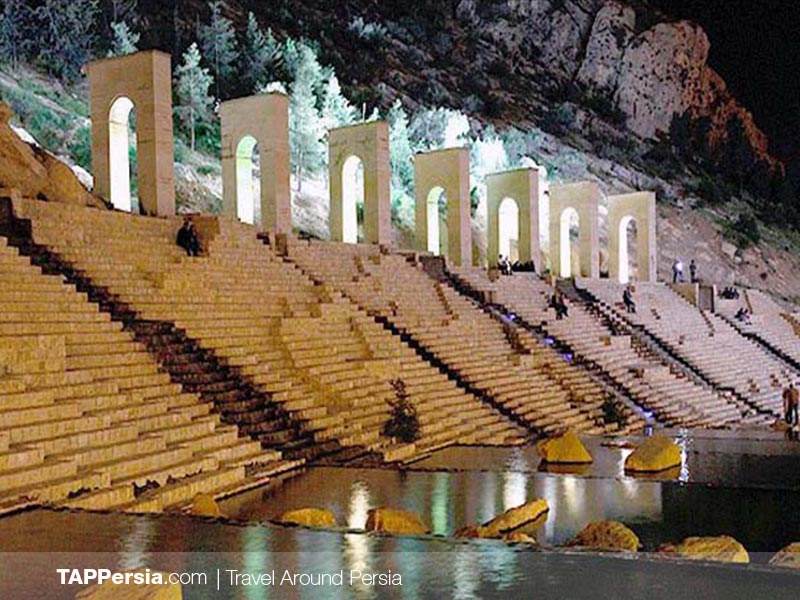 There is a beautiful garden where is a suitable environment to visit. The garden is named Khajuye Kermani Garden because this famous Iranian poet is buried there. The eastern valley has been destroyed due to urbanism and expansion of the city and roads. However, apparently transformation of the mountains makes it a more appropriate promenade.
After visiting the Quran gate, you can relax for a while and enjoy watching people. I should not forget to indicate that musical fountain and Khajuye Kermani tomb make the place a pleasant one. That is obvious that stepped structure of the garden, which makes it possible to watch parts of Shiraz, increases the attractiveness of the garden.
2. Khajuye Kermani Tomb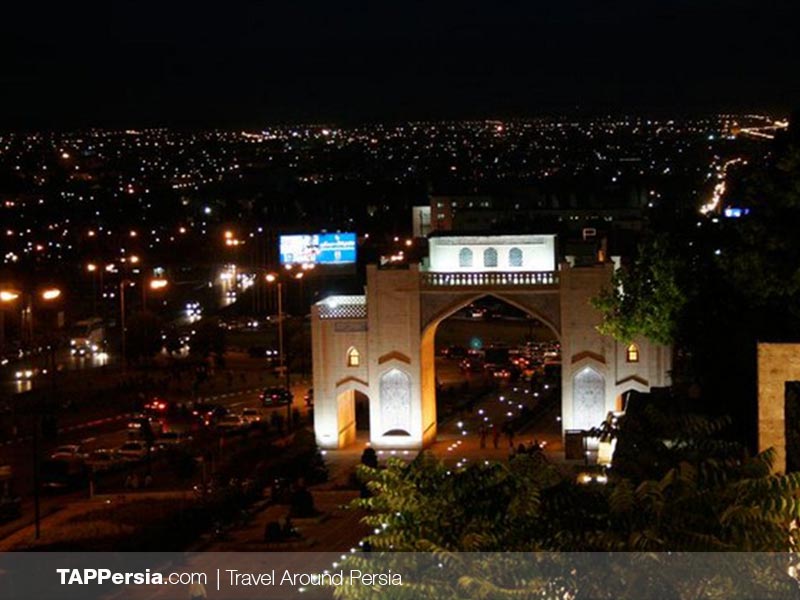 The gift of visiting a poet's tomb, enjoying the nice surroundings of the tomb, and talking to his soul for most of us is a better mood. So, do not miss visiting Khajuye Kermani tomb.
Kamal Al-Din-e Abu Al-'ata Muhammad bin-e Mahmud-e Kermani, known as Khajuye Kermani, is one of the well-known poets of the eighth century. Most of his poems are mystical and his sonnets and odes are famous. Some believe that he had a great influence on Hafez.
He was born in Kerman, but he chose Shiraz to live in. That's why his tomb is in Shiraz, in the mountainside of Sabuy Mountain, overlooking on the Quran gate.
Archeology office of Fars province built a room in the northern part of the tomb in 1337. Today, the room has become Khajuye Shirazi Cultural Center.
3. The Caves of Khajuye Kermani Garden
Just walk up a little more and you will meet three caves. One of the caves was the praying place of ascetics. Khajuye Kermani also did worship his God there.
There is another cave which has a wider and higher entrance. Khaje Emad Al-Din-e Mahmud's tomb, the famous minister of Sheikh Abu-Eshaq-e Inju, is in the cave. Under the command of Hassan Ali Mirza, the Fars governor in 1218 AH, a relief of Rostam conflict with lion has been inscribed on the wall.
In addition to the relief, there is an incomplete figure of Fath Ali Shah-e Qajar and his sons next to the Rostam and lion relief.
Quran Gate Design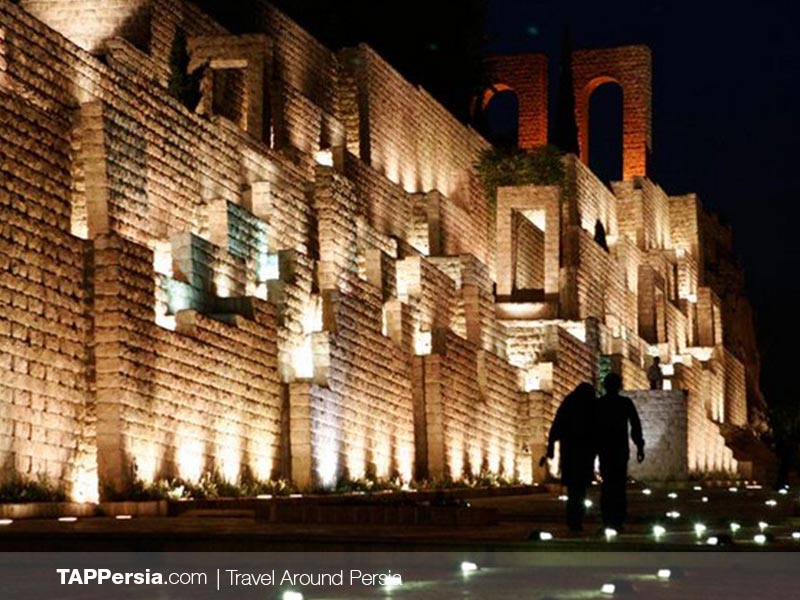 Quran gate, similar to most of the Iranian gates, is arc-shaped and decorated by some verses of holly Quran. Today, the gate is wider and higher and the opening is formed like a sharp arc. There are two small entrances in both sides of the gate and the rectangular room is the place of Quran.
History of Quran Gate
Old Shiraz enjoyed having 6 gates, but only one of them has survived. Nonetheless, Shiraz people still indicate to the place of the ruined gates that include: Isfahan gate, Saadi gate, Qasabkhane gate, Kazeroun gate, Shah Da'i Eli Allah gate, and Quran gate.
The gate was built under the command of 'ezd Al-Dowleye Deylami. It is called Quran gate because there is a holly Quran in its small room. 'ezd Al-Dowle put the Quran there in order to people be blessed when they walk under the gate.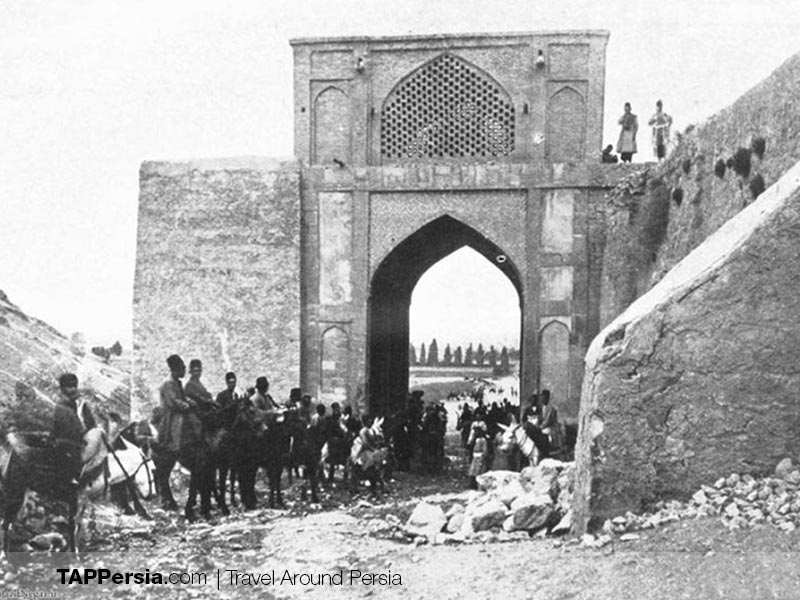 In Karim Khan-e Zand period, the room was renovated; they put the famous Quran called "Hefdah Man" in the room. This Quran is written by Sultan Ebrahim bin-e Shahrokh-e Teymouri.
Quran gate was destroyed under the command of Reza Khan in 1316 and the Quran was moved to Pars Museum. However, one of the magnates of Shiraz rebuilt the gate in 1328.
Different Historical Periods
The main road from Shiraz to the northern parts of Iran was through Saadi canyon during the pre-Islamic period. But, in Islamic period of Iranian history, Saadi canyon lost its popularity and Allah o Akbar canyon became the major way of communication.
Therefore, the canyon became a place for applying different ideas of construction. Different construction processes have been done in the canyon during the following historical periods:
Deylamiyan period, especially during Amir 'ezd Al-Dowleye Deylami kingdom.
During Karim Khan-e Zand period.
In Safavid period – 1410 AH – under the command of Emam Qoli Khan, Fars governor.
During Reza Shah-e Pahlavi period.
Shiraz municipality built a boulevard in 1365.
Attractions Around the Quran Gate
You may also want to see other historical places such as the Khwaju Kermani Tomb, Haft Tanan Garden, Eram Garden, Jahan Nama Garden, and The Tomb of Hafez nearby.
Best Time to Visit Quran Gate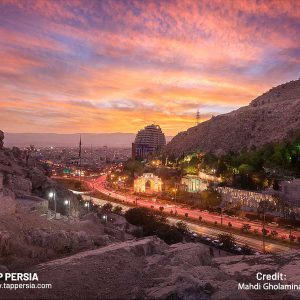 Shiraz is almost a city of four seasons, however, the summer heat may pose some problems to you. Shiraz is the most ideal time to visit in the springtime since the temperature is among the best of the entire year. Also, the orange trees will be in full bloom and will create an almost indescribable fragrance.
The Best Restaurants Near Quran Gate
Many famous restaurants of Shiraz including Shandiz, Bakuya, Karim Khan Dining, Haft Khan, and Zomorod restaurants are located close to this place. Do not forget to eat famous traditional Shiraz dishes such as "kalam polo", "Shekar polo", "Albaloo polo", "Nargesi" and "Koofteh Sabzi" with "Salad Shirazi".
Staying Near Quran Gate
You will find a wide variety of hotels around this place among which you can choose the one which best matches your requirements. The following hotels are available nearby: Shiraz Grand Hotel, Royal Hotel, Persepolis Hotel, Homa Hotel, Arg Hotel. You can also check out this page for more hotels in Shiraz.
---
Recommended Tours