When you travel to a place like Iran, you want to set yourself apart from other world travelers. Sometimes that may mean stepping out of your comfort zone. But what if I told you that opting for a less-visited attraction, you could see Tehran like no other visitor has before? Iran's shining beacon of modernity( Milad Tower), that is visible from miles around, can offer unbelievable views and amazing opportunities few visitors have the chance to experience.
Architecture of Milad Tower
You are at the beating heart of one of the modernity symbols in Iran. Across along a passageway in which both sides of it, the sound of falling drops of water swirling, jetting into the air and then splash into a basin is so soothing that is really hard not to appeal to you. The scent of fresh greensward near the fountain, softens this liberally bestowed music, so that it becomes far melodious to hear. This multipurpose tower includes 12 floors with 435 meters height which makes it the tallest tower in Iran and the 6th one in the whole world as well.
Cross along a lobby, step on an escalator to take a long crystal elevator ride with a speed of 7 meters per second. The sliding door will be closed. With the whooshing sound filling your ears, you would be tingle with excitement. Admittedly, you should be.
Now you are on the 7th floor at 280 meters with 3000 square meters and thickest diameter in this dreamy tower. I strongly recommend you to buy a hot cup of joe from Viuna Coffee Shop. Not only does it perk you up in freezing cold weather, but also it keeps you energized at a balmy summer night. Go around the circled lobby and look at the stars and solar system through the telescopes which are mounted there. Now you can feel more how you near to the sky are. Listen to the remote and suffocated sound of the hustle and bustle of the Tehran. Stare at the Skydome and Open Observation Deck with its blue delicate crystal design and sip your coffee. At this moment you are nearest to the sky compared to anytime and anywhere else.

Eating While Revolving
The orchestrated chaos of waiters carrying aromatic plates of golden rice and perfectly-grilled kebabs encircle you as you enjoy some of the best views Tehran has to offer. You can visit Milad Revolving Restaurant on the 6th floor located at a height of 276 meters with a floor plan covering 1,860 square meters, able to host more than 400 diners. The highest restaurant in Tehran provides you with a perfect and exceptionable menu covering Iranian foods such as roasted chicken with Persian rice and green herb stew to European and American foods. In addition, a colorful salad bar located in front of engraved images featuring classical Persian epics such as the Shahnameh, make your meal more appetizing. While you're eating and enjoying the most delectable dishes, take the time to look out the windows for a brand new sight every 5-10 minutes and enjoy the ever-changing view.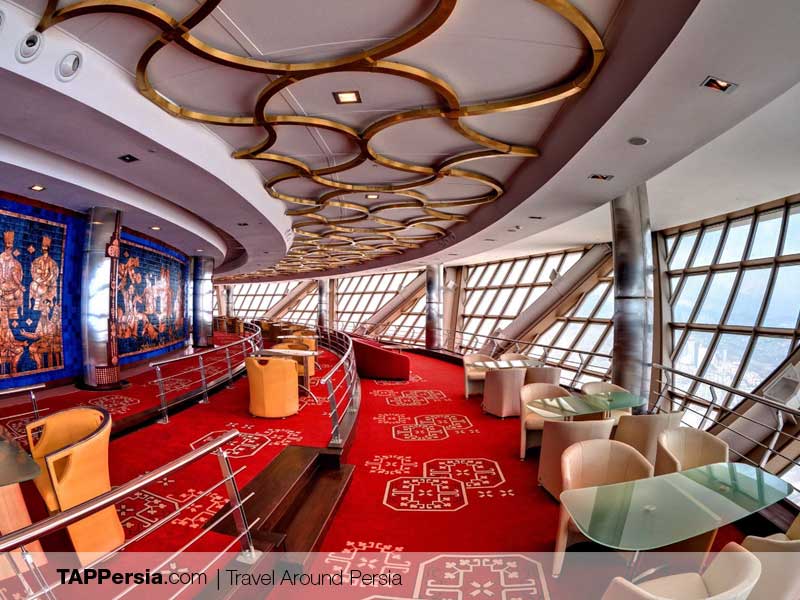 Meet Famous Iranians but…
Just two floors down, on the 5th floor, is the renowned "Celebrities Museum", which not only feature modern Iranian celebrities, but also a whole range of notable, contemporary Iranian individuals from the last century. Well-known writers, poets and politicians including Dr. Naser Katouzian, Parvin Etesami, Sohrab Sepehri, Sattar Khan, Kamal ol molk ,Gholamreza Takhti and so on, are being placed there. These lifelike statues are created using silicone instead of fragile beeswax by the talented hands of Dr. Alireza Khaghani. The light-blue shade offered by overhead chandeliers provides fantastic Instagram-worthy shots. Lively locals reminiscing over the biographies of each statue within the area, give visitors a sense that the historical figures are somehow present among us.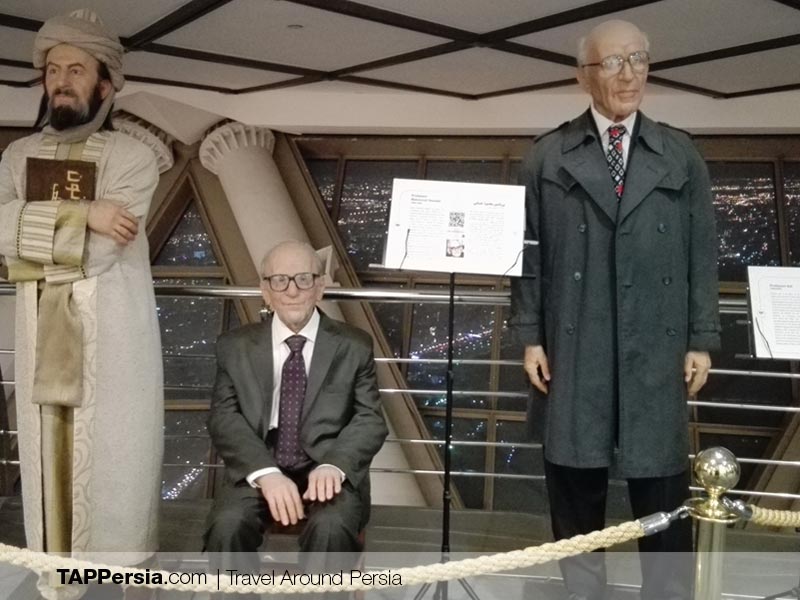 A Travel Through the History
If you want an even deeper dive into Iranian history, take a trip down one more floor, to the 4th floor, where you will find artifacts from Iran's over 2,500 years of history. As you step in, you are greeted by thick orange pillars in front of tiny azure windows. Even though the combination of intersecting white pillars, orange circled sofa, and glass windows does not match the historic collection, the museum nonetheless has an impressive collection of historic artifacts. Located at a height of 261 meters, you can find specimens from millennia-old Persian dynasties such as the Achaemenids, the Parthians, and the Sassanids perfected for history lovers. Other precious pieces such as historic calligraphy, valuable letters written by Iranian monarchs and ancient coins can be observed. You may even find European artifacts such as ancient globes dating back to the 17th century which were gifted to the museum by George Pompidou. Your account of the past would be different after visiting this floor.
Other Spacious Facilities
The Milad Tower is also home to a variety of other facilities that are able to host seminars, festivals, concert halls, art exhibitions, and even galleries. The flower beds outside of The Milad is brimming over with many flowers and trees. At adjacent districts, there are a huge number of most luxurious restaurants, coffee shops, amusement parks in which you can try Zipline. If you enjoy scary yet thrilling experience, you might want to try the escape from, where you will have to find the end of the maze while running from unknown. The best shopping malls are built there to meet your needs as well. Purchase any memento from Souvenir Shops which are circled by fragrant flowers.
What's even more interesting is that Milad, in Farsi, translates to birth. Thus, we hope that visiting this iconic tower will cause birth of inspiration to see even more of what Tehran has to offer.
---
Recommended Tours