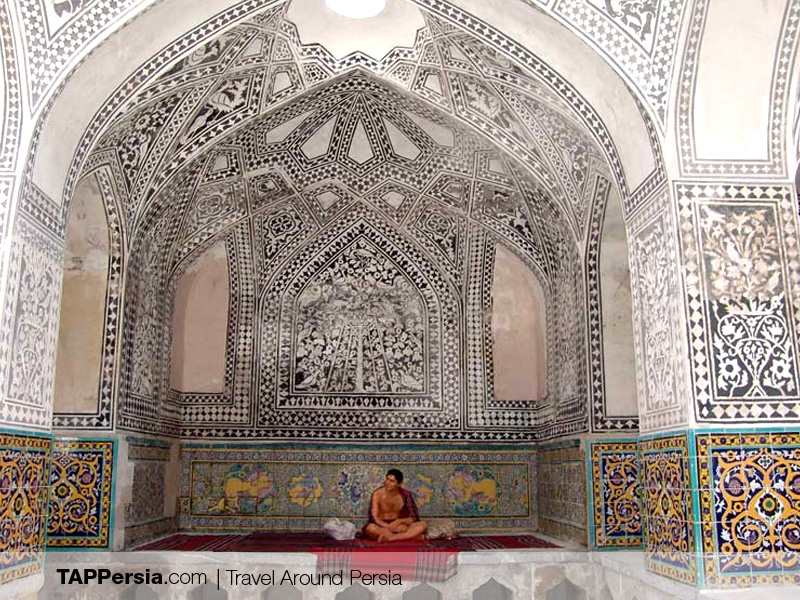 Personal grooming has been an important issue for Iranian people since the ancient times. That is why there are a lot of bathhouses throughout the country, one of which is khan traditional bathhouse. The history of bathhouses goes back to the construction of Takht-e Jamshid.
Iranian bathhouse is a unique place with a specific architecture. Therefore, visiting an Iranian bathhouse will make a completely different experience for you.
Sanandaj is a city with a long history and there are some traditional bathhouses in the city. One of these bathhouses is called Khan traditional bathhouse. You will get familiar with this beautiful historical and cultural tourist attraction in the following lines.
Khan Traditional Bathhouse Architecture
Khan bathhouse design is similar to the other Iranian bathhouses and includes parts such as: entrance, locker room, cold bath, hot bath, privacy, toilets, extra water storage, and so on. Lovely fountains made by use of the water aqueduct decorate the spaces between rooms and other spaces of the bathhouse.
There were two fountains within two stone benches of the bathhouse since Amin Al-Tojjar period. They were discovered during the rebuilding process.  It should also be indicated that since all of the stones were partially destroyed, they have been repaired.
Khan traditional bathhouse contains three fountains at the cold bath and two fountains at the hot one. You can see that there is also one fountain at each privacy section floor.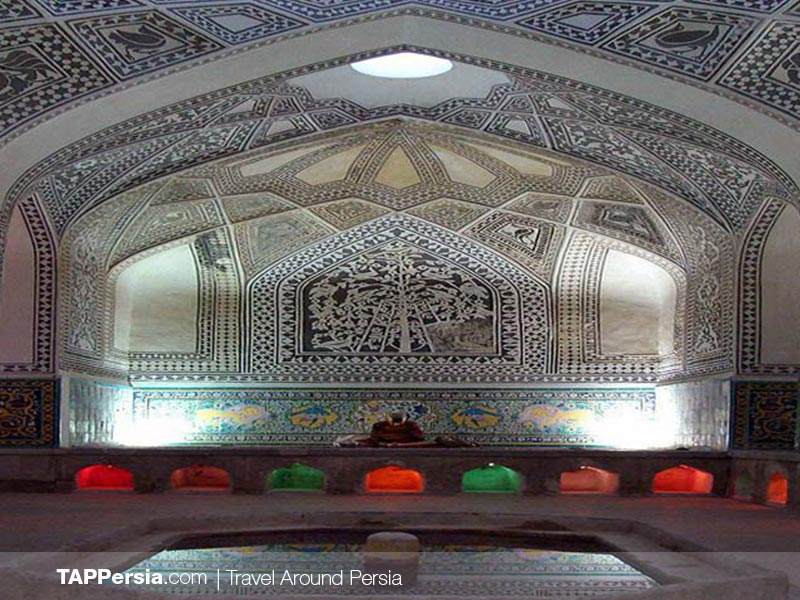 The floor of the hot bath is made of marble; the roofs of various spaces are a combination of arch and dome, which play an important role in the durability of the building. Khan traditional bathhouse building is constructed by stone, tile, and lime. It should also be mentioned that blue mortar plays a major role in the building.
We can mention lime decorations and seven-color tiling with various topics. The whole space of the cold and hot bathes and privates are decorated by liming. We can notice different patterns such as geometric, flower and plants, animals, human and a combination of human and birds' patterns.

The patterns of male and female birds as well as lots of patterns of lion and peacock are usually used to decorate opposite sides of the entrance of cold and hot bathes. The dome roofs of Khan traditional bathhouse is also decorated by Islamic paintings, flower and bush, and flower and birds.
Geometric shapes are used on the sidelines of Islamic patterns. Decorations of the cold bath include liming and tiling. We can notice the seven-color tiling with Islamic patterns here. There are also different patterns of lion and dragon hunting on the walls.
History of Khan Traditional Bathhouse
This is a memorial of Qajar dynasty in Sanandaj. According to the stone inscription on the entrance of the bathhouse, Khan traditional bathhouse is built by the command of "Aman Allah Khan-e Ardalan," Kurdistan governor in 1220 AH.
This traditional bathhouse had been rebuilt because of its possession to "Amin Al-Tojjar" – during Farhad Mirzaye Mo'tamed Al-dowle (Naser Al-Din Shah's uncle) kingdom. By the way, From 1377 AH the bathhouse belongs to Cultural Heritage General Office and the repairing process began in 1378 AH.
---
Recommended Tours