Similarities Between New Year's Eve (Gregorian Calendar) and Nowruz (Iranian Calendar)
On January 1st, a very large portion of the world will gather around to bring in the new year. But did you know that the Iranian New Year (Nowruz) is also just around the corner? Nowruz falls on the spring equinox, usually around March 21st. While the former is widely celebrated across the globe, the latter has a much smaller but dedicated following. In this short article, we'd like to go over the history these two unique yet similar New Year's celebrations.  
History
New Year celebrations have long been held across the globe in many forms. The earliest celebrations were instituted in ancient Mesopotamia, in modern-day Iraq. The concept was
Bringing in the the new year was first established in 2000 BC. The first day of the year was set around the time of the vernal equinox, in mid-March. Over time, the tradition evolved and spread to all corners of the world.
New Years Eve (Julian/Gregorian Calendar)
The modern Gregorian Calendar is the most commonly used civil calendar in the world. It is used for almost all official and international benchmarks. The calendar was first introduced in  45 BC, when then-ruler Julius Caesar wanted to redefine the old Roman lunar calendar. He instituted the 365 and ¼ day calendar that we have today, beginning on January 1. However, due to a very small technical error, the calendar resulted in 11 extra minutes per year. To remedy this, the Roman church under Pope Gregory XIII created the Gregorian calendar In 1582, which fixed the small error in calculation.
Nowruz
Nowruz is a secular holiday enjoyed all around the world by people of several different faiths, although the holiday has its roots as one of Zoroastrianism holiest days. Nowruz not only has an exact date, but also an exact time, all around the world. This is because Nowruz falls on the vernal equinox, and marks the beginning of spring in the Northern Hemisphere. The holiday also holds deep significance in Persian mythology. The epic "Shahnameh" credits the foundation of Nowruz to the mythical Iranian King Jamshid, who saves mankind from a winter destined to kill every living creature. Nowruz is the first day of the first month (Farvardin) of the Iranian calendar. The United Nations formally recognized it as an international holiday in 2010.

2 Iranian Recipes to Add Flavor to Your New Year Party
Persian Culture is all about symbolism. Greens are meant to evoke life and abundance. Red is used to symbolize health and energy. White is used for purity and virtue. We have put together a collection of four classic, mouth-watering recipes to help you ring in the new year. Click below to found out how you can add a touch of Persian delight to your New Year gettogether.
Persian Tamarind-Stuffed Fish
The fish is often used a symbol of renewal, rebirth or new beginnings in many different cultures and traditions. The tradition of eating fish as part of bringing in the new year dates back many millennia in Iran. This particular recipe focuses on the most common dish cooked across Iran during their celebrations. Although tamarind is a bit of an unusual flavor by western palettes, it is slowly starting to find its place among enthusiastic foodies. And of course, it goes well with almost all seafood.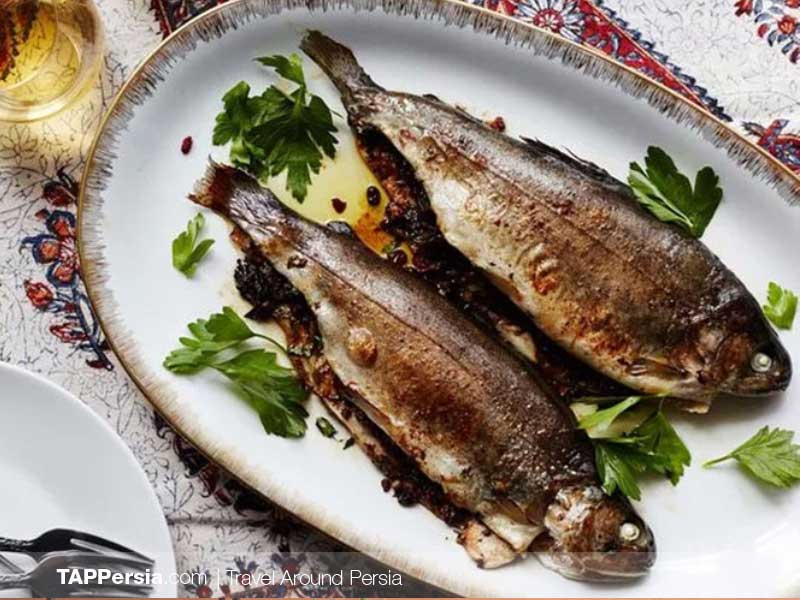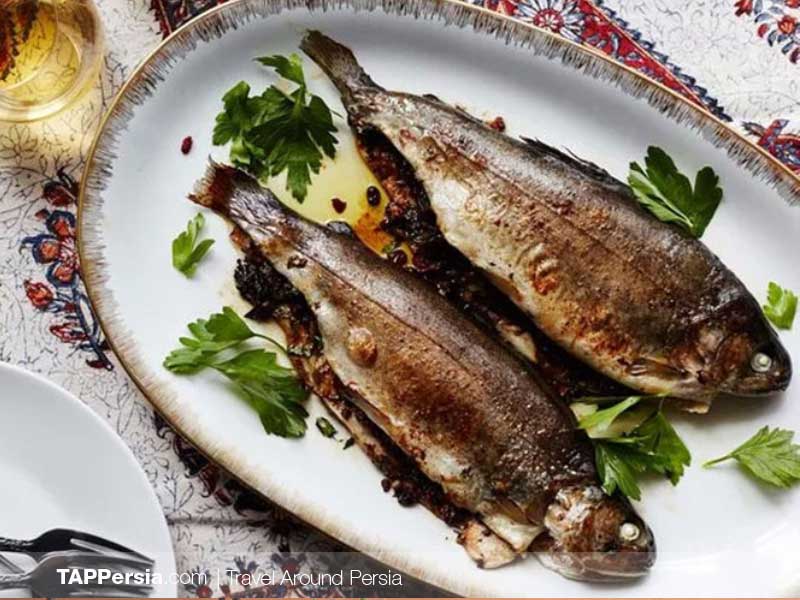 SERVINGS: 4
TIME: 1 hour
INGREDIENTS
6 tbsp. olive oil, plus more for greasing
1⁄2 cup barberries
1 large yellow onion, thinly sliced
1⁄4 cup tamarind paste
4 garlic cloves, minced
1⁄3 cup minced cilantro
1⁄3 cup minced parsley
1⁄3 cup minced tarragon
Lime wedges, for serving
4 trout, cleaned and butterflied
Kosher salt and freshly ground black pepper
INSTRUCTIONS
Heat oven to 375°F (190°C). Grease two baking sheets and set aside.
Soak barberries in warm water for 30 minutes and drain.
In a large skillet over medium-high, heat 3 tablespoons olive oil. Add onions and cook for 10 minutes until brown. Lower the heat to medium and cook for 30 minutes or more, stirring occasionally, until dark brown and caramelized. Add barberries, almonds, tamarind, and garlic, and cook for about 10 minutes until fragrant. Remove from heat and stir in cilantro, parsley, and tarragon.
Season fish with salt and pepper. Stuff each fish with about 1⁄2 cup stuffing and brush with remaining olive oil. Place stuffed fish in oven, bake for 15 minutes. Change oven setting to broil and cook an additional 3 to 4 minutes, until the fish's skin is golden.
Kuku Sabzi
A favorite of many households throughout Iran, kuku sabzi is more or less an herb-and-leek frittata. Although it contains less eggs than a typical omelet, you can tell by the color that this food is packed with green energy. The provided recipe is considered savory, but you can make it slightly sweet by adding dates, dried roses or barbaries. You don't have to use the exact herbs and greens used in this recipe. In fact, due to this dish's incredible tenacity, you can use pretty much any greens you wish, making it an ideal end-of-the-year, clean-out-the-fridge recipe.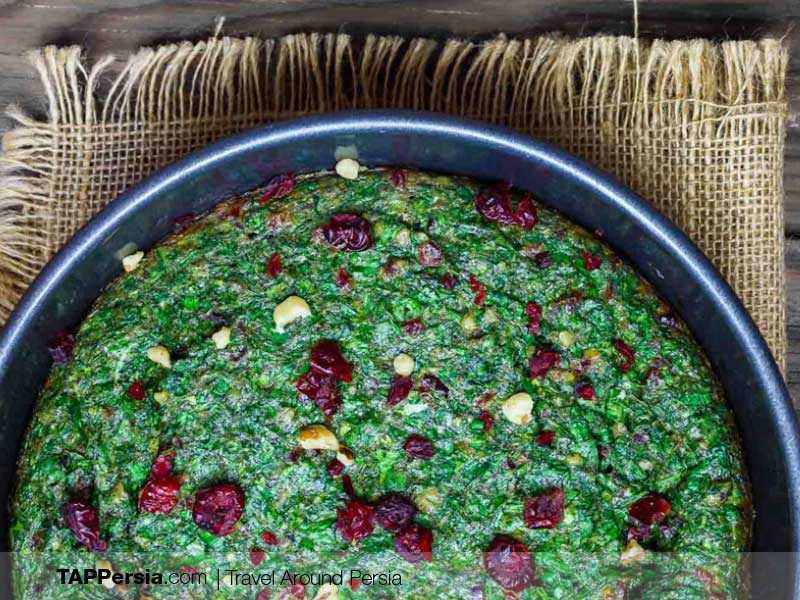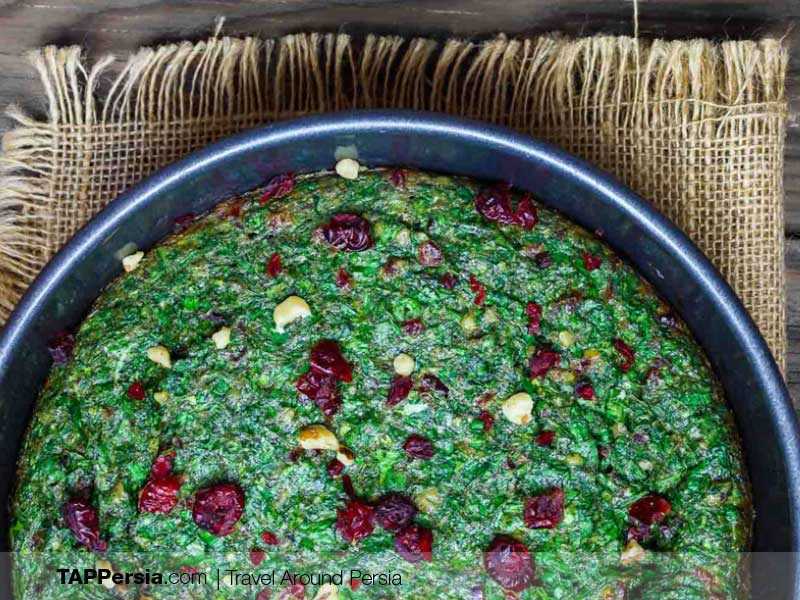 SERVINGS: 8
TIME: 1 hour
INGREDIENTS
5 tablespoons vegetable oil, divided
1 medium onion, finely chopped
1 medium leek, white and pale-green parts only, finely chopped
5 large eggs
1½ teaspoons kosher salt
1 teaspoon baking powder
1 teaspoon freshly ground black pepper
½ teaspoon ground turmeric
1½ cups finely chopped cilantro
1½ cups finely chopped dill
1½ cups finely chopped parsley
1 tablespoon dried fenugreek leaves
INSTRUCTIONS
Heat 2 Tbsp. oil in a 10″ skillet over medium heat. Stir in onions and leeks, stirring occasionally for 10–12 minutes, until very soft but not brown. Transfer to a plate and let cool. Wipe the skillet clean and set aside.
Whisk eggs, salt, baking powder, pepper, and turmeric in a large bowl. Using a rubber spatula, mix in the previous mixture of onion, cilantro, dill, parsley, and fenugreek. (Egg mixture should look thick and very green)
Heat remaining 3 Tbsp. oil in reserved skillet over medium heat. Pour in egg mixture; spread evenly across pan with spatula. Cover and cook frittata until bottom is just set, 8–10 minutes. Uncover and broil, watching carefully, until top is set, about 1 minute. Let cool slightly, then slide out onto a platter.

2 Rumi Poems For Your New Years Resolution
Far more than trying to create beautiful prose and aesthetic writing, Persian poetry is best known for simplifying life's greatest challenges in a few lines. No one does this better than the renowned poet Rumi. As one of the most profillic poets of the 13th century, Rumi dwelled on our most intimate moments, trying his best to come up with the words to evoke our speechless emotions. We have selected two wonderful short poems to help you become a better version of yourself in 2019.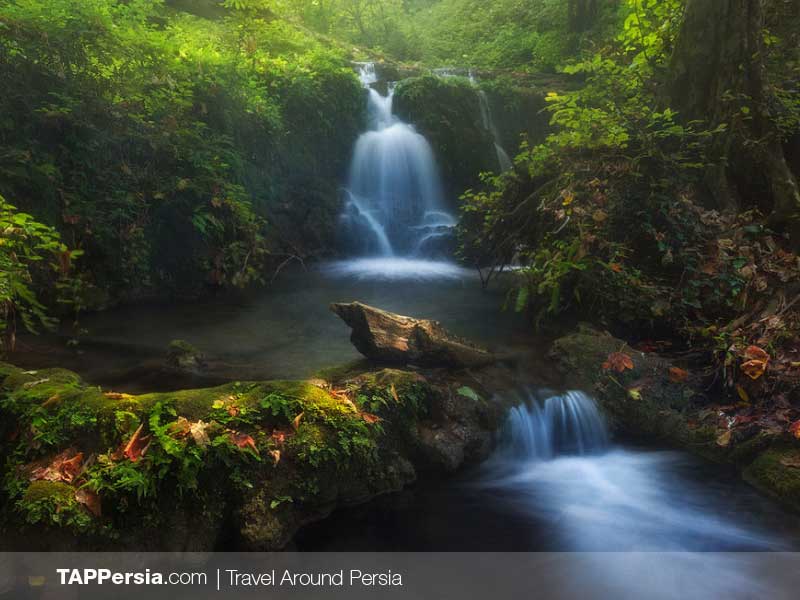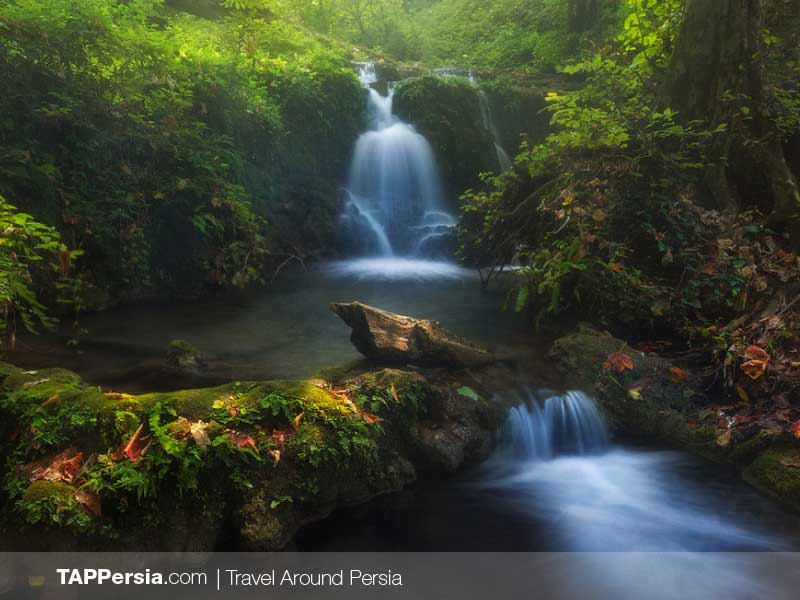 "Moving Water" By: Rumi
When  you do things from your soul, you feel a river
moving in you, a joy.
When actions come from another section, the feeling
disappears.  
Don't let others lead you.  
They may be blind or, worse, vultures.
Reach for the rope of God.
And what is that?  
Putting aside self-will.
Because of willfulness people sit in jail, the trapped bird's wings are tied,
fish sizzle in the skillet.
The anger of police is willfulness.  
You've seen a magistrate inflict visible punishment.  
Now see the invisible.  
If you could leave your selfishness, you would see how you've
been torturing your soul.  
We are born and live inside black water in a well.
How could we know what an open field of sunlight is? Don't
insist on going where you think you want to go.  
Ask the way to the spring.  
Your living pieces will form a harmony.  
There is a moving palace that floats in the air with balconies and clear water flowing through, infinity everywhere, yet contained under a single tent.
EXPLANATION:
Rumi is always urging us to shed our former understanding and see things from a new perspective. In this poem, he urges the reader to listen to their heart. However, he warns the reader not to confuse the voice of the heart with the urges of selfishness, for that will lead to many dark paths. As a final warning, Rumi advises you to remove yourself from isolation, because to remain secluded means to remain ignorant of reality. If you follow your heart, it won't lead you astray.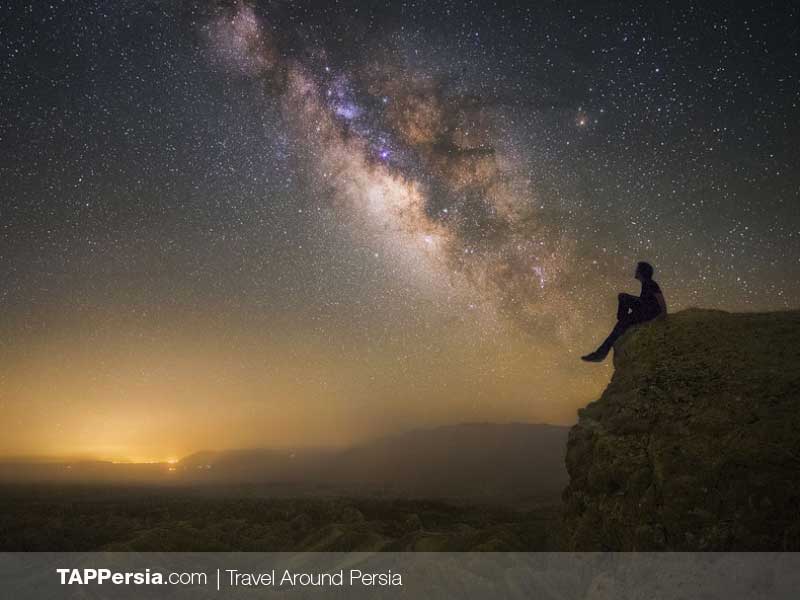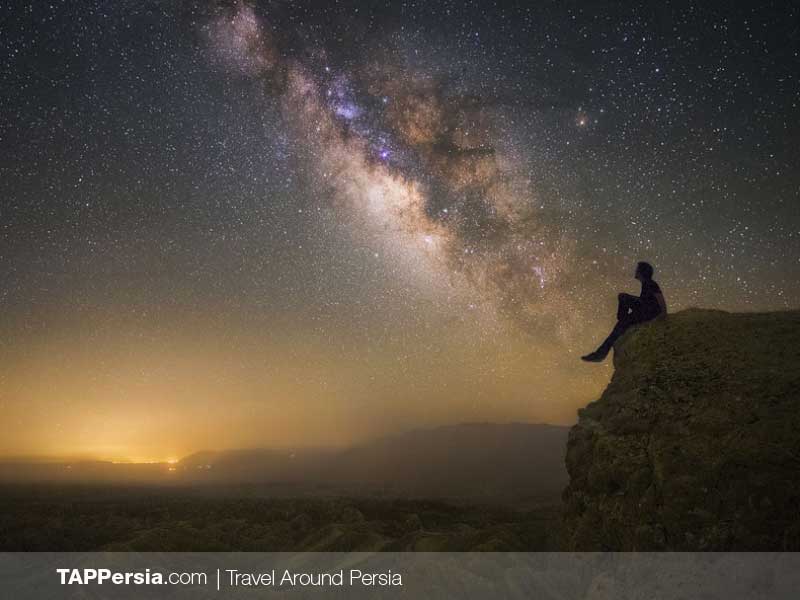 "A Star Without a Name" By: Rumi
When a baby is taken from the wet nurse,
it easily forgets her
and starts eating solid food.
Seeds feed a while on ground,
then lift up into the sun.
So you should taste the filtered light
and work your way toward wisdom
with no personal covering.
That's how you came here, like a star
without a name.  Move across the night sky
with those anonymous lights.
EXPLANATION:
Rumi urges us to not retreat to our comfort zone. Once we have outgrown our original conditions, it is up to us to raise ourselves to the next level. He advises us not to inhibit ourselves with thoughts of our formal life, but to instead lay down our barriers and embrace change. Only this way, may we grasp the whole truth. This year, when you're making your 2019 resolutions, think about what you can do to lay behind all negativities and restrictions back in 2018.