Traveling inside Iran can happen through different modes of transportation. It can be any of the modes including airplanes, trains, taxies, or domestic buses. Bus travel is common among people. Iranian families like to experience it especially when they are traveling in groups.
One can carry about 20-kilogram loads while having Iran bus travel. Although there is not any restriction to stop people from having more loads. Bus drivers may ask more money if there are more loads. There are bus services available for almost all the cities inside the country. Iranian families enjoy being together in long travel destinations.
Is Iran Bus Travel Cheaper or More Expensive?
Iran bus riding is one of the cheapest options among all transportation choices. Bus fares are relatively cheaper than train and airplane ticket prices. Bus services are available for all the cities in all parts of the country in Iran. Ticket price depends on some factors like the safety concerns, quality standards, and comfort services of the bus. So, the more it is equipped, the more it is expensive. People comfortably travel long hours destinations by domestic buses. In some cases when there is no chance to travel by train then bus rides are the next option.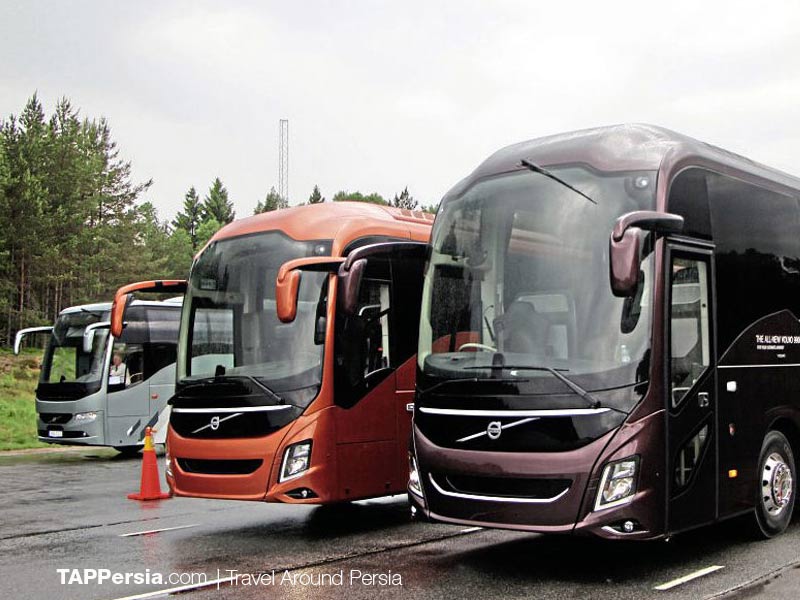 No Animal Is Allowed in Iran Bus Travel
People, who have a pet, are not allowed to take animals with them. Carrying a pet is not common in Iran. In case those who look after a pet in their houses, want to go traveling, they'll give it to someone until they're back.
Tehran Bus Terminals
Tehran, being the capital city, has the biggest bus terminals in Iran. There are frequent buses available for the near destinations at any time of the day. For the remote cities/destinations, there are daily schedules. One can find a bus for any place inside the country, form Tehran terminals. Here are some of the main bus terminals in Tehran.
South terminal, called as "Terminal- E-Jonoob" or" Terminal-E- Khazaneh", is one the oldest terminals in Tehran. There is a subway system, BRT buses, and taxies, to get there. There are about 11 transportation companies active in this terminal which covers 116 travels per day. Destination routes cover the central and south cities of the country.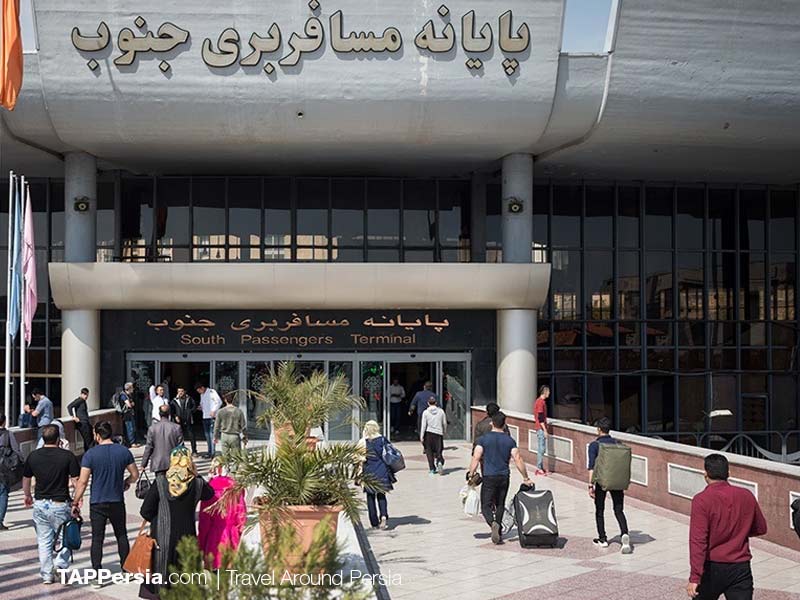 West Terminal, which is called "Terminal- E- Gharb" also known as Azadi Terminal, is the biggest one in Tehran. This terminal is close to the Azadi (liberty) square in Tehran. It has bus services available for almost all the cities inside the country, most particularly for the western cities. Currently, there are about 29 transportation companies active in this terminal and they cover about 114 travels per day.
Beyhaghi Terminal, also known as Arjantin Terminal, is the next option. It provides easy access to the center of the city. There are about 4 transportation companies active, which cover about 47 travels per day. This terminal is close to Arjantin Square in Tehran.
East Terminal, also is called "Terminal- E- Sharq", is another option in this list. There is about 31 travel cooperative active in this terminal. North and North East destinations cities are covered by this branch.
Offering Snacks in Bus Travel in Iran
In VIP buses or long hour bus travels, snacks are offered to the passengers. It can be a package of fruits, cake, biscuits, and juice, etc. Water is always available on the buses. Iranian families tend to have tea flasks for the on-road halts, to enjoy being together for a short break.
Iran Bus Ride Safety
Traveling by bus is safe. There is a supervision camera on domestic routes. There are police stations and checkpoints in different parts of the roads, to keep a check on the speed of the vehicles.
Passengers are obliged to fasten their seat belts. At the start of the journey, the driver announces to everyone that if anyone does not fasten the seat belt and the same is noticed by a police officer, then the passenger himself will have to pay the fine. In this way, people are alerted to fasten seat belts, because in an ordinary situation people are not very considerate about the seat belts.
Halts on the Way
According to the start timing of the journey, there are breaks on the way for the lunch, dinner, breakfast, praying, and call of nature. Iranian families travel in a group of friends or relatives and they spend a good time being together on a bus journey. Some people take home-cooked food with them and they enjoy eating together. There is a display screen in most of the domestic buses and they play some movies, particularly at the beginning of the journey and all can watch and enjoy it.
VIP Buses
This type of bus is one of the most expensive and modern ones among others. They are fully equipped with heating, and cooling systems. The bus seats are big and comfortable. It is designed to lie down and there is enough space between seats. Some of the VIP buses are equipped with a screen display that everyone can watch or listen to their favorite music or movies. There are about 25 seats in each VIP bus which provides a comfortable place for a limited number of people compared to other kinds of buses.
Scania buses may get the second place and then Volvo buses are in the next place. They are the king of the roads in Iran. In remote areas or for a short destination, there are ordinary buses that are not well equipped.
Public Buses inside cities
People use different means of transportation inside cities, including buses, subway services, taxies, bicycles and also bike rides. City buses connect various parts of the city. The bus ticket price is very cheap. To ride the city bus service, one needs to have a bus ticket card. In case one does not have a bus card, offering money to the driver also works.
There are modern city buses that are equipped with heating and cooling systems, so it makes a comfortable place for city trips. There is a separate section for the men and women in bus. The front section, behind the driver, is assigned for the men and the back section is meant for the women. This order may change in some cities, but the point is that there are separate sections for the convenience of people, most particularly for women comfort. Bus travel can work well for city trips as well as for country destinations. Travelers may enjoy the Iran bus ride.
Passenger Entertainment in Long Travels
Iranian people choose bus rides for short and long journeys. In long hour travels, people tend to watch movies played on the common screen on the bus, listen to music. They eat snacks most particularly sunflower seeds, chips, etc. They tend to talk to each other if they travel in groups of friends. Or some may like to read a book.