While traveling in a big city like the capital of Iran, you'll have to know the best restaurants in Tehran. Tehran is a big city but finding a nice place to eat is not a hard thing to do since this city is filled with the best restaurants which are known in the whole country. Here's a list of the best restaurants in Tehran that you shouldn't miss trying.
Kubaba Restaurant
With a diverse menu, including middle eastern foods, Afghani, Lebonani, and of course traditional Iranian food, Kubaba restaurant has found its way to the list of the best places to eat in Tehran. You will enjoy the great atmosphere and modern design of Kubaba Restaurant in addition to the well-trained staff and the amazing food. Enjoy every three main meals of your day in this restaurant. All the meals are just magnificent and it is worth mentioning that you will also have vegan options in this vegan-friendly restaurant. Kubaba is located in Golkhaneh street, in Jordan.

Moslem Restaurant – A Phenomenon in the Grand Bazaar
In the grand bazaar of Tehran, located by the main entrance on Panzdah-e Khordad, you will get to Moslem restaurant which locals believe, "shows the path to redemption". This phenomenal restaurant is probably the most popular place to eat not only in the Bazaar, but also in the whole metropolis of Tehran. It has been said that Moslem serves more than 4000 customers a day, so you will have to wait for a while to get your food. Don't forget to try Tah Chin or Kebab, the most delicious foods of this amazing place.

Dizi Sara
In the modern crowded metropolis of Tehran, finding a traditional place is a blessing. In Iranshahr Street, in Kalantari street, you will find the best traditional restaurant in Tehran serving one of the most favorable traditional Iranian foods "Dizi". Dizi Sara is where you can escape from the crowd of people and cars all over the city and relax in the traditional atmosphere while enjoying the best Dizi in Tehran.

Shemroon Kebab – The Best Kebab of Tehran
This place is all about super delicious kebabs. Different kinds of kebabs with different kinds of meats. With no doubt, Shemroon Kebab offers one of the best kebabs you can taste in Tehran. The size of the dishes served is huge, so you'd better consider sharing it with your friend or whoever you have gone to this amazing restaurant. It is worth mentioning that the prices are pretty high but the moment you taste the first bite, you'll find the reason for this high price.

Senso Italian Restaurant
Located in East Ferdows Boulevard, in Ramin Jonobi Sreet, you will see the beautiful design of Senso Italian Restaurant from the outside. The moment you step in, the staff will welcome you with a nice smile on their face which makes you enjoy the place in addition to the modern decoration and best taste of Italian food in Tehran.

Gasht Restaurant: Cozy, Delicious, and Unique
New and small but perfect; this is what most of the people who have tried this place say. The food is amazing, the owner is super friendly, and the design is very cozy. Gasht restaurant is located in Jordan street, between Golshahr and East Nahid, inside Amir shopping center.

Alborz-After Half of Century, Still the Best
The upmarket, historic restaurant, named after the Alborz mountain range, was opened in 1967 in Northern Sohrevardi street. This restaurant is mostly known for its kebab dishes which has made it a premier destination for the people of Tehran(Iran tour). Alborz Restaurant is a hot spot for Tehran's high-flyers and socialites. It has a lively atmosphere with a diverse menu offering different kinds of steak, seafood, and barbecue food. A meal at this sophisticated venue doesn't come cheap, but the portions are notoriously generous and consistently delicious.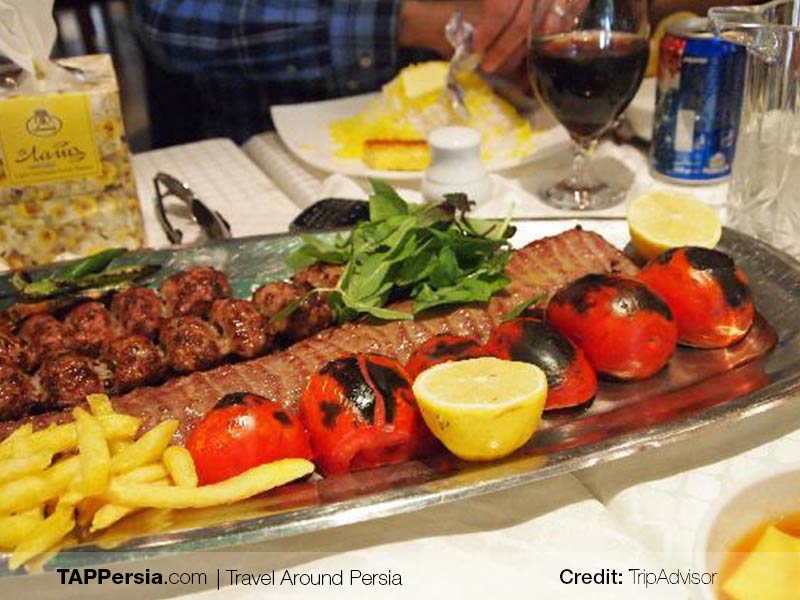 Narenjestan: International, Superb, Luxurious
With an amazing view of Sa'adat Abad, Narenjestan Restaurant has been named as one of the best restaurants of the capital not only for its view, but for the amazing food they serve for you. The menu includes a wide range of options including local and international foods.

Divan – Modernized but Traditional
To enjoy modern Persian cuisine in stylish surroundings, look no further than Divan. The interior design of Divan is the first thing that catches your eyes with all the paintings on the wall, Persian artwork, lighting, and above all, the stunning view of Alborz Mountains in the distance. Being named as one of the best restaurants in Tehran, Divan restaurant is mostly known for the amazing steaks it serves. This must-try place is located in Fereshteh Street, in Sam Shopping Center.

Ananda Vegetarian Restaurant
You'll have a wide range of options including various types of local and international vegetarian dishes in Ananda Vegetarian Restaurant. In both its indoor and outdoor atmosphere you will have one of the best experiences of your trip to Tehran especially if you are a vegetarian.

Nayeb Restaurant – Vozara Branch
Nayeb Restaurant Dates back to the 19th century which makes one of the oldest and most prestigious restaurants in the capital. Nayeb restaurant has many branches all over Tehran, but the best one is located in Vozara. The buffet lunch and the kebab-e barg (lamb fillet) come particularly recommended.

Yas – One of the Oldest and Most Luxurious
Located in front of Mellat Park you can see the luxurious Yas restaurant. A modern atmosphere serving traditional food in the best way cooked. You can't find the same taste anywhere in the whole capital.

Ali-Qapu Restaurant
With a traditional style, delicious food, and sometimes live music, Ali-Qapu Resturant has attracted many Tehranis and has become a recommended place for everyone. You have to keep in mind that the prices are so high in this restaurant but it completely worth the great food, live music, and the traditional style of this amazing place. Ali-Qapu Restaurant is located in Vanak.

Gol Rezaieh Cafe-Restaurant – Social Hangout Spot of Poets and Writers
It passes 70 years from the official opening of this friendly and cozy cafe with its wooden decoration and stained glass windows that reflect the colorful spot of sun in this cafe restaurant. Gol Rezaieh cafe-restaurant was the hangout spot of Sadegh Hedayat, the famous Iranian writer, and Forough Farokhzad, popular poet which their table is now always reserved by the French Embassy. It has a reputation as a gathering place for intellectuals which promotes with dozens of portraits of famous people from all around the world hanging from its walls with a red light on them. You can order soup, salad, and the famous Iranian Kotlet. This cafe is located on 30 Tir street, opposite the Glass and Ceramics Museum. You get to experience a different atmosphere to many other local restaurants.

SPU Restaurant
Darakeh is a must-see place for all the tourists to walk and enjoy the atmosphere away from the crowd and noise of Tehran. Let me add something to the list of your visit in Darakeh, SPU Restaurant. With a dreamy atmosphere, SPU restaurant is ready to serve you an out-of-this-world taste.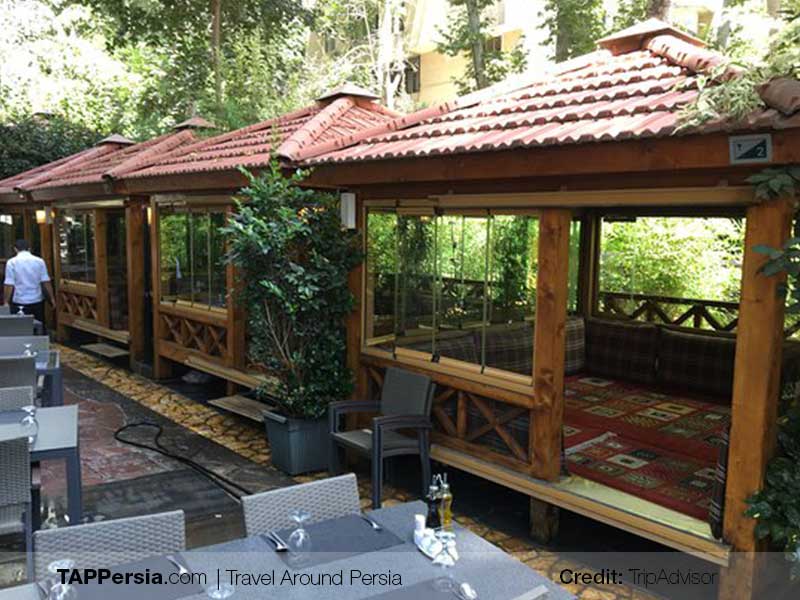 Gilaneh: A Taste of Northern Dishes
Gilaneh restaurant is a cozy atmosphere restaurant located in Saba Boulevard, in Jordan street. The name of the restaurant comes from the Gilan province in the North of Iran. You can taste the seafood, Northern local food, and traditional Iranian dishes which all indicates nothing but authentic cuisine. You have to notice that the prices are pretty high but completely worth the amazing food.

Heeva Cafe Kebab
Wanna taste a big amount of delicious food that makes you wish your stomach was bigger? If the answer is yes, you'll find Heeva restaurant in Tajrish Square. This two-floor restaurant is honored to be your host. The waiters and the staff are really kind and well-experienced and the food…is simply amazing. The area is a little small but you won't even recognize when your order comes to your table.

Shamshiri Restaurant
Shamshiri is one of the other best restaurants located in the Grand Bazaar of Tehran, in the southeast corner of Sabz-e Meydan. It is one of the oldest restaurants in Tehran which has held its reputation and its amazing food until now. The restaurant is highly adored to the locals for its one of a kind Kebab Koobideh. It doesn't have a catchy design and atmosphere, however, its food is all that needs to be catchy.
---
Recommended Tours