Shiraz offers different choices to tourists so that everybody will have something to do in this lovely city. From the mausoleums of great poets to the pleasant scent of love poetry throughout the city, from the far historical periods' attractions to the modern ones, from sitting in Hafez tomb and combining your augury with poetry to walking among the colorful domestic products in Vakil bazaar. Yes, bazaar! Are you into visiting bazaars? So, let's see what Shiraz offers.
A Masterpiece in Shiraz
Vakil bazaar is one of the architectural masterpieces in Shiraz; a place where visitors should not miss. Traditional markets offer different opportunities to tourists: you can do your shopping and compare prices with each other, you can enjoy watching historical memorials and monuments, and of course you can talk to local people and enjoy the famous hospitality of Iranians.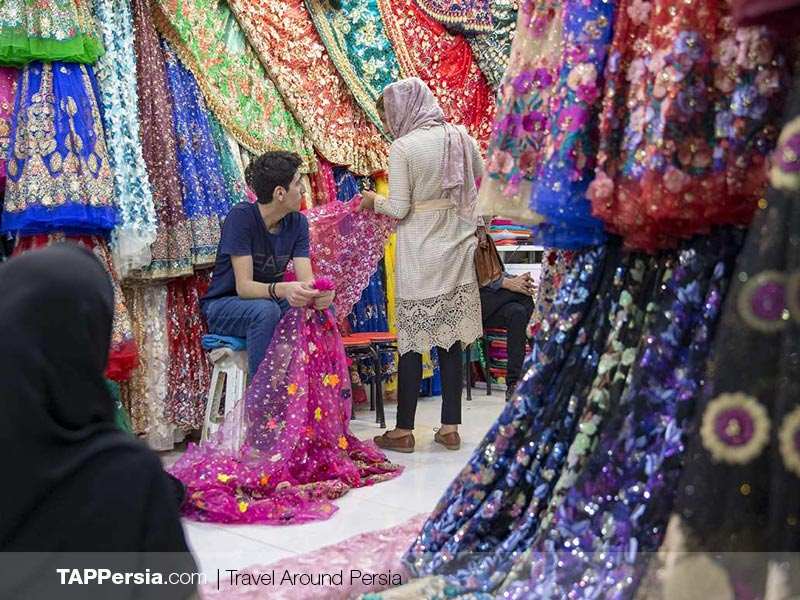 This bazaar, indeed, is one of the most famous traditional markets in Iran and also a unique place in Shiraz. It was built in the early 19th century. The ceilings are more than 10 meters high and have special skylights. This feature makes the bazaar temperature warm in winter and cool in summer time.
For the convenience of merchants and travelers and making the economy of Shiraz more prosperous, Karim Khan Zand added other structures like inns, customs, warehouses etc. to Vakil bazaar. The architecture of this monument was taken from the Qeisarieh bazaar in Lar and Bazaarche-ye Boland (High-Vaulted Bazaar) built at the behest of Shah Abbas the Great in Isfahan. However, this Bazaar is wider than the others. The bazaar has five big gates which are located in four sides.
Saraye Moshir
According to most of the Shiraz residents, this is a part of Vakil Bazaar(Iran bazaars); however, the history of Saraye Moshir is different. This bazaar was built at the behest of Abu Al-Hassan Khan Moshir Al-Molk, one of the Fars ministers, in Qajar era.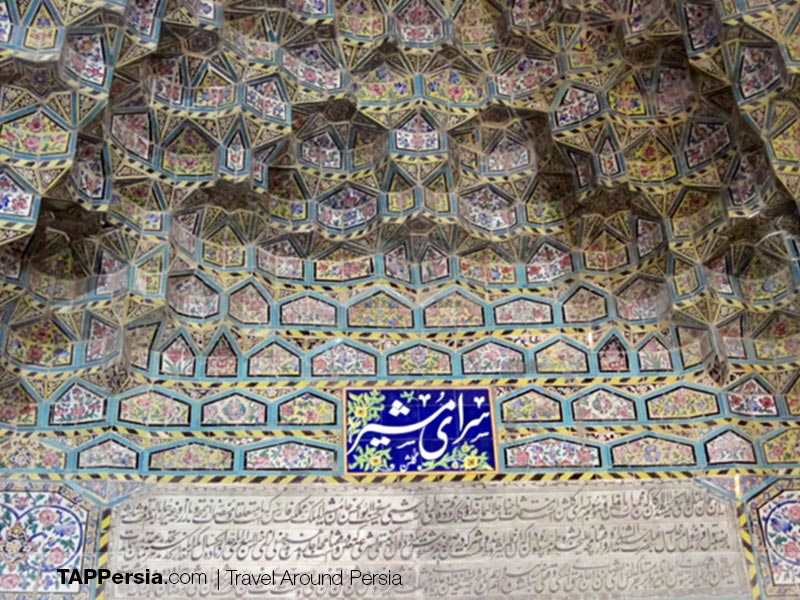 Saraye Moshir is a two-story market. There is a big pool in the middle of the yard that is surrounded by trees. Here, I should mention the tiling of the entrance as one of the beauties of this market. There is also an inscription about the founder. 
Don't forget to take some photos with the man who wears the beautiful traditional clothing of Shiraz there. He represents a part of Iranian traditional culture.
Shopping in Vakil Bazaar
The bazaar is divided into different smaller markets where you can buy high quality products. This is a combination of traditional and modern products – a suitable place for buying colorful souvenirs.
The Fabric Market
The beauty of fantastic colorful fabrics of Shiraz nomadic tribes in Vakil Bazaar will amaze you! If you are interested in fabrics, go to Saraye Moshir and select among lovely fabrics. 
Provided that you would like to enjoy having a traditional nomadic cloth, don't forget that tailors are there to sew it for you. You can put the cloth on in different situations in order to appear differently.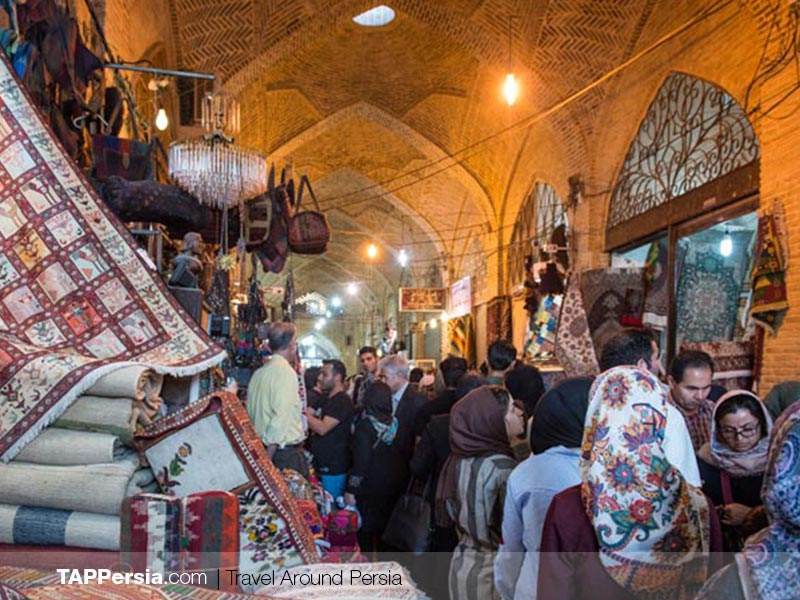 Handwoven Products
Handwoven market is a different place in Vakil Bazaar. This is another place to lose yourself in the beauty of lovely products of Shiraz nomads. You can find Iranian homemade carpet in its highest quality here. Colorful rugs are the other choice for visitors.
Distillates and Mountain Plants Market
You are in Shiraz, the city of bitter orange; so, don't forget the petal of bitter orange. I should mention that bitter orange peel slices and oreganos of Shiraz are also famous in Iran. 
A Market for Foodies
Don't calculate the amount of calories, you cannot say no to palatable foods of Shiraz. So, don't involve yourself in overthinking and enjoy Kolouche (cakes), Shiraz Traditional Masqati, and Lari Masqati Halva. You can also buy Fasaiy Nan Berenji and Shiraz Nan Youkhi in Vakil Bazaar.
Architectural Features of Vakil Bazaar
The bazaar is about 21840 square meters in which three different spaces are organized:
The passage of customers

Shop place where is 2 stairs higher than the passage

Shop space
One of the interesting facts in the bazaar structure is that it is lower than the street level. I can also mention the width of the bazaar – that is wider than similar traditional markets.
As it is expected, brick, plaster, and lime are the major materials used to build the complex. It should be indicated that the foundation of Vakil Bazaar is so strong that different earthquakes could not affect it.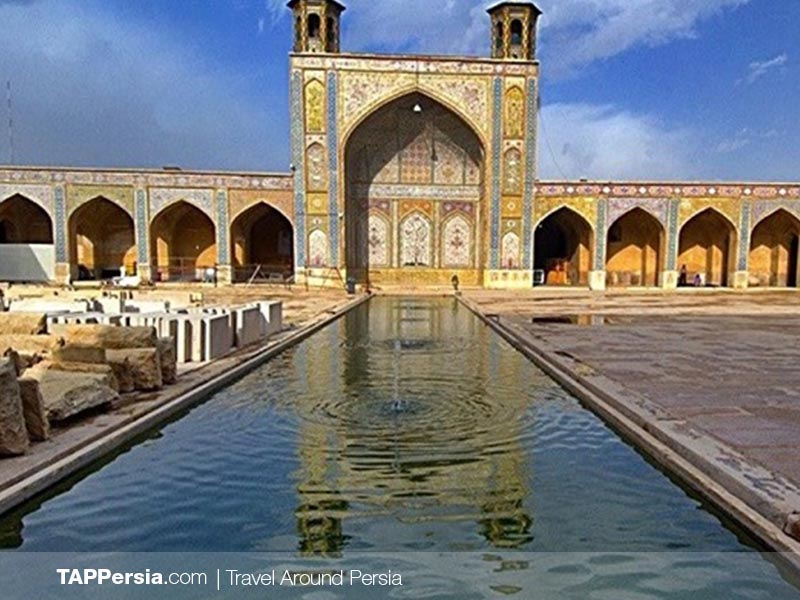 The history of Vakil Bazaar
Zandie era in the history of Shiraz is very important. When Karim Khan Zand chose Shiraz as the capital city, he made the city develop in different aspects. Today, there are a lot of memorial buildings from the era that Vakil Bazaar is a significant sample. 
Forsat Al-Dowle Shirazi, the famous poet, said:
"Vakil Bazaar is one of the Karim Khan's bazaars. This is a unique bazaar in Iran and there is a four sided place in the middle of the bazaar where its roof is so high and eye-catching. This bazaar is organized in this way: the big bazaar consists of 41 arches, it is called Bazazan Bazaar, and you can find everything in it. The other bazaar includes 46 arches, it is called Kolahdouzan Bazaar, and some other merchants and tradespeople are working there. There are still two other bazaars consisted of 10 and 11 arches respectively."
Nearby Attractions
In fact, Vakil Bazaar is a great complex with some other attractions. For example, there are some historical memorials such as Vakil Mosque, Vakil Bathhouse, and Fil Caravanserai inside the bazaar. 
On the other hand, you can enjoy the other attractions such as Pars Museum and Karim Khan Arg in the same neighborhood.
---
Recommended Tours