See You in Iran Hostel in Tehran is a place for exchanging cultural information which also suggests an inexpensive accommodation and a cafe. A year and a half after starting the online community on Facebook, See You in Iran decided to go beyond social media and lead people to see each other in person in Iran. They refurbished a sixty-year-old three-floor building in the center of Tehran and the virtual space turned into a real physical place, so people can experience a social life and cultural relationships. There's no concept of borders in this Tehran hostel, in other words, locals and non-locals communicate with each other without any restriction.
See You in Iran Hostel is credited by Lonely Planet as one of the top Tehran hostels and the best places for accommodation in Iran.  The hostel's environment provides a nice atmosphere for cultural exchange, which makes it special and outstanding for travelers. Since the hostel opened, See you in Iran has started publishing useful content and set events for foreigners and Iranians communication.

The Hostel's Layout
The first building has five private rooms, two dorm rooms, a vast roof, a cafe, and a souvenir shop. Other sections are the communal kitchen, handicraft shop, wall of exhibition and outdoor garden. The second building consists of three cozy private rooms, two balconies, a common area, and a communal kitchen. Both buildings share a bathroom and other facilities.

The Hostel's Features
See you in Iran Hostel is located in the heart of Tehran, where you can find lots of art centers, different cafes, and galleries. It's also near two metro stations and a major transportation area. Feel free to go around Tehran without carrying valuable belongings. Keep them into the safe individual locker or storage space in the reception. Also be relaxed about your entrance or exit time. There's no time limitation as they have 24/7 staff and they response to you anytime.
Rest in the comfy renovated rooms of a 70-year-old building which indicates the glorious traditional architecture of Iran. There are enough amenities like beds and mattresses in all the seven rooms. The hostel is equipped with three modems that provide guests speedy internet and cover all three floors of the hostel. On the second and third floors, there are communal bathrooms with showers. The toilets on each floor are cleaned thrice a day.
Other Options
Besides arranging comfortable accommodation for travelers, the hostel supports cultural activities. The weekly cultural events and multilingual personnel testify the hostel's goals about international communication.
In this Tehran hostel, the breakfast is included and there are other free options like tea or coffee in the morning, towels, laundry, blow dryers and lockers. Come out of your room and walk in the vibrant garden of the hostel. You can refresh your mind in the garden's green atmosphere and enjoy watching berry, fig and pomegranate trees. The guests can also relax in the hostel's cafe from 8 am to 12 am every day. They can enjoy different types of coffee, Iranian beverages, and delicious sandwiches.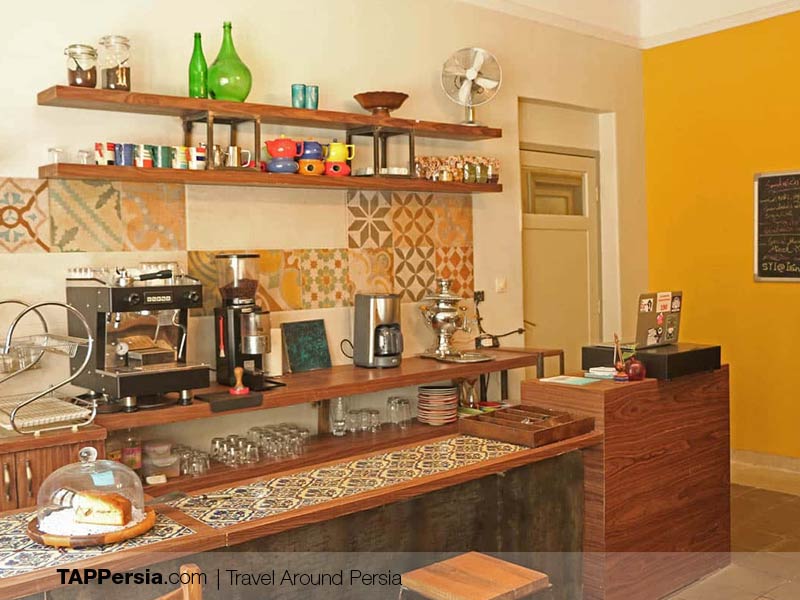 The Hostel's Location
See You in Iran Hostel neighbors Iranshahr area in Tehran's artistic center. It's conveniently close to the Museum of Contemporary Art, artistic communities, and some private art galleries. Political and conceptual attractions like the Former U.S Embassy, the University of Tehran, and book bazaars of Enghelab Square are also nearby. It takes about 30 minutes to reach most of the historical sites including Golestan Palace, Grand Bazaar, the National Museum of Iran and etc.(Tehran Hotels)
---
Recommended Tours