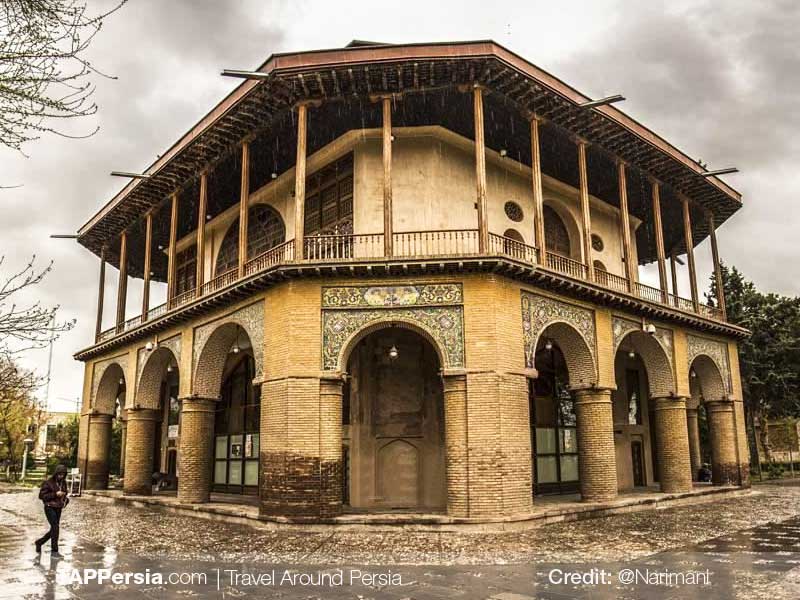 Qazvin Chehel Sotun is a Safavid Pavilion in the central district of Qazvin. When Shah Tahmasp I (1514 – 1576) moved the capital from Tabriz to Qazvin, he ordered architects from around the country to design and build a royal pavilion and garden for himself. The result was a huge royal complex and the Chehel Sotun Pavilion (which was called the Kolāh Farangi Mansion at the time) and the gardens surrounding it were part of it. When the construction was completed, the royal complex consisted of 23 mansions and 7 gates.
The royal complex was mostly abandoned after the fall of the Safavid Dynasty. It was during the Qajar Dynasty, when the governor of Qazvin decided to restore the majestic pavilion and modify some of the interior and exterior decorations and officially name it The Chehel Sotun Palace. Nowadays, what has mostly remained from the Safavid era in Qazvin, is the Chehel Sotun Pavilion and the Aliqapu Gate.
Today, the pavilion has been transformed into a comprehensive calligraphy museum and showcases some popular Iranian artists' works. Most of the calligraphy style found in this museum is in Nastaliq (one of the main calligraphic scripts used in writing the Persian alphabet). The museum also houses a uniquely shaped music instrument designed by an Iranian artist which at first glance, might look like a carpet loom. This music instrument is known as "The Carpet Instrument" .
The smart architecture and the interior and exterior design of this octagon pavilion, makes it one of the main tourist attractions of Qazvin. There are still remainings of paintings on the walls and ceiling of the pavilion, some of which are well preserved. The beautifully designed Muqarnas found in the ceiling of this two story pavilion is a must-see for architecture lovers .

---
Recommended Tours