Amir Chakhmaq complex is one of notable buildings in the historical city of Yazd which has been recognized as a World Heritage Site by UNESCO since 2017. Amir Chakhmaq is lit up with orange lights after sunset every evening and that's the best time to visit this spectacular site.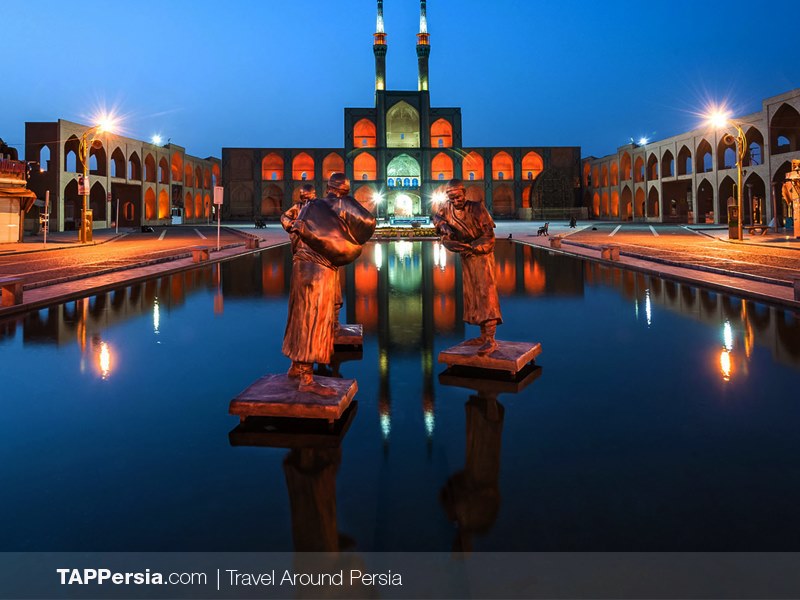 Besides being noted for its symmetrical sunken alcoves, Amir Chakhmaq complex used to include a mosque, a caravanserai, a bathhouse, a Tekyeh, two water reservoirs, a cool water well, a school, two tombs and a roofed bazaar. Here you will find the stories behind each of these must-see sites in Yazd that nobody will probably tell you!
Amir Chakhmaq Square
Known as the symbol of Yazd as well as the center of social events and reunions in this province, Amir Chakhmaq is an ancient square that contains several structures all listed as National heritage sites in Iran.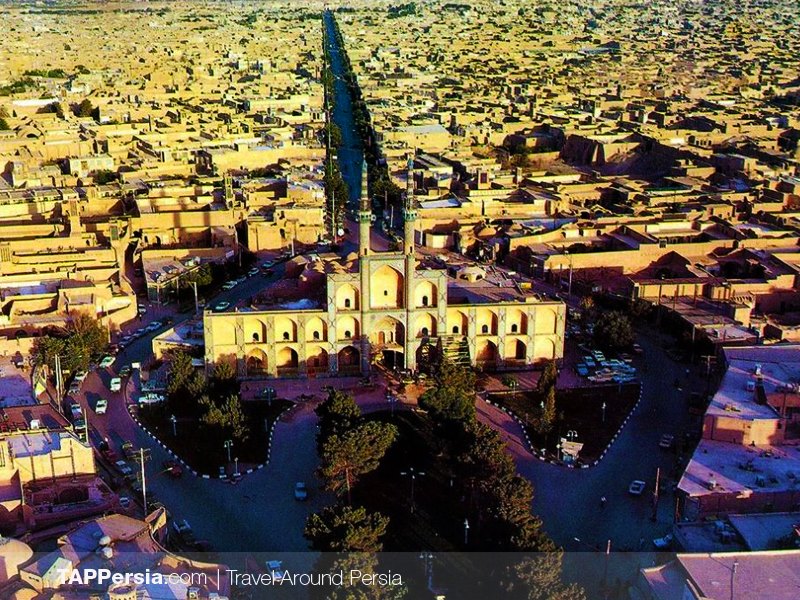 During the Timurid era Amir Jala Addin Chakhmaq, the ruler of Yazd, decided to construct a complex of buildings to bring glory to this central city in Iran. His beloved wife Seti Fatemeh Khatoon also showed interest in his dream and helped him make it real even after he passed away.
This square and the different parts that were added to this complex underwent renovations or reconstructions during Safavid, Qajar and Pahlavi eras but the whole complex is still called "Amir Chakhmaq" by people respectively.

Amir Chakhmaq Mosque
Amir Chakhmaq mosque also known as Dehouk mosque, is the main and yet the oldest structure in Amir Chakhmaq complex. Since it is the most significant mosque after the old Jame Mosque of Yazd ,this mosque is called New Jame mosque by people and travelers.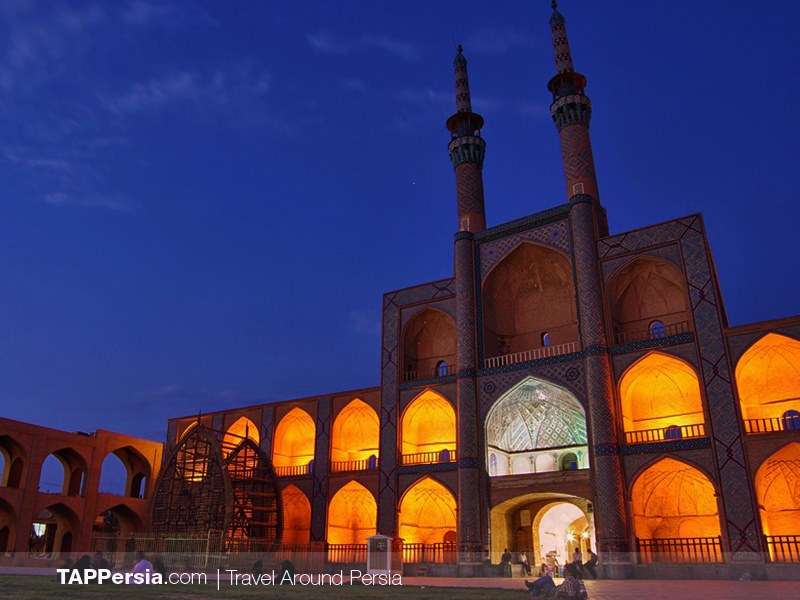 The most noted features of Dehouk mosque located in the southern part of Amir Chakhmaq complex include Iranian tile and brick art, arabesque pattern combinations as well as marble designs and professional usage of verses of holy Quran verses in carvings!
Amir Chakhmaq Water Storage
Yazd is among few desert cities in Iran that has adapted to its environment, as a result Yazdi courtyhomes used to be watered by underground water channels known as Qanats until the late 1980s.
From the three main water storages that were used to transfer water in Yazd, two have left to our present time: Panj Badgir or Seti Fatemeh water storage and Tekyeh or Haji Qanbar are the two water storages in Amir Chakhmaq square and available for travelers to visit in Amir Chakhmaq complex.
Amir Chakhmaq Tekyeh
Amir Chakhmaq Tekyeh is another structure within Amir Chakhmaq complex notable with two blue minarets built in the Qajar dynasty. Minarets of such buildings are still mainly used as a call for prayers to join group prayers.
Before reading about this sightseeing place, let's see what Tekyeh means. Literally speaking, Tekyeh is referred to a vast space where people used to gather in order to commemorate the loss of figures in history of Islam or to watch important events like relligious anniversaries.
Amir Chakhmaq Tekyeh also enjoys the same features with numerous rooms for Yazd rulers, governmental seniors or generals besides some separated spaces for women to join and watch the rituals.
Imam Hossein funeral ceremony is held each year in this Tekyeh where thousands of local people wear black clothes and chant together in remembrance of the third imam of Shia, his companions and family members in Muharram.
Amir Chakhmaq Historical Nakhl
On one of Amir Chakhmaq complex you will be triggered with a strong, wooden object with very large metal fixtures and studs, named after Palm tree, NAKHL in Persian language.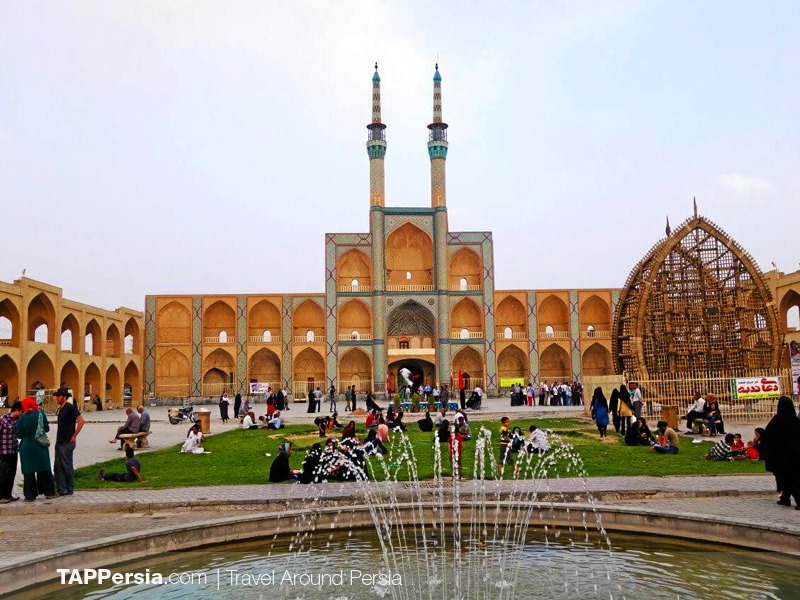 As we described in Amir Chakhmaq Tekyeh section, thousands of people gather in this place to commemorate the martyrdom of the third Imam of Shia. Lifting this giant wooden Nakhl after covering it in black is one of related rituals on this occasion.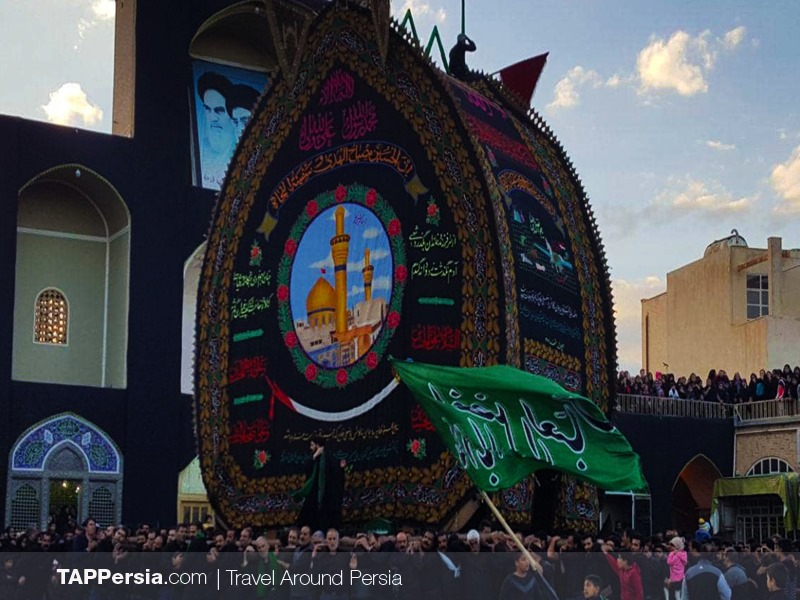 Amir Chkhmaq Nakhl resembles a cypress tree which is the symbol of freedom, self-esteem and martyrdom in Persian literature. However Some believe the rationale behind lifting it on Ashura and Tasua is because of its coffin-like appearance and the memory of Imam Hossein and his 72 companions that were killed in a historical battle.
Haji Ghanbar Bazaar
Are you traveling with your family and don't want to spend your whole time in historical places as children may feel bored? Amir Chakhmaq complex is the best choice then! Since one of the greatest bazaars of Iran is also included in this precious complex and can guarantee some fun time for your family!
Haji Ghanbar Bazaar is the center of fabric, sweets, golden jewelry, carpet stores and best of Yazd crafts that one can ever find in this city.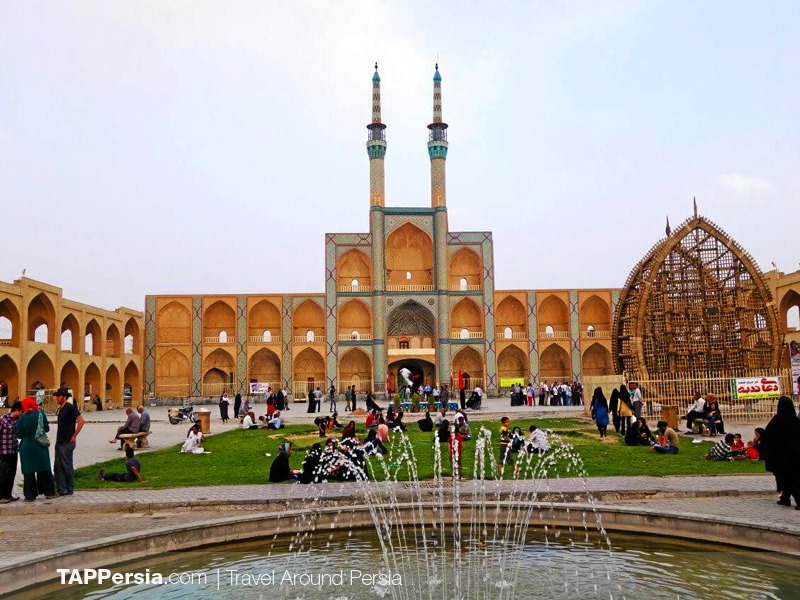 Haji Ghanbar Jahanshahi was also one of rulers of Yazd who built this roofed bazaar that includes precious reminiscences of the Timurid dynasty in the 9th century.
Amir Chakhmaq Caravanserai
Amir Chakhmaq complex also contains a Caravanserai where travelers (caravaners) could rest and recover from the day's journey. Amir Chakhmaq Caravanserai was also built during the Timurid era around 550-600 years ago, alike Amir Chakhmaq mosque located in this historical complex.
Seti Fatemeh Khatoon Mausoleum
As we mentioned before, Amir Chakhmaq complex in Yazd would not look what we see today if Seti Fatemeh Khatoon didn't finish building the structures after her husband passed away. She also died in the 9th century and people built a mausoleum for her to show their love and respect for Seti Fatemeh in Amir Chakhmaq square, notable with a green tiling dome.
Saheb A Zaman Zurkhaneh
Off Amir Chakhmaq square, there is another top choice for culture lovers who are planning to explore Yazd historical city, known as Saheb-A-Zaman Zurkhaneh. Literally speaking, Zurkhaneh means House of Strength and is referred to Persian gyms where athletes used to exercise with heavy wooden clubs for the aim of muscle building.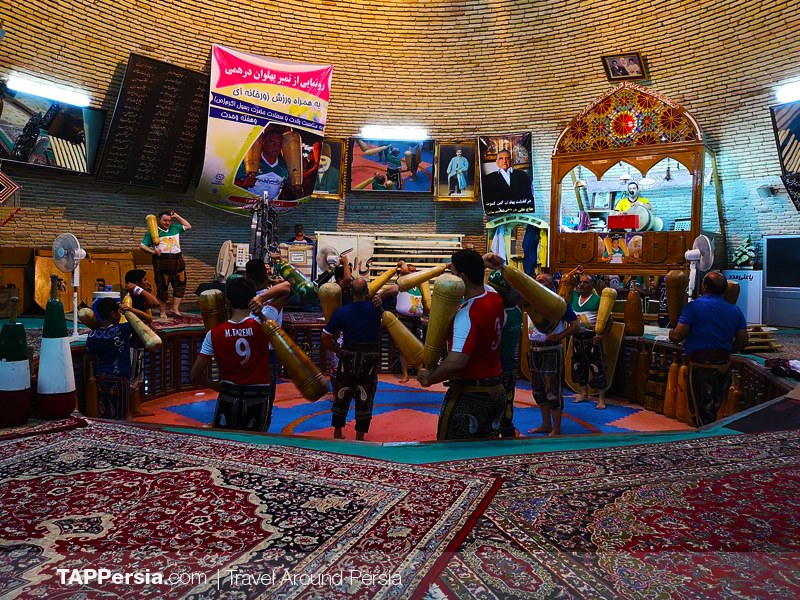 The architecture and interior design of Zurkhaneh is the same all around Iran.You can visit Sahib Az Zaman Zurkhaneh the same day you visit Amir Chakhmaq square.
Haj Khalifeh Ali Rahbar and Shoraka Store
Before finishing your memorable day in Amir Chakhmaq complex, we highly recommend you to taste the essence of Yazd by having the best and most famous Yazd sweets available in centenarian-old Haj Khalifeh Store.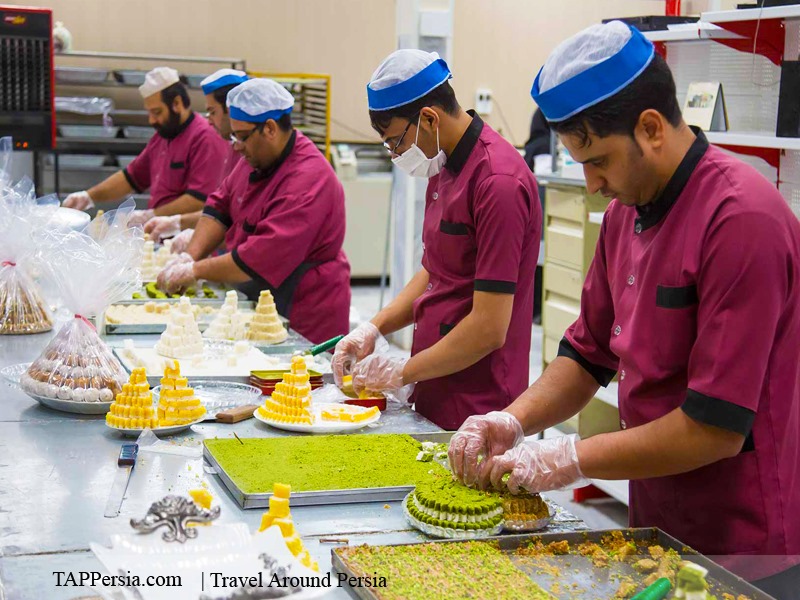 They include exotic collections of almond and coconut louz, baghlava, koloocheh ,ghottab, hajji badam and pashmak.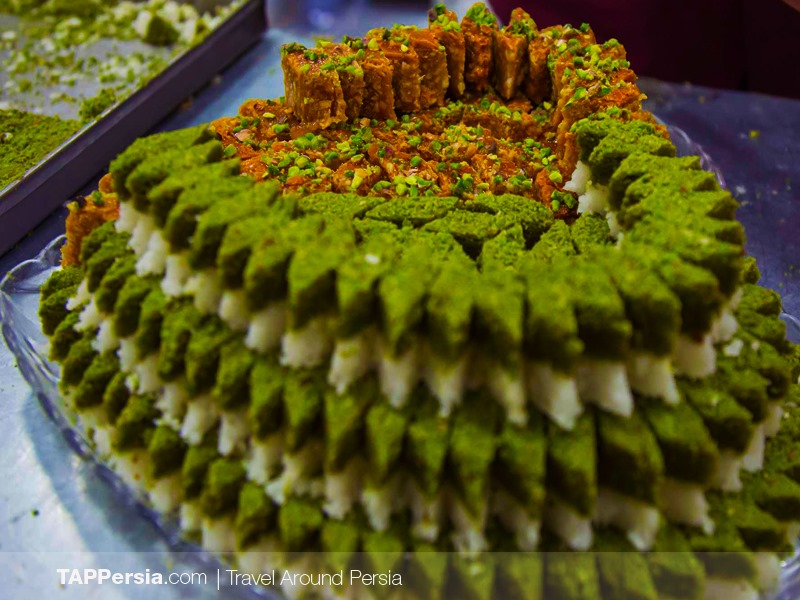 There you can survey the samples, jot down what you want on a form that the reception staff provide you and take it to the counter for boxing, pay in cash or using your tourist card and finally get the sweets collected in different-size boxes.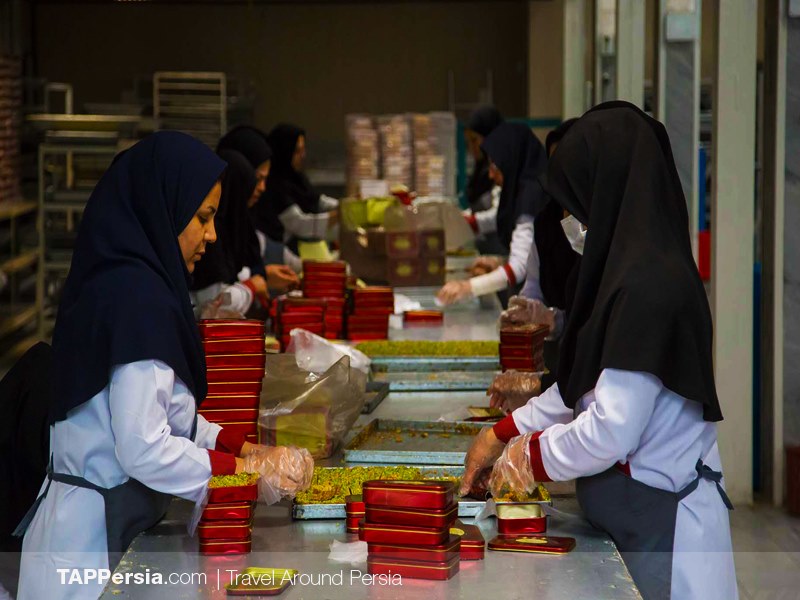 ---
Recommended Tours